You know the dad in My Big Fat Greek Wedding and his Windex?
That's me and the foam roller. It helps with everything, from sore hamstrings to a broken heart.
I tell everyone that it "hurts so good" – that is, if you like a little pain.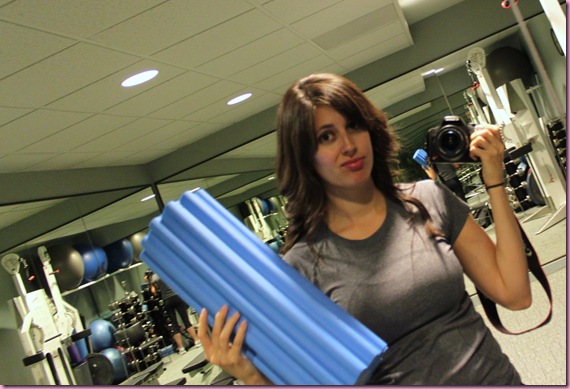 So I wouldn't recommend it in every possible situation, but for me, it's helped with the chronic IT band pain I used to have, word on the street is that it reduces the appearance of cellulite (I'm a believer!) and it's like a free massage. So when I ask the Pilot for a back rub and he pretends to not hear me, I can foam roll instead 😉
Here are some benefits of using a foam roller:

-Self myofascial release —> fancy way of saying "self massage" and enables soft tissue work. Many athletes accredit their fitness gains to soft tissue work. While using the foam roller, you use your body weight to apply pressure to sore spots and the eventual release can help restore or maintain full range of motion. When you have full range of motion, you aren't forced to compensate by changing your normal movement patterns (which can cause muscular imbalance). This way, you're less likely to become injured.

-Foam rolling helps to reduce fascia buildup, which makes us stiff. To read more about the benefits of thinning out fascia, this is a fantastic and thorough article.

-It's easier to roll certain tight areas that are difficult to stretch in a static manner (like psoas and IT band). Static stretches also do not provide the compression that occurs while foam rolling- it's similar to the release of a massage. This has worked WONDERS for my IT band, which can give us some issues if we do repetitive exercise (like running, spinning, walking/hiking, etc). It's a difficult area to stretch and constant IT band rolling has helped reduce the knee pain I've experienced. One of my friends suffered from intense plantar fasciitis and foam rolling her calves helped immensely.

-It can help you de-stress and relax. If anything, it feels good! Of course the sore spots will be a little painful, but to me, always feel better after a foam rolling session. After a long day, I love rolling out my back, too.
*Heads up: if you're currently injured or experiencing pain, check with a doc, Physical Therapist or Exercise Physiologist in your area before starting a foam rolling routine.
Here are some of my favorite ways to foam roll: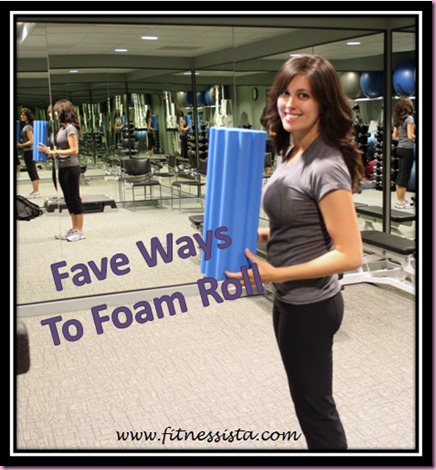 Tips:
Start to roll very slowly in long, sweeping motions.
When you find a tight spot, hold the foam roller on the spot for 30 seconds – 1 minute.
Continue to roll until you find the next tight spot, hold (30 seconds – 1 minute) and release.
Use your arms to support your body. If it's too much, transfer more weight to your arms. If you want more, try lifting one leg (or one arm) to transfer more of your body weight to the roller.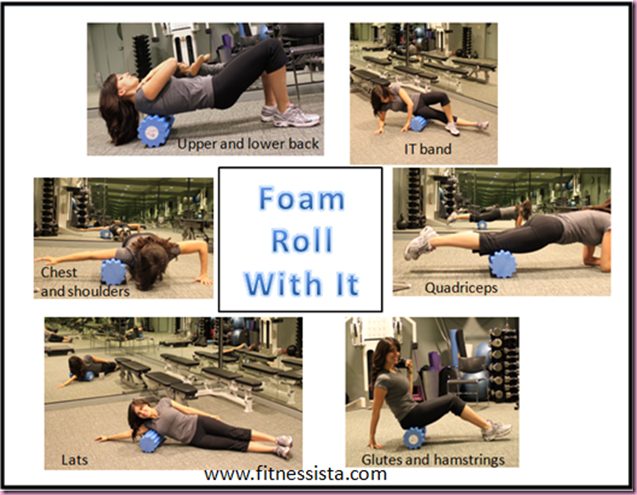 See the blue Thera Roll in the above pics? It has ridges which helps penetrate the muscle a little deeper. It's like the original foam roller's angry cousin- and I love it.
OpenSky generously offered to send one to a lucky reader 🙂
Here's how to enter:
–Follow me on OpenSky and leave a comment with your favorite way to sweat and/or any sore spots you'd like to foam roll
-Already follow me on OpenSky? Just leave a comment with your favorite way to sweat and/or any sore spots you'd like to foam roll
I'll pick a winner from the comments tonight (5/23) at midnight EST.
Have a great day!
xoxo
Gina