Hi guys 😀 How's your morning going?? Mine is bueno.. it's a dreary morning in Valdizzy so puppy walking going to wait until this afternoon.
Last night, the pilot and I went on a Wednesday night Indian Food date when we got off work.
He got the buffet and I thought I'd try something new, since I got beloved Baigan Bhartha last week. I ordered the Gobi Manchurian as an appetizer for us and the Dal Makni as my meal.
Since the restaurant has new owners, the menu is pretty much the same but the food is very different. Before ordering, I asked the server if the Gobi was baked or fried and she told me it was baked with no sauce, just like plain veggies. It sounded lovely.
Under the old ownership, the Gobi Manchurian was a crunchy cauliflower in a spicy sauce.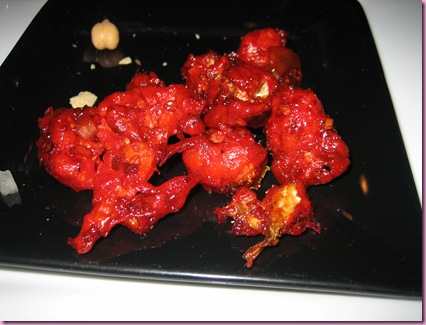 Under the new ownership, it was a dish full of brown deep-fried, heavily breaded spheres, covered in gravy. I wish I would have taken a pic for you guys. She looked at me and said, "Oh. This is different than I thought it was. Do you still want it??" and I said no thanks and just waited for my meal. They still charged us for it.
While I was waiting, the pilot made me a little plate from the buffet with the veg dishes, channa masala and a GLORIOUS carrot concoction.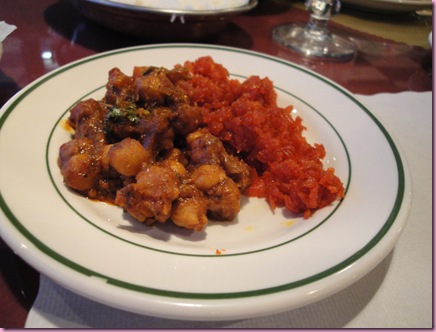 The channa was ok, but I need to find out what that carrot dish is. Anyone??
I had to take a pic of the pilot's seond plate…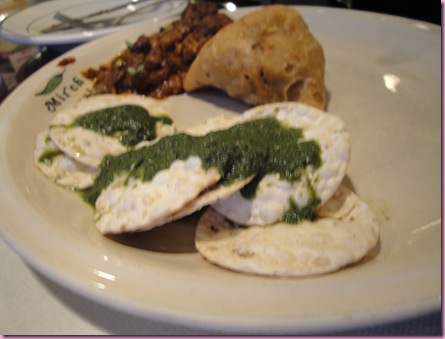 I was like, "Look, it's India's Gone Crackers". He didn't find it as amusing I did 🙂
My meal came, and it was spicy, but just ok.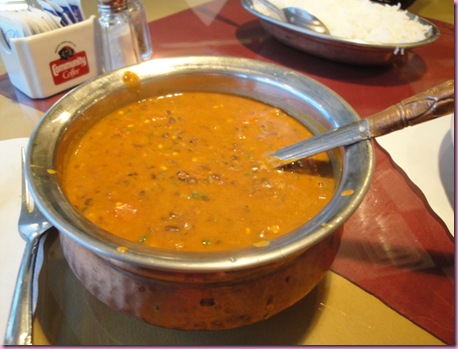 I loved the little fresh salad they served it with: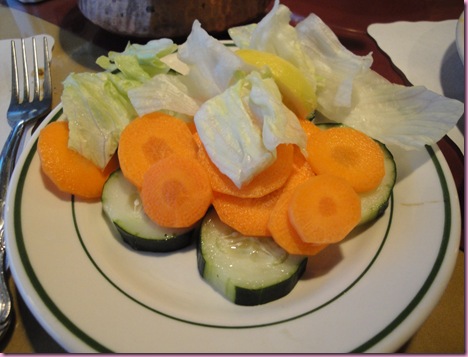 Honestly, I don't know when we'll be going back. The food just isn't nearly as good as it used to be, it's much greasier, and the new owners don't speak English hardly at all. This wouldn't be a problem but when you have questions about the food or want to talk to them, they don't understand. The old owner was so friendly and always wanted to make us something we would love. For example, some nights the pilot would just say, "Hey Sam, would you please do some kind of salmon?" and he would make something incredible. The new guys wouldn't understand us if we asked for something fun or different…and they also don't seem to care, which is also a bummer.
Maybe next week I'll cook Indian food instead???
We shall see 🙂
This morning, all I wanted was Kristen's Chocolate Cherry Bomb shake.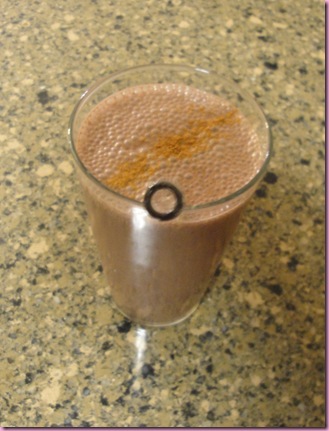 This is the shake dreams are made of.
Today's mix:
-1/2 frozen banana
-2 C fresh almond milk
-1 scoop vanilla Sun Warrior
-2 T raw cacao powder
-1 C organic frozen cherries
-vanilla
-1 T hempseeds
-1 T goji berries (for an energy boost)
-1/2 T maca
Ahhhhhmazing.
Well I'm off to train a client and then do some pilates and ab work. Even though I'm banned from cardio, I've still managed to get in some awesome workouts this week.
Have a wonderful day!
Gina
Something to talk about: What was your last epic fail of a restaurant experience like?? I'll never forget the blackened hairy shrimp *shudders*