Hiiiii 😀 How are ya doing?? Hope you've had a great day so far <3
*Last chance to hit up the awesome Sun Warrior deal!
The pups know something is up.
Meet Goodwill Mountain.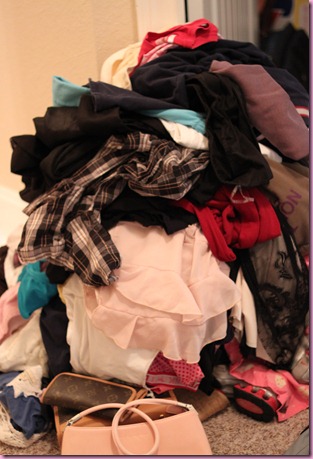 Many have climbed it. Few have survived. 😉
Ya'll would be proud of me- I'm getting rid of SO much stuff! A lot is going to charity, and the designer stuff is going to consignment (I have two huge trash bags full in my car).
I spent the morning going through the closet because half of the clothes I'm taking to Orlando will go with us this weekend, the rest will go when I drive there in a few weeks.
It's amazing what treasures you can find whilst digging through a closet…
like this: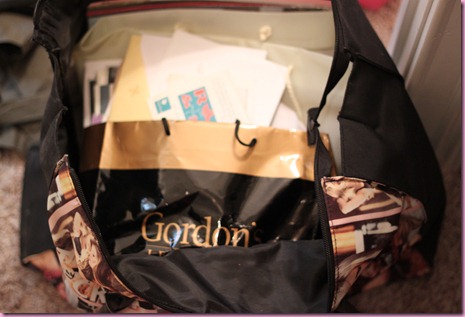 It looks like a bag full of trash at first glance, but it contains every card and note that the Pilot and I have given to each other over the past five years.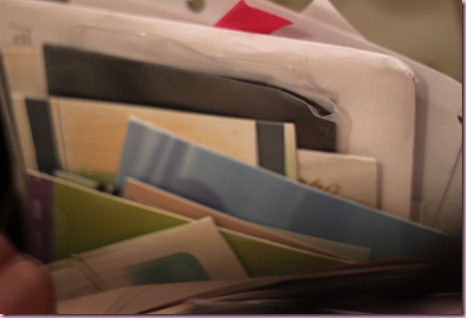 Funny pictures, cards from delivery flowers…
I just keep adding to it, and it's fun to look through every now and again.  🙂
_______________________________________________________________________________________________
Fall Changes
Growing up, fall always brought a sense of *newness* and a chance to start fresh. I'd be going back to school and along with the new pens, notebooks and back-to-school clothes, I always took autumn as an opportunity to set goals for myself and begin the school year with a clean slate. My most recent method of goal-setting has been with the inspiration board, which is an incredible daily visual reminder of what you've set out to do over the next year. Fall is the perfect time of year to re-evaluate your goals and see where your priorities lie before year ends.
I'm keeping my inspiration board up until we totally move out and will probably take it to Orlando with me, where I'll make a new one in January.
When I originally posted my inspiration board, I had blacked out and blurred out a lot of it for fear of jinxing myself…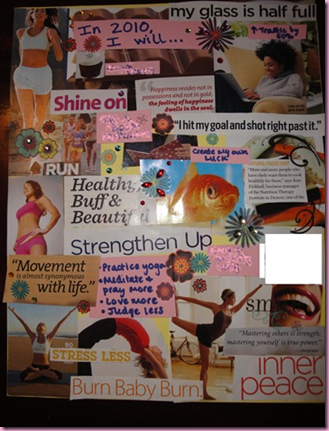 Well today, I'm just going to put [almost all of it] out there.
Here we go: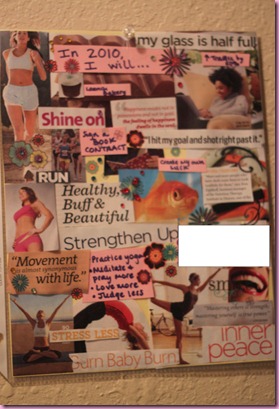 At the top, I wrote "In 2010, I will…"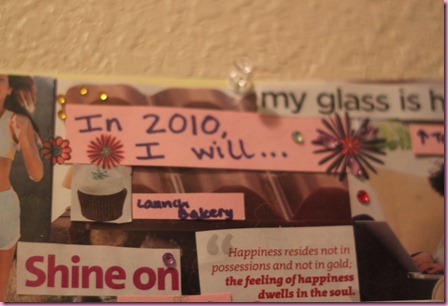 These are all things that I fully intended to do this year, but now that I'm taking a second to re-evaluate my vision board, I can prioritize the realistic goals and postpone the others until a better time (ie when I'll know where we'll be living this time next year)
Launch bakery: As you guys know, this was supposed to happen with the failed cafe. It wasn't the right time for me to manage a restaurant, but that's not to say that it won't happen in the future. I still fully intend on opening my high-raw vegan bakery, but am going to wait until I can rent a commercial kitchen when we move. We *should* find out where we're PCSing to in October-ish, so that's when I'll start researching bakery options. Until then, I'll just have to keep doing macaroon giveaways 😉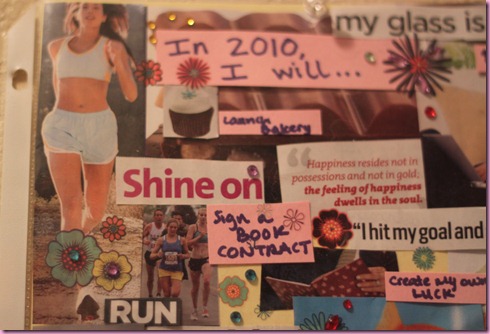 Sign a book contract: This is something I haven't written about much on the blog. I didn't want it to seem like I wanted to write a book because so many amazing bloggers have written books or are in the process of getting their books published—it's really something I've ALWAYS wanted to do. I'm so fortunate to share the word about food and fitness with all of you wonderful, lovely friends but would love to have a consolidated version of info and shenanigans together.
I wrote a book proposal for a quasitarian cookbook (whole foods, high protein, goat dairy, fish, no meat) with fitness tips and personal stories throughout. I've re-written it three times and have sent it out to quite a few agents…. no bites yet. I'm not going to quit, even if I have to re-write it 10 more times (it's 35 pages) and send it out again and again.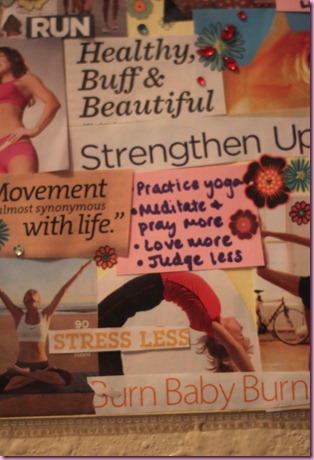 I promised myself that I'd stress less, practice yoga, pray and meditate more and judge less. These are things that could always use improvement but I'm proud to say that I've worked extremely hard at these this past year and will continue to stop myself from being a perpetual stress ball 😉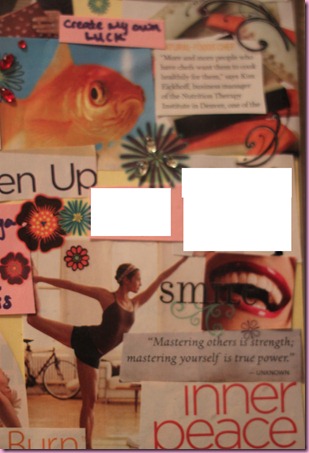 Another goal was to create my own luck by working hard to accomplish the things that I want. Things don't happen by accident- they're always the result of hard work and the most meaningful goals are the ones that are not-so-easy to attain. I also worked a little on the personal chef thang (remember when I made raw lunches and desserts for my clients for a few weeks?), but again am going to wait until I can get a commercial kitchen.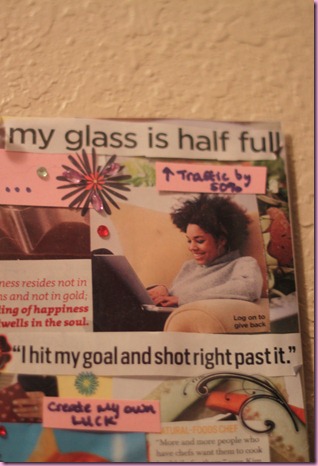 The last goal on here was to increase blog traffic by 50%. That happened within a couple of months of writing the inspiration post (thank you, bloggies!) and hopefully our little Fitnessista community will continue to grow <3
The white square area is something that I'm not going to write about yet, but I'm pretty sure many of you can guess what it is. Time will tell, eh? 🙂
So tell me (those of you that are left… long post!)- how many of you have inspiration boards? What are your goals for fall??
Mine are:
-Continue to work on the book proposal

-Keep practicing yoga and try to yoga it up on a more regular basis

-Work on the interior design for our next place

-Find a fun job in Orlando. I'm auditioning to teach Zumba and also for a Disney dancer position- not even joking 😉
xoxo,
Gina
Coming tomorrow: Recipe for vegan soy-free and nut-free tuna salad