I've been avoiding prenatal massages.
It's so unlike me, because usually I'd paid a stranger on the side of the road to rub my back, but prenatal massage seems like it would be like prenatal yoga: lame. I like to sleep facedown, elbows out, or on my back, and am destined to toss and turn on my side for the next 4 1/2 months. [Even with my Snoogle, I'm never *really* comfortable] Since I hate sleeping on my side with a passion, I was determined to find a massage place that had a suitable facedown option for pregnant chicas, because the last thing I wanted was to pay to lay on my side. Miserable.
So you can imagine my level of excitement when I called my favorite place and learned that they have a bolster, which has a cut-out for your belly, so you can lay facedown. YEAHHHH! I was just calling "out of curiosity" but when I found that out, I booked an appointment for today. My body has been aching for the past week –sore hips are a biotch- and thought it would be a nice treat before my week of teaching begins.
My favorite guy moved to Phoenix so my appt was with a new massage therapist, but I didn't even care. I was going to get massaged, facedown. Heck yeah.
My massage room, which had lovely stalactites, bear paw prints  and dream catchers painted on the walls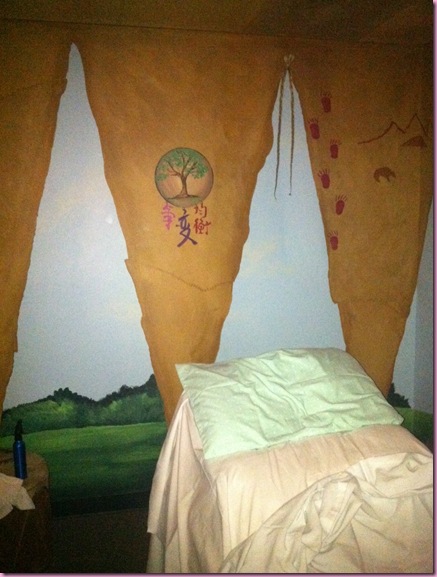 (????)
and I laid down on the bolster, ready for 60 minutes of bliss.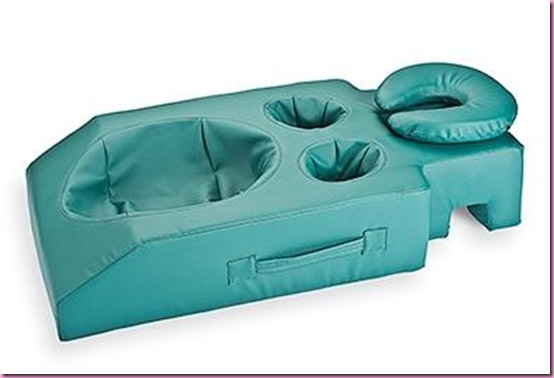 Source
Except for one major problem:
They designed the bolster for people with 4 ft long torsos 🙁 If I got my belly to go in the cut-out correctly, my face went where the boobs were supposed to go. Lovely.
So instead, I had to get massaged on my side.
And it sucked.
The massage therapist was competing in some kind of massage race.. with herself. She was fast, hardly used any pressure, and it was just weird. The only nice part was when she rubbed my belly in a gentle circular motion. I could feel the baby kicking- I think she was a fan 🙂
I, however, was not.
Massage is not like pizza. When it's bad, it's not "still kind of good"… it's bad.
Lesson of the day: Use the foam roller.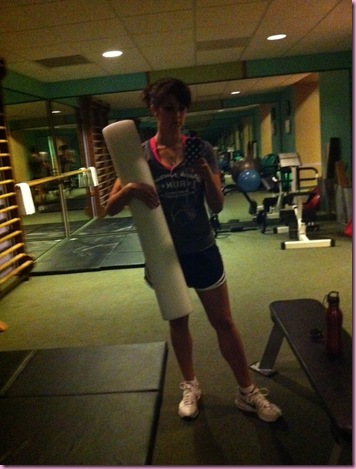 It's only $20 and does it right, every time.