Hi friends! How's the day going? I have a new recipe for you today–Mexican pizza! A seemingly random combination that came about in a random way. 🙂
I'm a little later blogging today than usual and am still catching up from vacation. I got a lot of work done around here (and started to tackle emails like crazy) before teaching barre this morning. I'm also teaching later this evening, so it's a double dipper kind of day.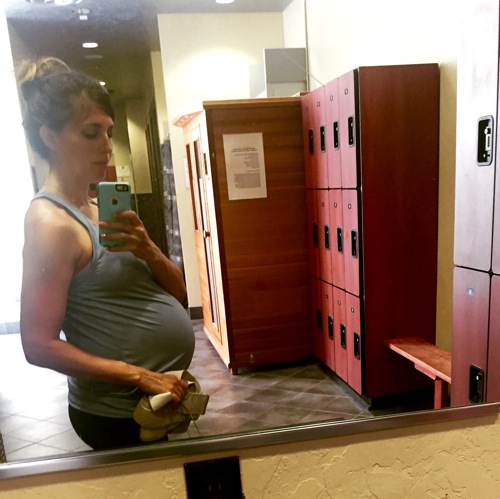 (Pic from yesterday at the gym, where I can literally see the fear in people's eyes that they think I'll go into labor at any second.)
Here's that new recipe for ya!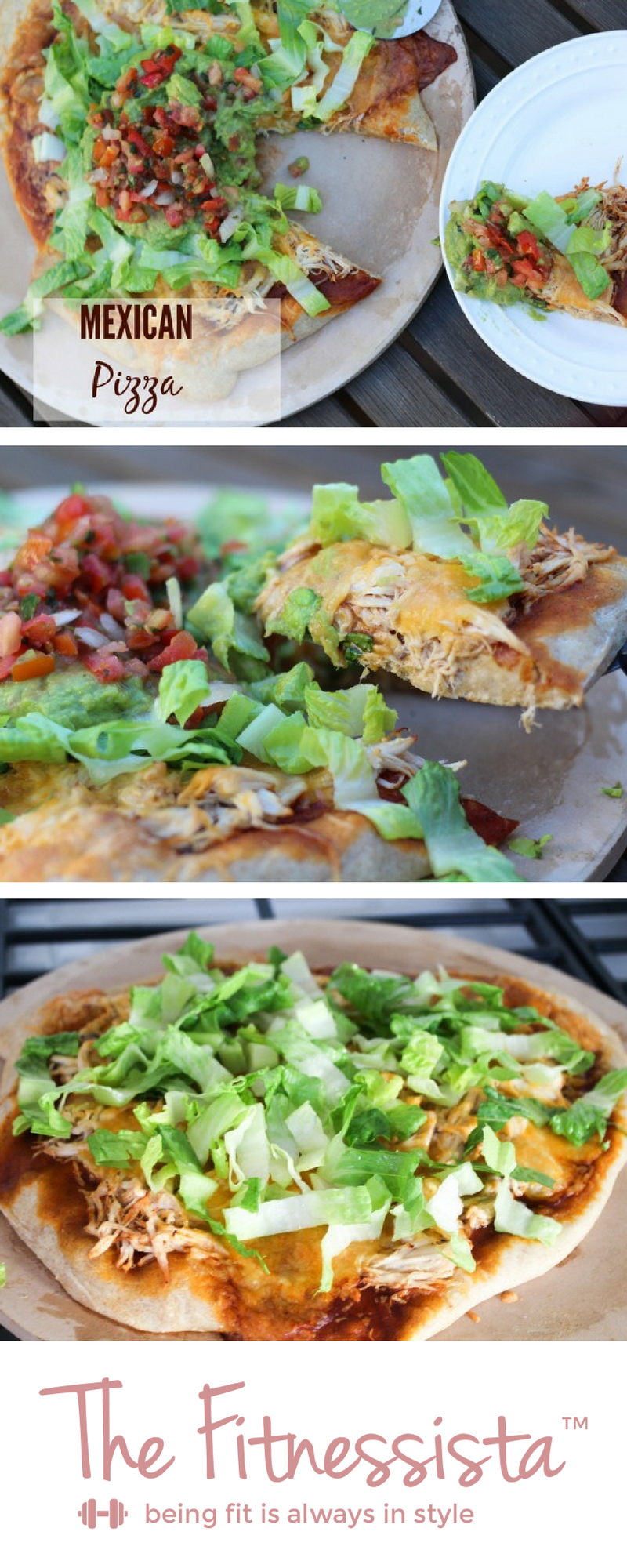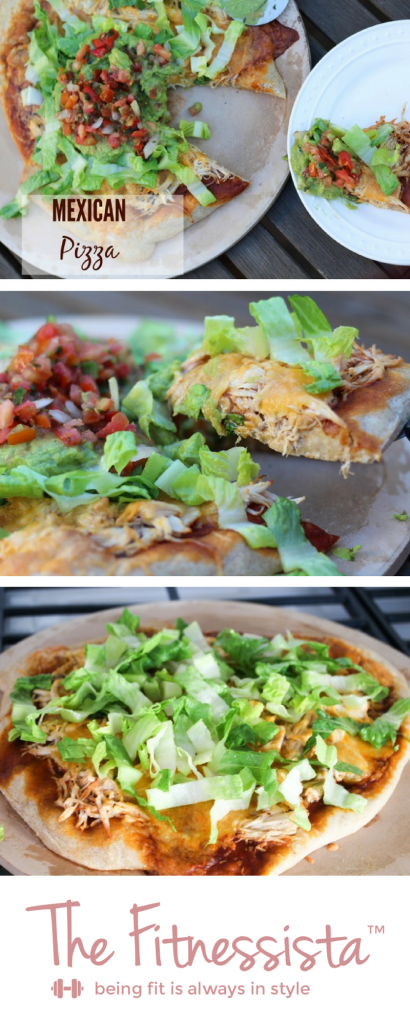 Behold, the Mexican Pizza.
As expected on any road trip–and we've had a LOT together–the Pilot and I talk about the most random things on the drive. Random topic of conversation this past weekend: buffets we used to frequent when we were younger. I had Pizza Hut buffet many times in elementary school, and the Pilot told me that he used to go to CiCi's pizza with his friends after soccer practice to get their $5 all-you-can-eat buffet. (The restaurant probably lost money that day, haha.) While he was talking about it, he mentioned a Mexican Pizza and I was immediately intrigued.
"Mexican pizza? You mean a…tostada?"
"No! Like actual pizza but with taco toppings, like chicken, cheese, shredded lettuce, salsa, etc."
"Wait, but what do they use for the sauce?" I thought maybe beans would work but they'd be too thick, and salsa or guac would be weird or too watery.
"Enchilada sauce!"
BOOM. I knew we had to try this immediately, and it ended up being the perfect Monday night throw-together dinner.
Mexican Pizza Recipe
I made the classic slow cooker chicken (two chicken breasts in the slow cooker, season well with salt, pepper, garlic powder and oregano, add water so it goes halfway up the sides of the breasts and cook on high about 4 hours until shredding with a fork and adding any sauces/extra flavors you'd like)
and rolled out some dough. (We like the Bob's Red Mill gluten-free or the pre-made dough from Trader Joe's if I'm making the pizza for Tom and Liv, but you can use any pizza dough you like!)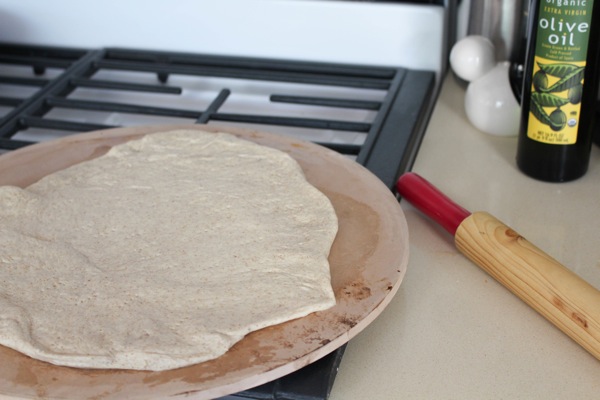 I poked the dough with a fork, and added the enchilada sauce (for bonus points, make this sauce. I promise you'll never go back),
added the chicken,
cheese,
and baked on the pizza stone.
I went to remove said stone from the oven and in the process, accidentally pushed my middle finger into the scorching hot metal grates of the oven while positioning the pot holders. I'm pretty sure I burned a layer of skin off.
The rest of the process was spent with a Mickey Band-Aid around my finger, muttering "f-ing pizza" while adding the toppings, haha. It was worth it.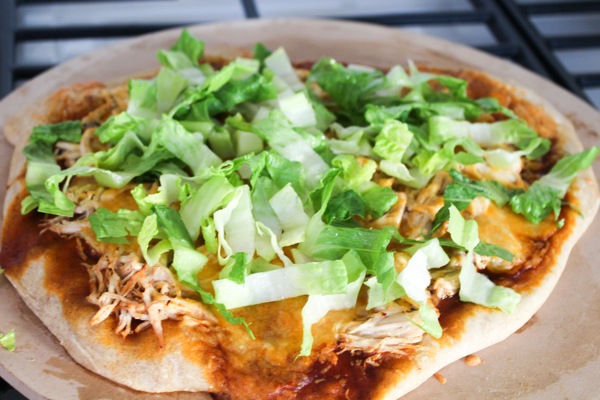 This is where you could get creative with toppings like pico de gallo, guacamole, black olives, green onions, cilantro and/or sliced jalapeño. This would be an AWESOME party or football game food, too!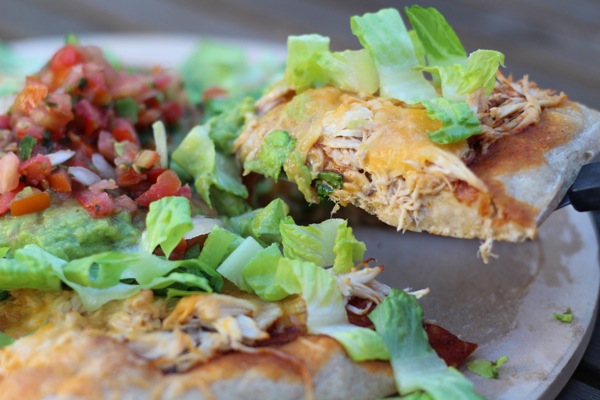 (I added romaine, pico and guacamole)
We had the pizza along with refried beans and it was a great, easy meal. Let me know if you give it a try!
What did you have for dinner last night? Any kitchen mishaps lately?
Hope you have a great afternoon.
See ya later today with a new stability ball strength workout!
xoxo
Gina
More pizza recipes: