Sharing what I received in my latest Trunk Club, what I think I'm keeping, and what's going back. This post isn't sponsored, but if you'd like to try Trunk Club, use my link for $50 off your first trunk!
Hi friends! Happy Monday! How was the weekend? I hope you had a great one!! We enjoyed the St. Patrick's Day festival, did a ton of yard work (I planted okra, cantaloupe, more carrots, and spinach), and had the most amaaaazing brunch at Hacienda del Sol. We've been many times for dinner, but it was our first time for brunch. Highly highly recommend if you're in town or visiting! It was on the smaller side – not as many choices as Ventana- but the quality was above and beyond.
For today's post, I thought I'd share the latest Trunk Club! It's been a little while since I've received a trunk, and I figured it would be a good chance to refresh some clothes for spring now that the sun is coming out. I loved the mix of items they sent, and wanted to share the goods + a short video try-on below.
Latest Trunk Club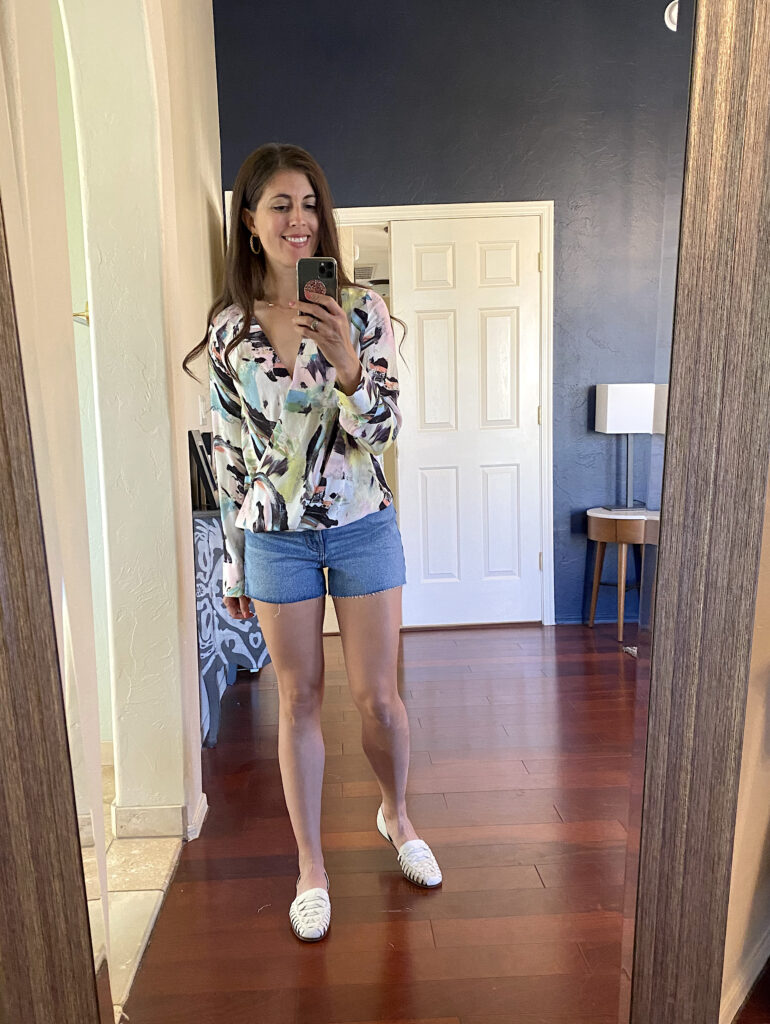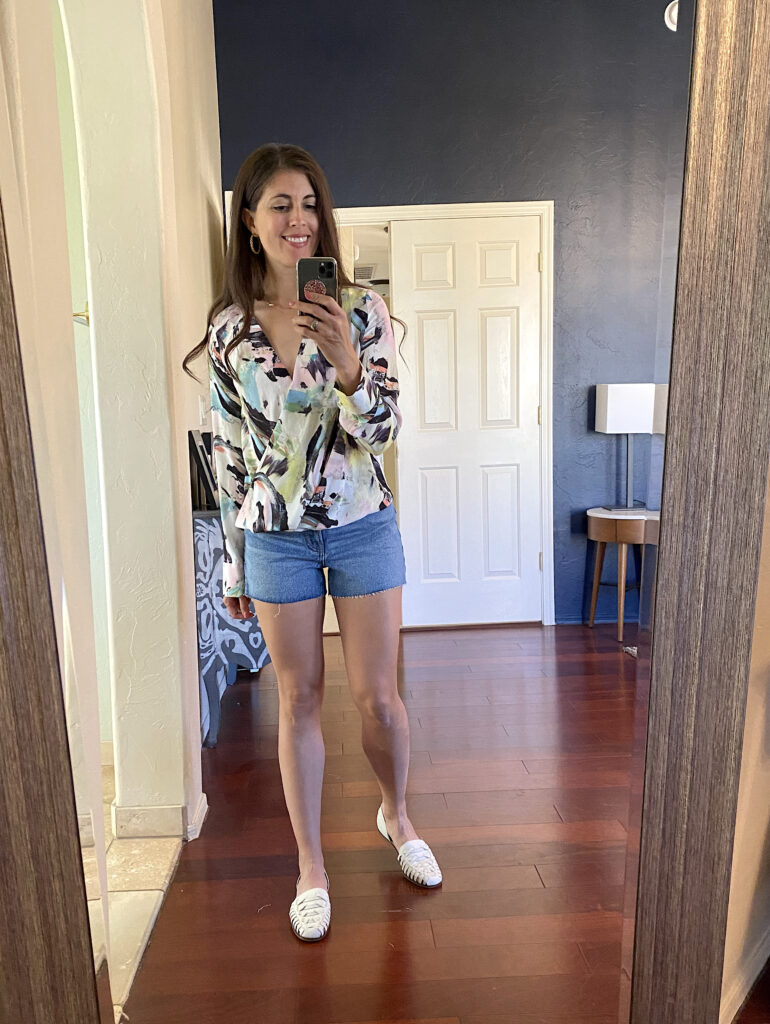 Madewell the Perfect Jean short + Halogen cross front blouse and Calson flats
I've been needing a new pair of jean shorts for a while – I feel like my other *good* ones are falling apart- and loved the fit and fabric of these. They're very high waist (more so if you have a short torso like yours truly) with a tiny bit of stretch, and not too short. We're heading the Disney at the end of the month (WAHOO) and I figured they'd be perfect with a Disney tee and also with tanks and tops this summer. Verdict: keeping
The blouse was unlike anything I own, and I love the soft fabric and think the fit is very flattering. It would also be easy to dress up. In the end, I decided to send it back since long sleeves are not going to be feasible here for much longer.
As far as the flats go, I'm on the fence about these! I usually just wear sandals with dresses and shorts, but feel like these are cute and different. They were too big, but I'm debating ordering a pair in a half size down.
Treasure and Bond top + Calson shorts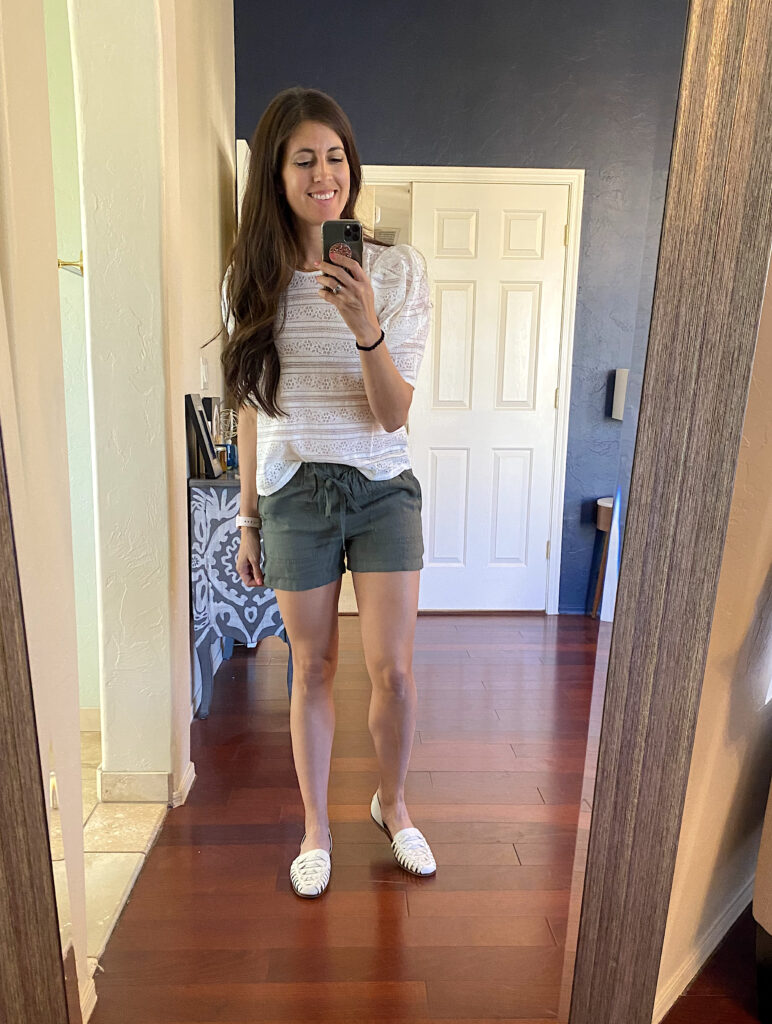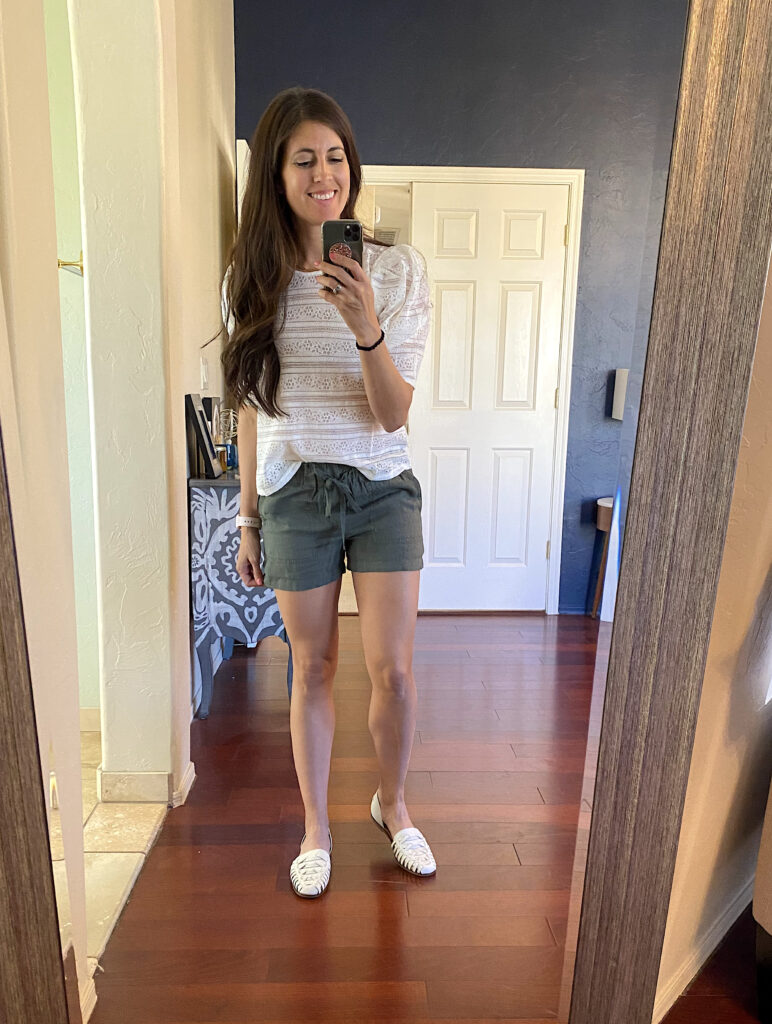 I knew right away that the top was a keeper. It's a perfect everyday top, but still something special and a little different. I also knew these shorts were the kind I'd end up wearing constantly all spring and summer. Keeps all around.
Rails Jade Floral Print Tie Front Long Sleeve Dress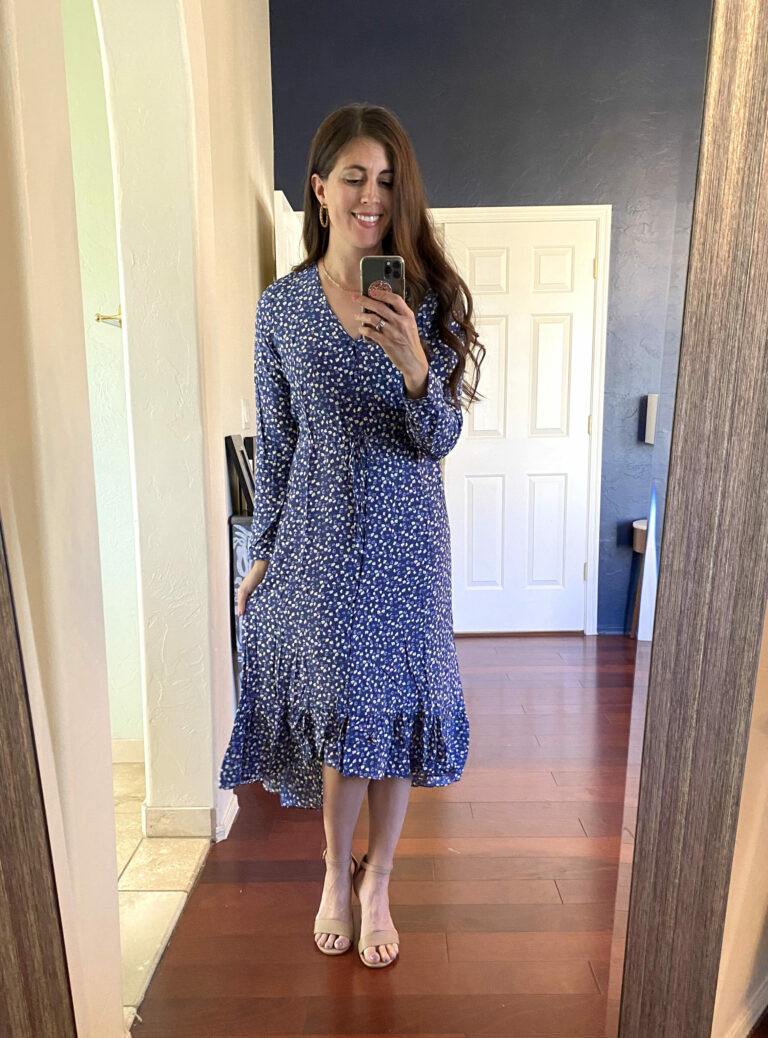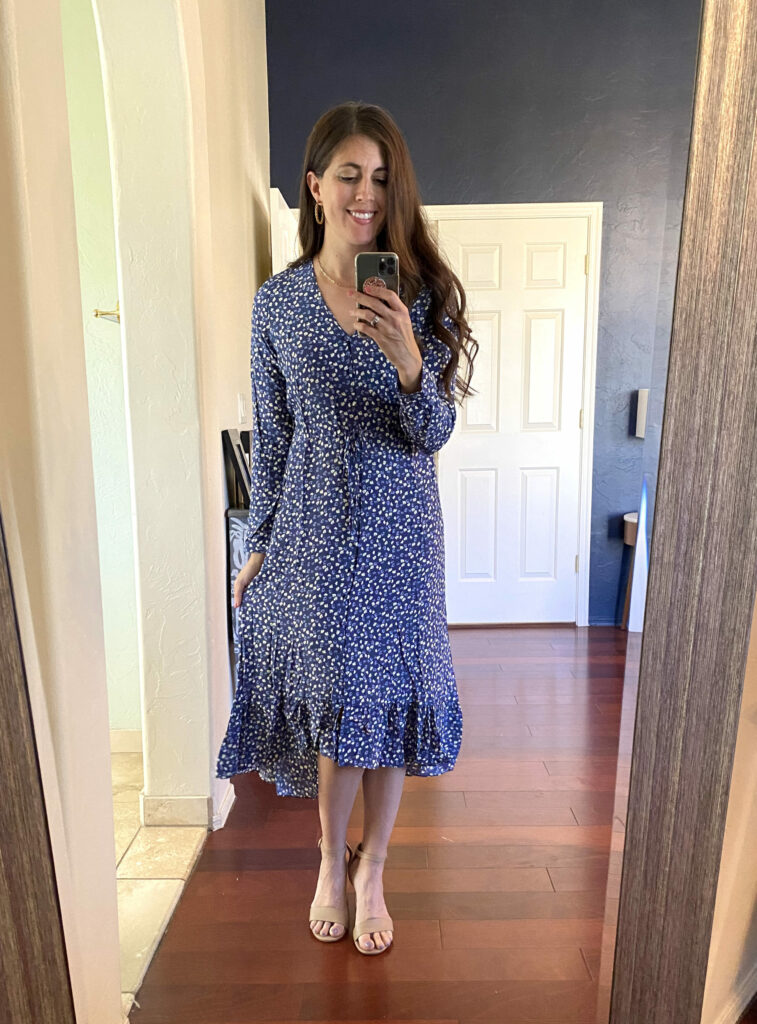 As you guys know, I LOVE anything Rails, but this wasn't my favorite. I feel like the floral pattern was blah and the long sleeves wouldn't work for summer. Verdict: bye
Rails Ashlyn Stripe Smocked Waist Dress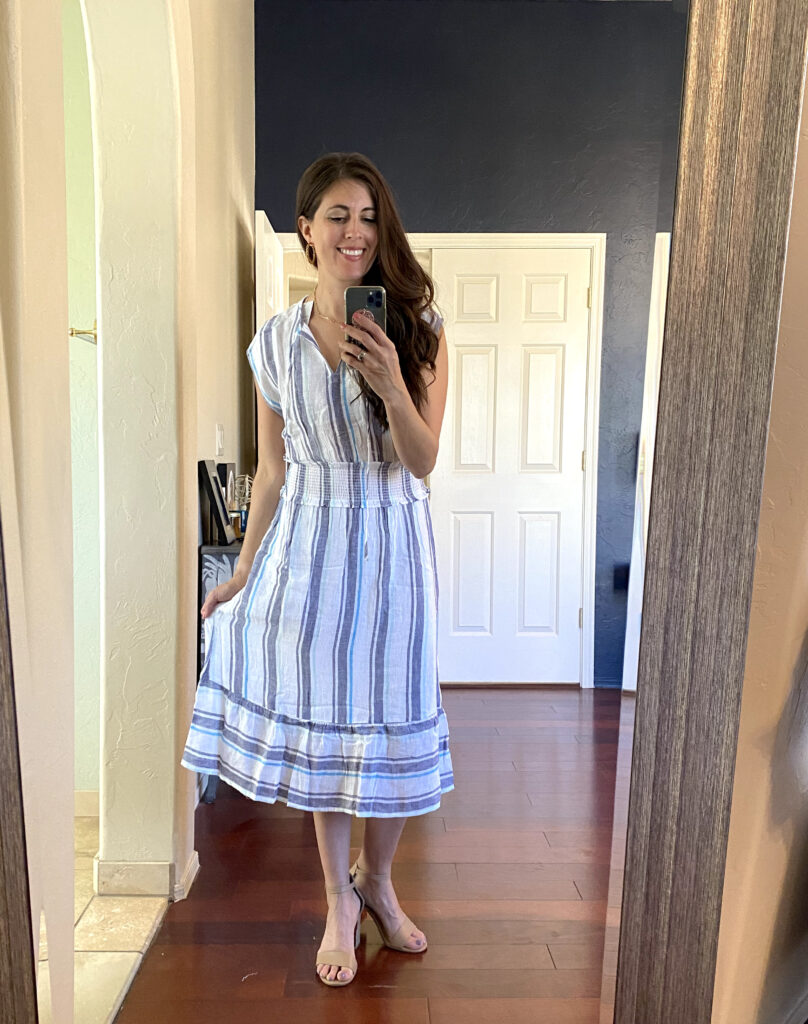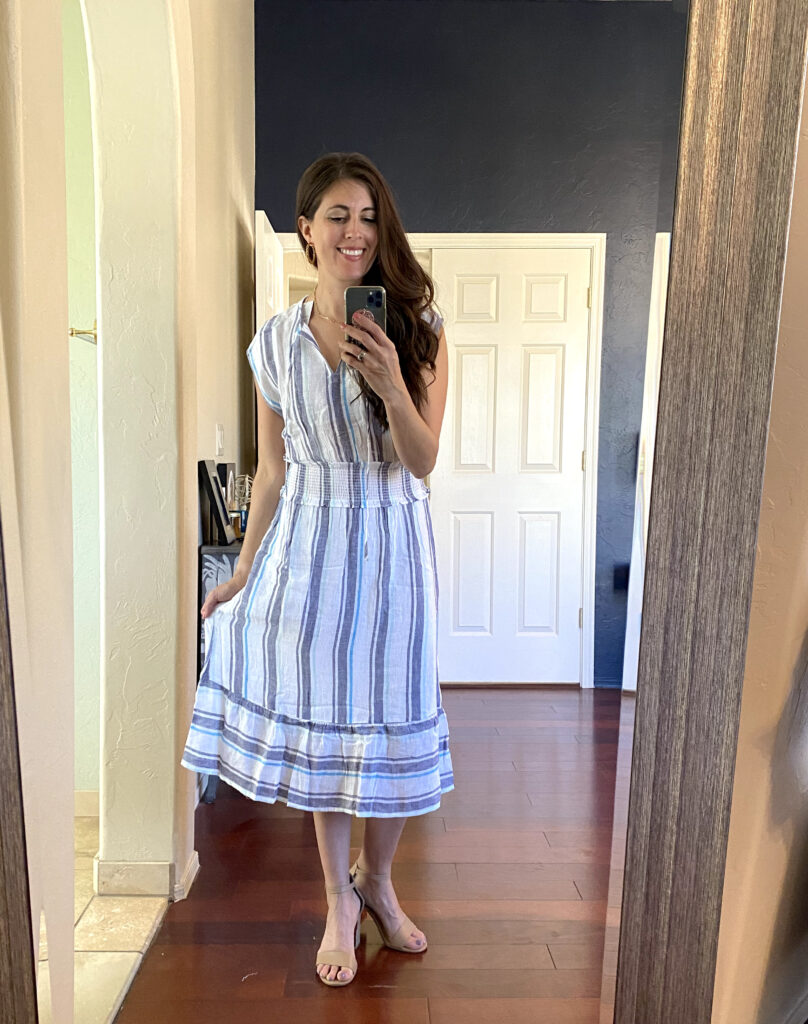 Once again, I think the stylist was like, "She keeps everything Rails, so let's send her more!" but I didn't love this one. I don't think the midi length was flattering – I have a version of this one that's shorter- and it wasn't my fave. Verdict: sending back.
Reformation Nikita Floral Dress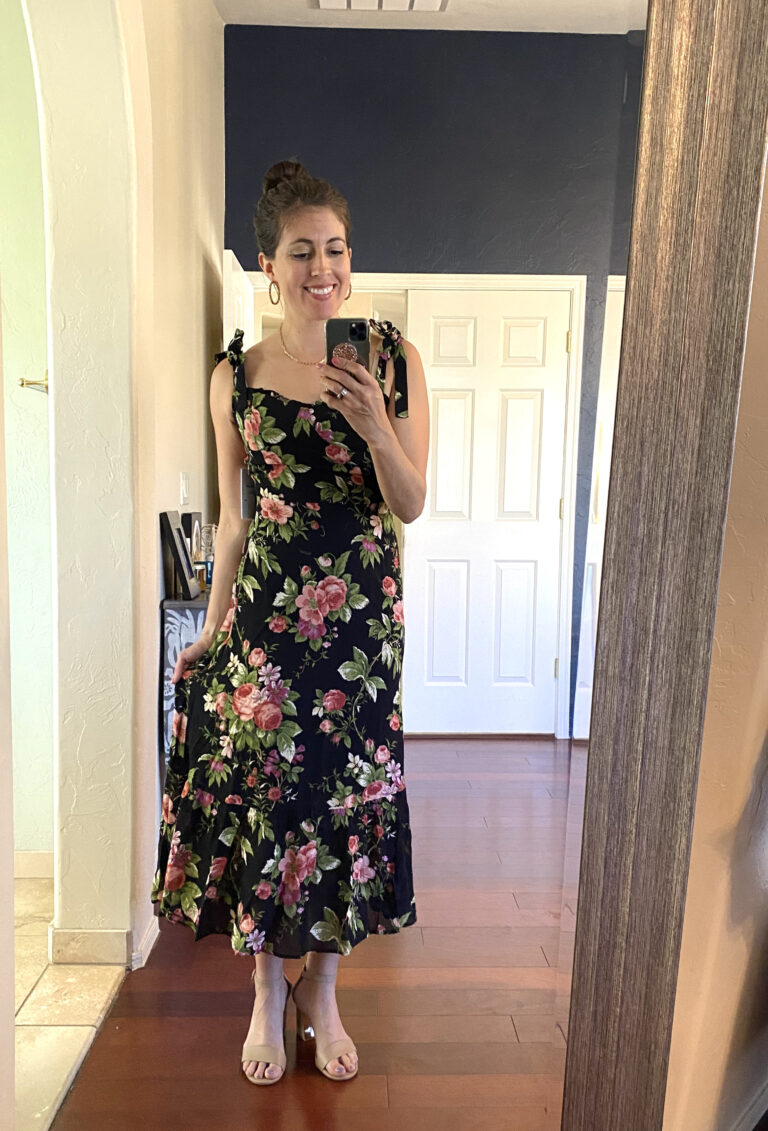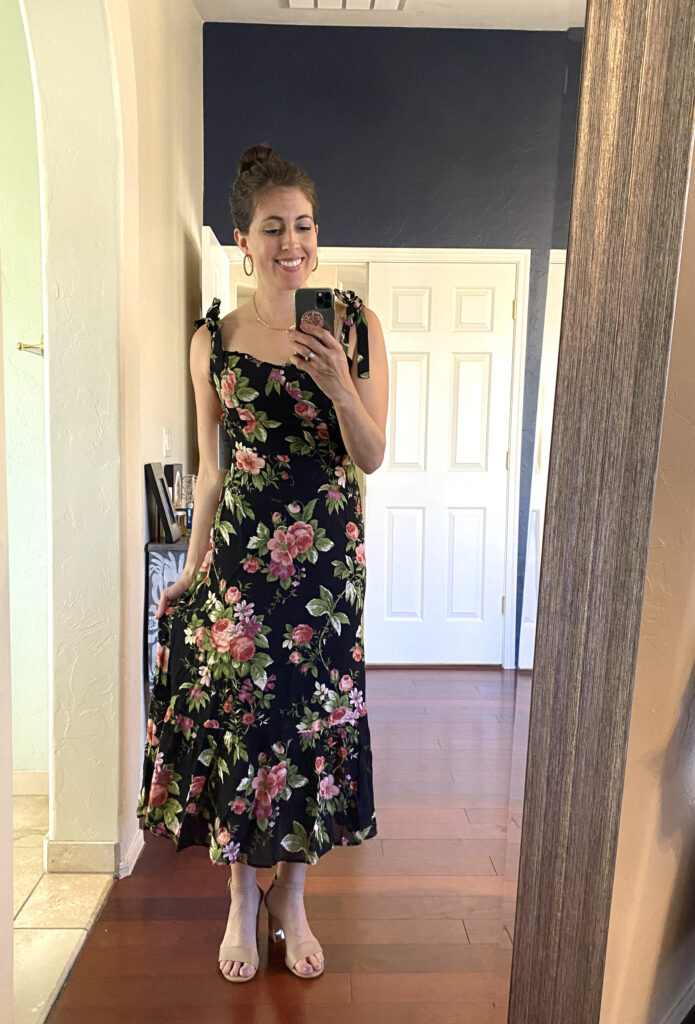 I thought this dress was GORGEOUS and especially loved the tie straps. In the end, I didn't keep it because the color scheme feels more fall-ish to me. No one really wears much black here in Tucson in the summer, so I decided to send it back. Part of me wishes I would have kept it for date night.
Reformation Gavin Dress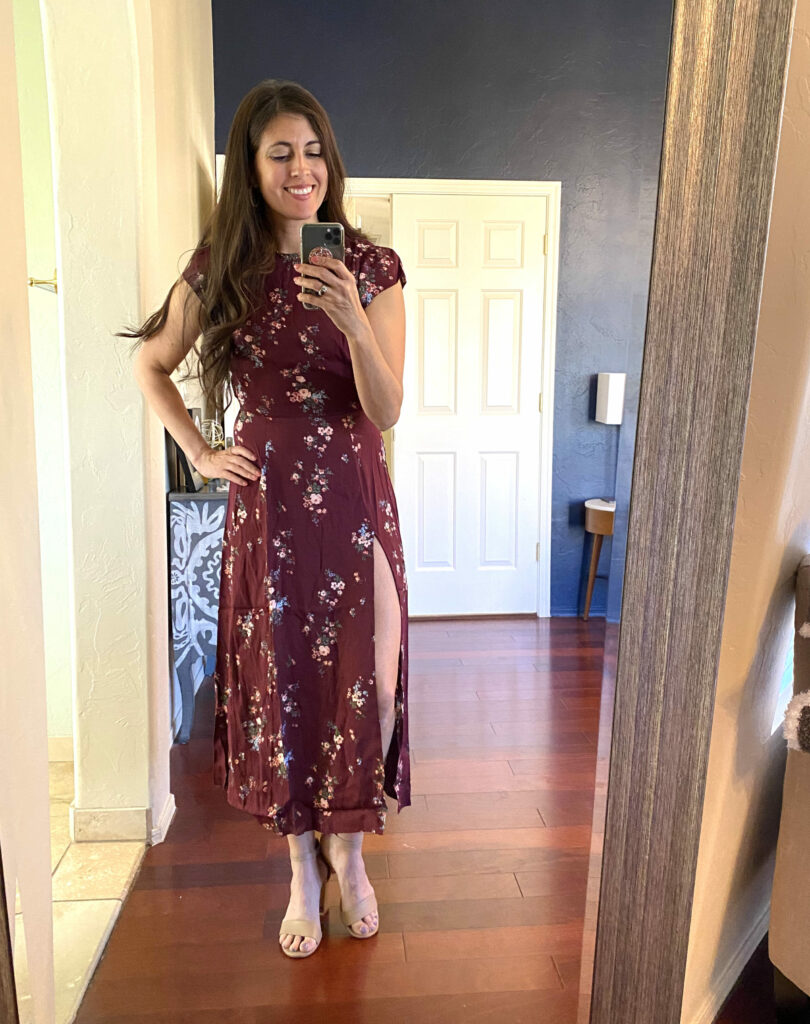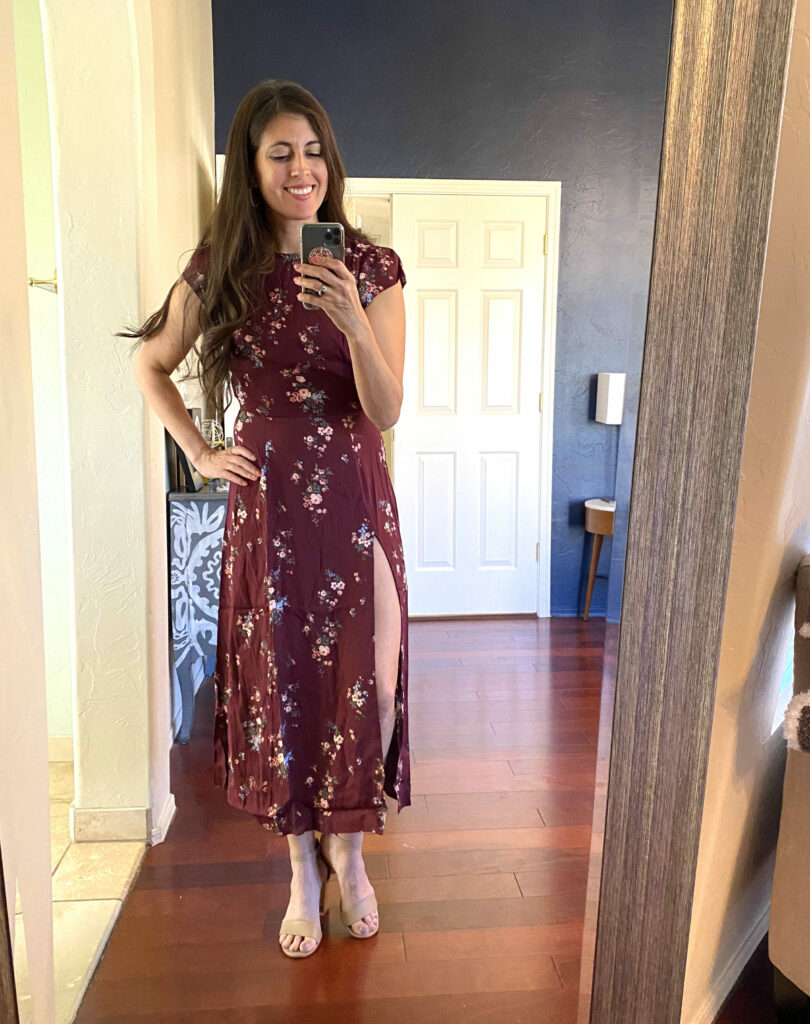 This is such a beautiful dress and love that Reformation often adds subtle slits and back cut-outs, like they did with this one. I'm on the fence about it! It feels like a perfect date night dress, but realistically, I'm not sure how often I'd wear it.
Here's a short try-on video of all of the outfits!!
Why I love Trunk Club:
I've been using Trunk Club for a couple of years now, and feel like my trunks continue to get better and better. They've also made improvements to the Trunk Club app over time, including the ability to add items to your trunk. It's very easy to items from a small group of skincare, makeup, home, accessories, athletic attire, and pajamas to your trunk. I also love that you can message your stylist through the app, reject items before they're sent (to be replaced with other items), and add photos of pieces you might like to receive.
I also LOVE that everything is from Nordstrom, which is where I do most of the shopping for myself, the Pilot, and the kiddos. They have our favorite brands, the quality is always excellent and they have a great return/exchange policy and customer service.
More posts about Trunk Club:
Trunk Club delivery and how it works for women's clothing
Have you ever tried Trunk Club or a similar service?
If you want to give this one a try, use my link and get $50 off your first trunk! Perfect for spring 🙂
Thank you so much for checking in on the blog today. Have a wonderful day and I'll see ya in the morning!
xoxo
Gina