The latest Trunk Club delivery
Sharing a Trunk Club review and some fall options from Trunk Club! This post isn't sponsored, but my referral link is here if you'd like to check it out! You can read previous Trunk club reviews here, here, and here.
Hi friends! How was the weekend? I hope you had a wonderful one! P and I had a great day on Friday: I walked while she rode her bike around the neighborhood, we visited the Guinea pigs at PetSmart because Liv and P are BEGGING for them and I don't want our house to smell like a barn, and took a trip to the library. I'm blasting through When Breath Becomes Air. Friday evening was spent at our usual movie night at the pool, margarita in hand, and Saturday was rain all day, hot yoga, and the usual Sunday chores. Even though we're back in school now, it still feels like summer, and we're livin' it up.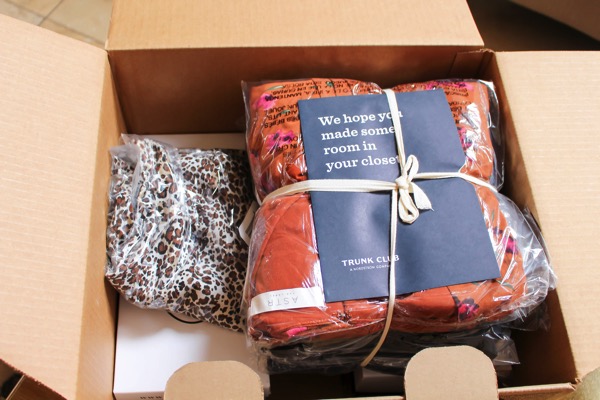 For today's post, I wanted to share the latest Trunk Club! I got a new delivery a couple of weeks ago that literally sat on the living room chair for 5 days until I opened it. This never happens, so it's a pretty good testament to how sick I was last weekend. I knew I needed to make my selections and return the items that didn't work, so I opened it up to see what my stylist sent.
Is it weird that trying on new clothes put a little pep in my step? No? Ok good.
For this delivery, I requested some leopard flats, casual shirts and dresses, and AG jeans <— my fave right now.
Here's what was in my last delivery: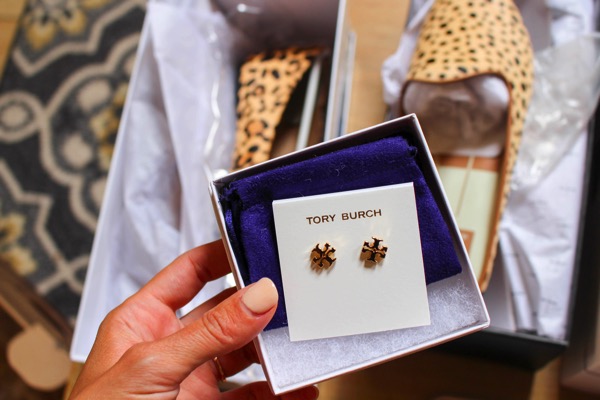 I liked these earrings but decided that they were a bit too plain. If I swap out my earrings, it's usually to use a statement piece, otherwise I stick with my regular diamond studs.
Dolce Vita flat mules and Steve Madden leopard loafers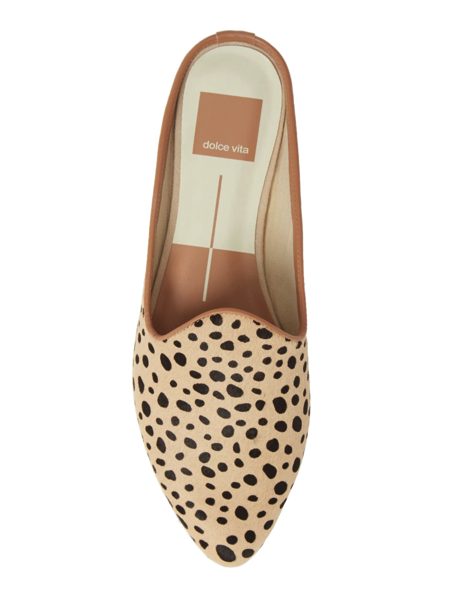 I had a hard time deciding between these two and the Instagram poll was split exactly in the middle! In the end, I decided to return them. A friend DMed me and said they had a super similar pair to the Dolce Vita ones at Target, so I might order these.
Sanctuary Mod Short Sleeve Boyfriend Shirt and AG The Legging Super Skinny Jeans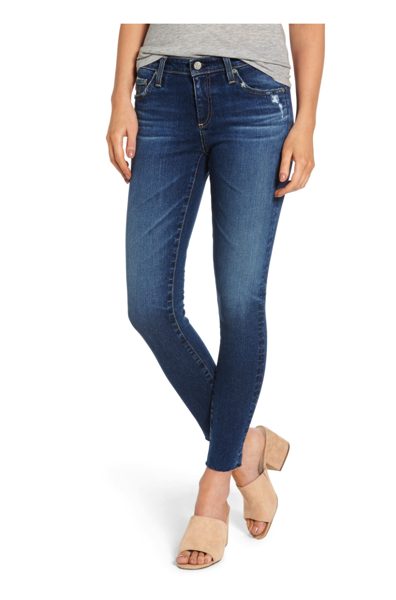 The jeans felt like a DREAM (as all AG jeans do) but in the end I decided to keep the high-waisted ones at the bottom of this post because they paired well with the bodysuit. The shirt was just kind of meh and shapeless to me, so back it went.
This was a perfect everyday black wrap top! I feel like I'm slowly turning into the kind of person who could just wear black every day.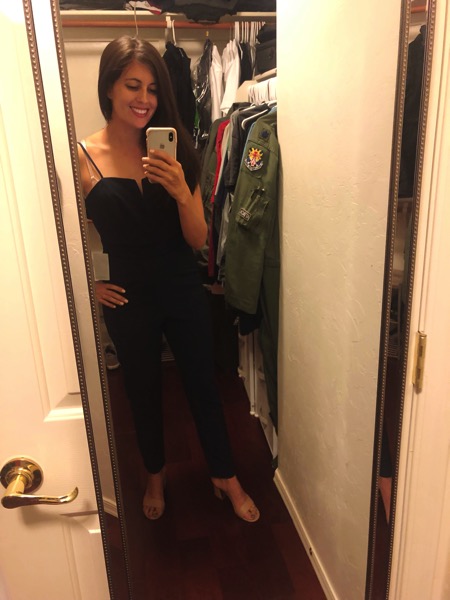 I LOVED this jumpsuit (and it's 50% off right now!) but unfortunately, it was too small. It fit really well through the legs but wouldn't zip all the way. It was an XS so I lurked the website to see if they had a small and they were sold out. Not meant to be.
Free People Marissa Bodysuit and AG The Farrah High Waist Skinny Jeans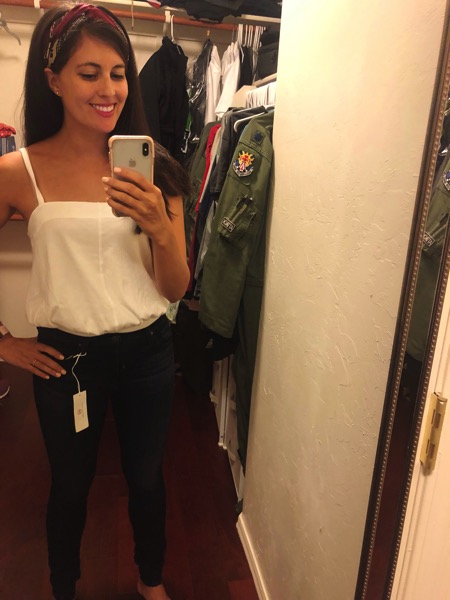 This is the reason why I use Trunk Club. My stylist gently urges me out of my comfort zone and sends super cute pieces that I might not try or find on my own. I loved the way this combo looked together for a casual outfit, especially with my headband scarf thingy.
1. STATE Animal Beats Patch Pocket Shirtdress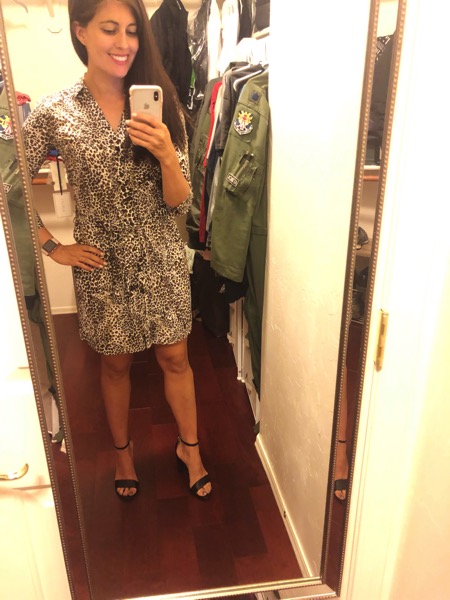 I was obsessed with this dress the moment I took it out of the package. Shirtdresses are my very fave – they aways look put-together and are versatile – and the animal print was so fun. I wondered if it was a bit too much but decided to go for it.
I also ended up keeping this olive Madewll Whisper Cotton V-neck tank and sent back this ASTR the Label Delaney Faux Wrap Flutter Sleeve Dress (didn't love the color – it was like a burnt orange – and the zipper wouldn't unzip to try it on.)
All in all, it was another fabulous delivery and makes me excited for the next one!
Some of the things I love about Trunk Club:
– All of the clothes are from Nordstrom, so you know you're getting excellent quality
– If you have a Nordstrom card, they waive the $25 styling fee (<— goes towards anything you purchase)
– You can message with your stylist in the handy app, and decline pieces to be swapped out before they're sent. I can look through and decline items I know I won't like or if I own something similar.
– You can try everything on at home on your own time. We don't have a Nordstrom here in Tucson (pure tragedy) but it's amazing to be able to try out pieces that were curated for me and only keep what I truly love.
If you've been wanting to try out Trunk Club, here's my referral link! I hope you love it as much as I do.
Hope you have a wonderful Monday and I'll see ya soon with a little giveaway. 🙂
xo
Gina