Sharing my review of Trunk Club and if it's worth it. For more Trunk Club reviews, check out this post, this post, and this post. This post isn't sponsored; I just love it! If you'd like to give it a whirl, my referral link is here.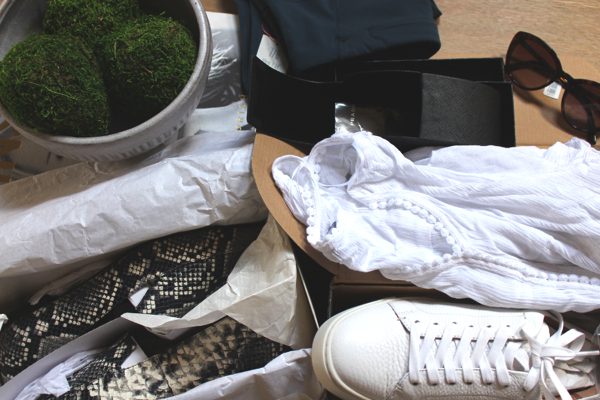 Fall is in the airrrrrrr.
Just kidding. It's 100 degrees!
This is why I can't help but laugh a little when I see Instagram posts of people in booties, jeans, and sweaters already. I know what it's like to try to take fall pictures and be totally sweating the entire time. 😉 We're definitely in that limbo phase between summer and fall, where summer clothes feel a little strange, but full-on sweaters and booties make zero sense. Even though the time is *not quite right* yet, it's still fun to get some fall goods stashed and ready to go. I did some stocking up during the N Sale (mostly on athletic leggings, jackets for the girls, and bras), and requested some fall clothes in my recent Trunk Club delivery. I LOVED all of the pieces she sent so much, I thought I'd write a little recap post.
(Sorry my closet lighting is so bad! It's the only spot where we have a full-length mirror in the house. I'm debating getting a nice one for our bedroom with some better light.)
1) Prada sunglasses. My current Prada sunnies are scratched and water splotched from wearing them in the pool all summer. (I should have worn my cheapies, but there ya go.) I loved these ones, but they weren't dark enough for me.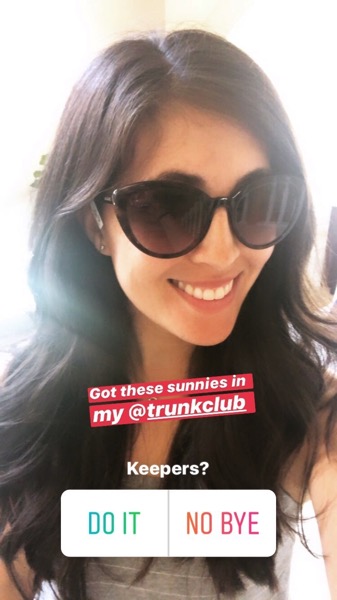 2) Jet spotted crop wide leg jumpsuit by Rails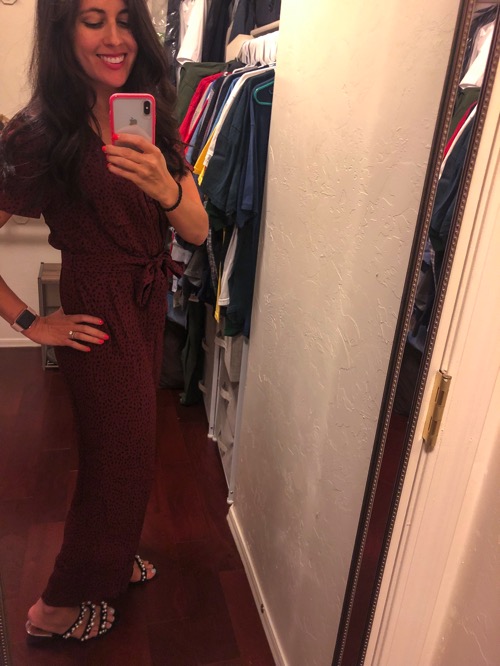 (Not with these shoes)
I didn't think I was going to like this jumpsuit, but I ended up loving it! Usually wide legs are super unflattering on me since I'm not very tall, and this one was beautifully tailored and the print is different without being over the top.
I loved the fit of this one and the color! I decided to not keep it because it didn't feel like it would actually keep me warm. (In Tucson, it goes from blistering hot to freezing cold in winter. Not a ton of in-between time.) So I ended up sending it back, but it's super cute!
4) Florence insta sculpt skinny jeans and Madewell sweater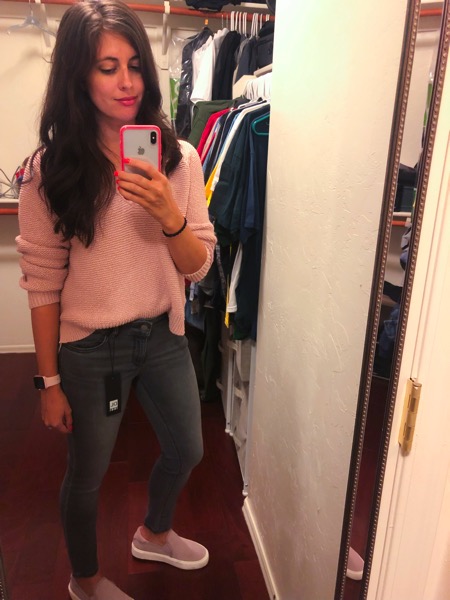 Keep, keep. The jeans are one of my very favorite brands (DL1961) and the color was fun and different. The sweater was super soft and I love pink. 🙂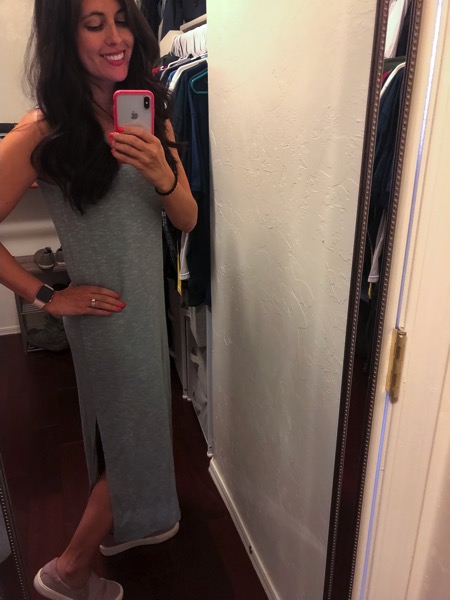 I've worn this at least 4 times since I've received this shipment. It's the perfect everyday dress and super cute with sandals or low-tops. The fabric is very soft and luxe, and the fit is great.
6) She also sent some sneakers and snakeskin flats, which I ended up sending back, and some athletic gear by Sweaty Betty. I had similar pieces, so I decided not to keep them.
All in all, it was another awesome Trunk Club delivery.
Some of the things I like about Trunk Club:
– You can see what pieces the stylist is sending before they're shipped. This is incredible because you can decline certain pieces and say why, or decline entire trunks and try with another stylist. You also have the capability to message your stylist in the app so they send exactly what you're looking for!
– The brands. I've mentioned this before, but we don't have a Nordstrom in Tucson. This is such an amazing way to try on Nordstrom clothes, jewelry, and shoes at home. I know the quality will be fantastic, so it's just finding the pieces that I like.
– They waive the $25 styling fee if you have a Nordstrom card. If you don't have a Nordstrom card, the $25 goes towards any items you decide to keep.
If you'd like to try it out, my referral link is here! I hope you love it as much as I do. This isn't sponsored at all, just like the share the word. 😉
What fall style are you most excited about? I'm pumped to wear booties again.
xo
Gina