Hi friends! Happy Thursday! I hope you're having a wonderful morning. A few people have asked where the podcast has been, and I'm going to have it back up starting June 4. I've been using this time to record some incredible interviews – I can't wait to share them with you – and come up with a more concrete plan for the podcast and where I want it to go. I'm a big fan of launching products and tweaking them as I go to make them better, so that's what I'm working on now. Think of it like a relaunch party and I hope you'll join me for the fun!
For today, I thought I'd share my first Trunk Club experience and the whole process. A little note: this post isn't sponsored in any way – I paid for the service using my own $ and the pieces I decided to keep. If you decide to check it out for yourself, my referral link is is here!
After a few underwhelming Stitch Fix boxes, many of you recommended Trunk Club. Since spring is here and I was in the mood to try out something different, I decided to give it a whirl.. and was pleasantly surprised.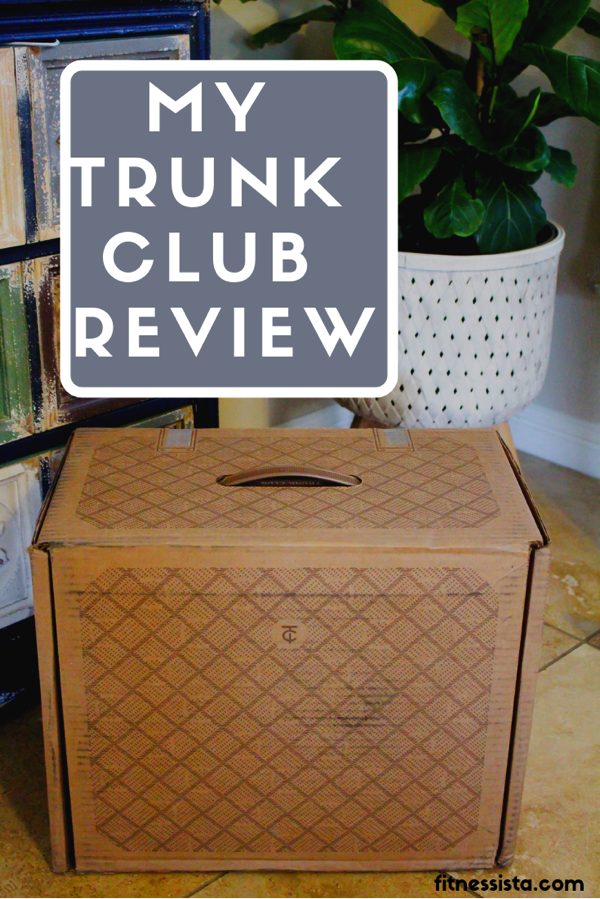 Here's how Trunk Club works:
– You fill out a style profile online and are matched with a stylist.
– Your stylist will ask any additional questions via email or through the app and will start to pack your trunk. I also had a quick call with Haley so I could go over some of the styles I prefer and any challenges I've encountered. (For example, I still have no clue how to dress my body since I got my implants taken out. Everything feels boxy or too big in the wrong places.)
– Once your trunk is prepared, you have the option to delete pieces from the trunk and provide input on why you don't need/want that particular item
– If needed, the pieces are replaced by alternate options and the trunk is shipped!
Once I received the giant box, I couldn't wait to try everything on!
Here's what I received in my first Trunk Club box: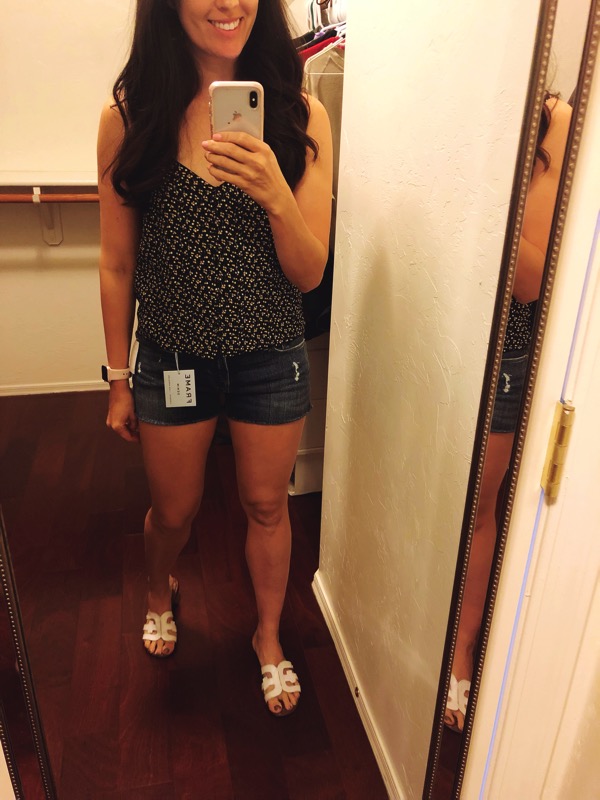 Madewell camisole // FRAME Le Cutoff shorts (sandals are from last year)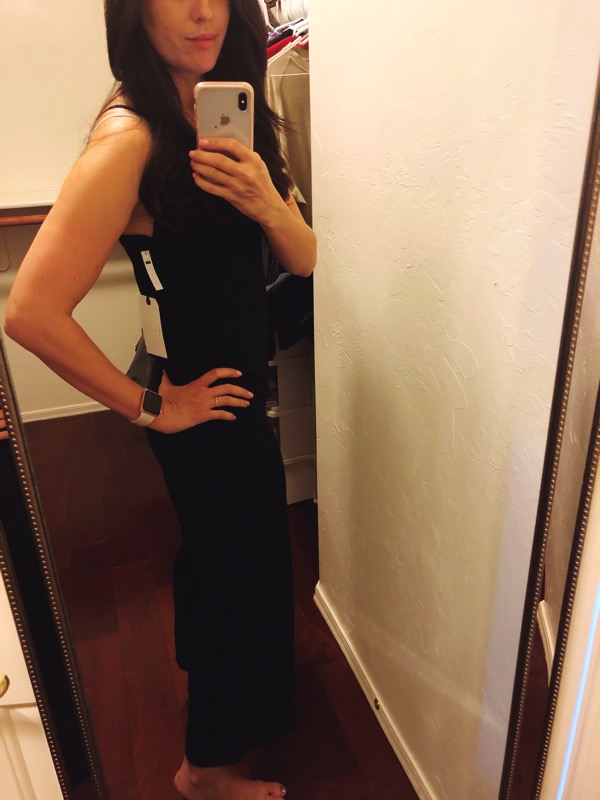 Leith strappy jumpsuit (Tried to take a side pic to show you the wide cut of the legs, but it just ended up looking weird)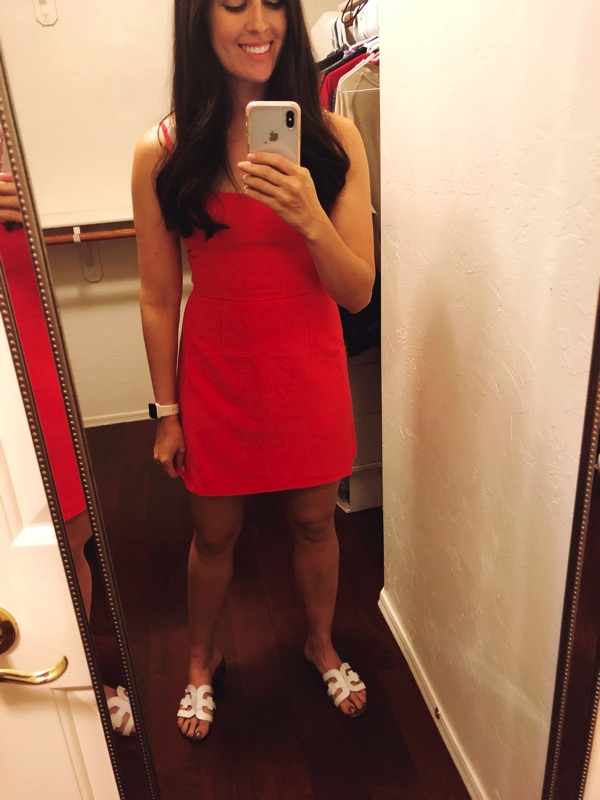 French Connection Coral Minidress (I felt very Cher Horowitz in this dress)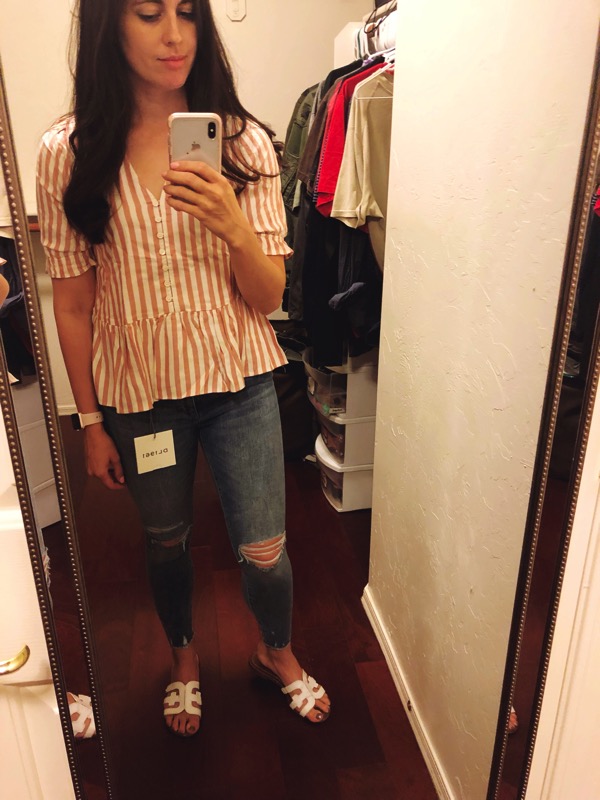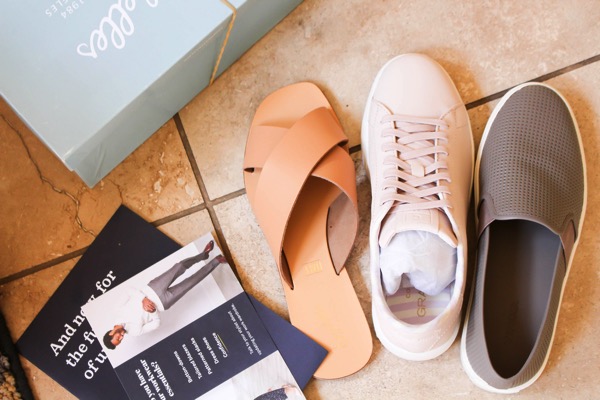 Slide sandals // Cole Haan low-tops // Vince slip-ons
Not pictured:
Rails plaid tank (already own a few of these)
Madewell tie Front Tee (already have these)
and rag & bone skinny jeans (cut off my circulation)
Pros + if Trunk Club is worth it:
– The trunk was HUGE. It had four tops, one dress, one jumpsuit, two jeans, one pair of shorts, and three pairs of shoes. Even though I knew I wasn't going to keep everything, it still totally felt like Christmas morning haha.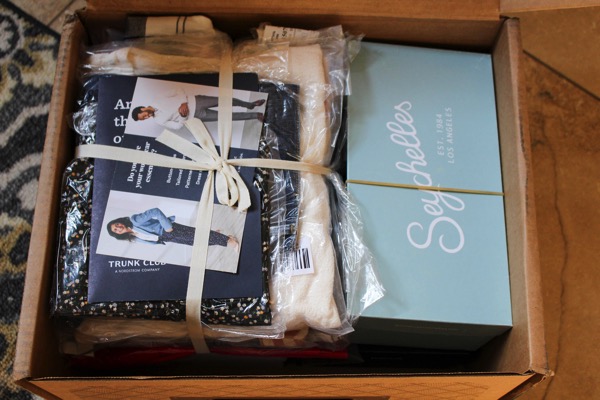 – The quality. Trunk Club is owned by Nordstrom, which is easily my favorite spot to shop online, so I knew what types of clothing I'd be receiving. It also made it helpful when I chatted with my stylist because I could share my favorite Nordstrom brands.
– The app! It was fun to be able to chat with Haley via the app. I never felt like it was overwhelming and was just a simple way to answer her questions. If you decide to sign up, I highly recommend using the app because it makes it so easy to correspond with your stylist and check the status of your trunk.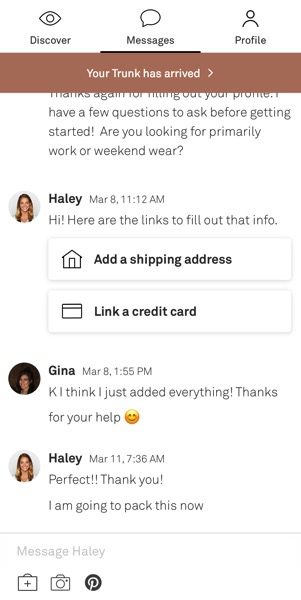 – In the app, you can add pieces to your virtual wardrobe that you already own, and it populates the items that you've purchased. From here, your stylist can create outfits for you. SO COOL, RIGHT??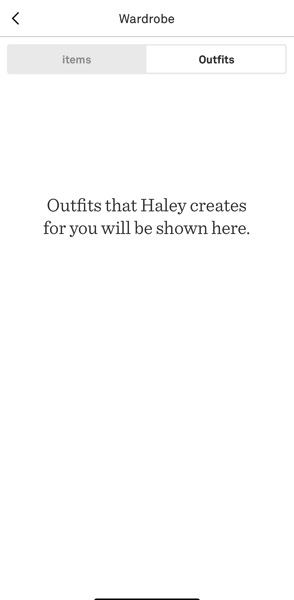 Cons:
– Since it's through Nordstrom and I shop there quite a bit, I received some things I already own. I had already deleted some pieces from the first trunk because I already had something similar and didn't want to be a pain, so I knew a couple of pieces would arrive that I wouldn't need.
– Higher price points. This definitely comes with the quality aspect of it. Initially, I was sure if they price-match and was able to find the Madewell camisole online for a better price, so I bought it online. (Note: they do price-match! My app reflected the new price when I went to check out.)
In the end, I kept the low-top sneakers (I've been needing a new pair and these were so comfy + love the soft pink color) and ordered the camisole online. I'm going to lurk these shorts until they go on sale and snag a pair. I was on the fence about the jumpsuit and the red dress, so I decided to send them back. I've found that whenever I debate clothing purchases, I don't end up wearing them as much. The ones I wear and love are the ones I say, "YESSS!" to immediately upon seeing them.
I think that overall, Haley really nailed my style and the types of things I like.. and this was the first trunk! I didn't think, "Ew" about a single item in the trunk. I can't wait to see how they get better over time.
If you're curious about trying Trunk Club, my referral link is here! I hope you love it as much as I do.
Have a beautiful day and I'll see ya in the morning with some faves.
xoxo
Gina