Les Mills: Get fit together
Hi friends! This post is part of my new ambassadorship with Les Mills. I'll be doing on post per month for them, and am really excited to be participating because as you know, I'm a huge fan of their formats. Body Pump is a fave and I recently got to take (and LOVED) the new GRIT. Read on for more details and some of the latest research regarding group fitness 🙂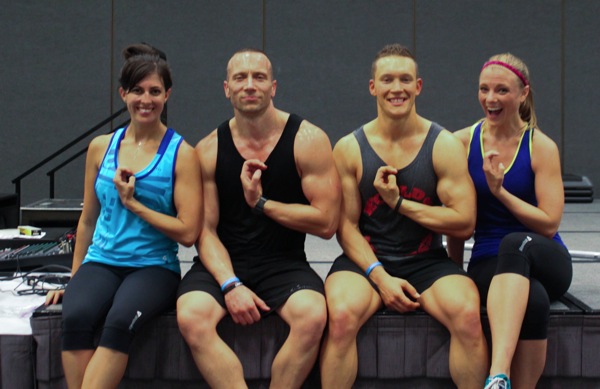 When it comes to cardio, I've always thrived in a group fitness atmosphere. I grew up dancing, and relied on my dance friends to make it through grueling practices while motivating me to point a little harder and jump a little higher. Since then, I've always enjoyed the motivation that comes with working out in a group. There's always the "rabbit" in the class that doesn't quit, and even when you want to, you look at the rabbit and trick yourself into continuing.
One of the benefits of group fitness is that there is a such a wide variety of classes. You can spin, swim, jump, dance, crank, punch heavy bags, whatever floats your boat. There are always new classes on the horizon, so it's fun to check out your gym's schedule and see what they offer. Here's the thing, too: if you enjoy it, you'll do it. There are so many types of fitness activities out there so you have NO reason to punish yourself and do something you loathe. Love it and you'll stick with it!
Les Mills recently conducted an interesting study about the benefit of group fitness classes, even when participants didn't change their diet.
Get Fit Together, a study conducted by Dr Jinger Gottschall and Pennsylvania State University (and published in the Open Journal of Preventative Medicine), subjected 25 sedentary types to a 30 week program made up solely of LES MILLS™ Group Fitness classes. This program was based on the American College of Sports Medicine (ACSM) physical activity guidelines (which suggest an hour of cardio exercise 2-5 days a week; 8-10 strength exercises two days a week, and flexibility exercises once a week, to maintain health).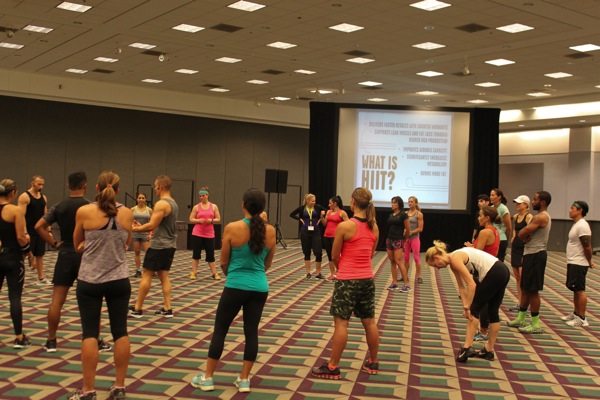 Some of the results:
· Over the 30 week study, 20 out of 25 study participants never missed a workout – a compliance rate of 98.8 per cent. This highlights that enjoyment and community built from group exercise is vital in creating good fitness habits as it taps into deeper motivators than just physical improvement. This is what kept people coming back for more!
· Without changing their diets, our research participants increased good (HDL) cholesterol and decreased bad (LDL) cholesterol. They also saw a decrease in body fat by almost seven per cent for men and just over four per cent for women, and increased muscle mass by an average of 13.6lbs for men and 2.6lbs for women.
· Participants who had a 'poor' fitness reading to begin with graduated to an 'above average' level after the 30 week trial; they also increased their aerobic capacity by almost 60 per cent.
T They experienced all of these amazing results with exercise only– pretty incredible! Can you imagine if they would have changed up their diet, too?
Research participants did a combination of BODYATTACK™, BODYBALANCE™/BODYFLOW™, BODYCOMBAT™, BODYPUMP™, BODYSTEP™ and RPM™ classes. Despite each of these programs being highly engaging, it was not the workouts alone that drove the results and helped make the new fitness regime stick. The 30 week research period featured an initial six week period of acclimatization. This acclimatization period enabled participants to be eased in slowly, taking easier classes in the beginning and walking out when it got tough, before ramping up the intensity with a full six-day-a-week exercise schedule. This meant they were not overwhelmed by it all and there was no acute pain from overworking unfit muscles.
I think this is key when beginning a new fitness program. When I train new clients, especially if it's their first time working out, we use bodyweight only or lift very light weights (like 3-5 lbs). You don't want them to be so sore that they dread their next workout. There's a sweet spot of soreness: you feel like you did something, but it's not debilitating pain.
The approach highlighted how providing options of different classes and carefully progressing the time spent engaged in exercise lead to ongoing progression and devotion to continued physical activity. And that's where the secret to exercise success lies…
Keep it fresh but most importantly, engage in activities that you find enjoyable – the results should follow!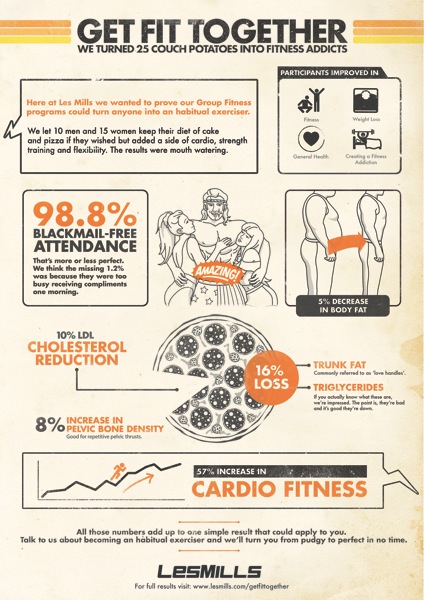 To find a LES MILLS class near you, visit www.lesmills.com/findaclass.
Have you tried any of the Les Mills formats before?
If you're curious, I have a couple of Focus On posts for more info:
Hope you have an amazing day!
xoxo
Gina
This post is part of my ambassadorship with Les Mills. As always, all opinions are my own 🙂