Hi friends! Hope you're having a wonderful week so far. We're enjoying an amazing vacation right now -I'm so excited to post some recaps!!- and I invited some blog friends to join the party and help me out with some posts while we're away. This post is from Heather, who I recently met at Fitbloggin'. We have so much in common, especially since we share a love for dancing (and dance fitness!), smoothie bowls and shopping 🙂 Thank you so much for stopping by, Heather 🙂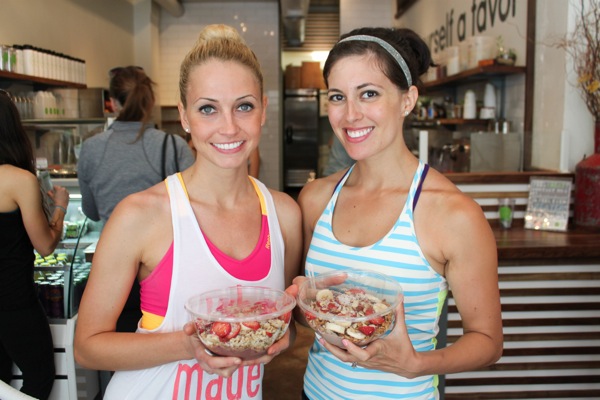 Hello Fitnessistas! My name is Heather and I write over at Housewife Glamour, a blog that follows my every day life with my husband, my job dancing for a professional sports team, and my love for all things health, beauty and fitness.
Do the different hair colors confuse you? Me too. Over the past six seasons of dancing in the NBA, I have been a total of four different hair colors. Some changes were my own choice, while others were not. Today, I am currently the dark brown/red shade you see on the left.
I started blogging while I was planning our wedding (which is partly where the idea for my blog name came from), and discovered the beautiful world of healthy living blogs in the process. This completely revamped my focus!
I have been following Gina's for a while and finally got to meet her this past summer while attending my first blogging conference. I just adore her, so I was honored when she offered me to guest post while she's gone.
While preparing a post, I searched through her archives and realized she has posted about pretty much everything. I wasn't quite sure where to start, so I'm just going to share some of my favorite ways to keep a happy, healthy lifestyle in a busy world, or in my case in a professional sports world!
Staying Fit While Keeping Busy
I have always had an active lifestyle, mostly through dancing. I have danced for the University of South Florida, the Orlando Magic and recently moved up north with my husband to work for the Detroit Pistons! While dancing provides great cardio, it is important for me to keep my trips to the gym as regular as possible to work on strength and muscle tone.
I believe that there is always time for a workout if you make it a priority.
On and off season, I do a variety of group fitness classes, weight training, and make sure to fit in a good cardio sweat 4-5 times a week with one long run outside on the weekends. My all-time favorite type of workout is barre, which I used to teach when I lived in Orlando. (Have you seen any of Gina's Barre Burn videos + workouts? I love them!)
I also like to make up a variety of my own workouts on the elliptical, treadmill, and even circuit and strength training. Here's one of my most popular ones yet, designed for travel and requires zero equipment.
When I am in need of workout motivation, I set a goals for myself and mix it up by entering a race, trying a new type of workout or class, grabbing a workout buddy, and creating new workout playlists.
As a dancer and a runner, I believe stretching before and after an intense workout is just as important as the workout itself! I have a personal relationship with my foam roller and often bring it up in my posts to instill active recovery into any workout routine.
My best advice to stay fit is to find the types of activities and workouts that work best for you! If you don't like running, maybe signing up to run a half marathon isn't for you. Instead, try a kickboxing class, CrossFit, or visit a yoga studio!
Eating Clean With A Hectic Schedule
I have acquired my own healthy eating habits and meal plans that help keep me on track during auditions and throughout the entire NBA season.
Although I enjoy cooking and creating recipes, I find myself more of the grab-and-go type of eater. I often need meals in a pinch, and I have found that my specialty lies in creating quick and easy meals, snacks, and smoothies.
Here are some of my 5 minute healthy meal ideas, which looking back on reminds me that I need to put a lot more (updated!) posts like this one together.
While preparing for an audition or a team photoshoot (where being my fittest and wearing a tiny two piece is a must), I eat extremely clean, but don't deprive myself of anything all together. I am the first to admit that I like to indulge in pizza, cookies, and ice cream, and my favorite type of food is Italian, followed by Mexican.
While this could be trouble, I am a firm believer in eating whatever you feel your body craves in moderation. I eat organic, whole foods, and substitute whole grains whenever possible.
I am obsessed with fruits and vegetables, which is a wonderful thing. My general rule is to include at least two servings (of both or either) per meal.
I could literally live off of soups and salads, especially since moving up north. My favorites are chicken tortilla, corn chowder, and any kind of vegetable or bean soup.
Over the years, I have learned that my body looks and feels it's greatest when I fuel it with healthy eats.
In a nutshell, here are my best healthy eating tips!
When I'm not dancing or working out, I look forward to spending time with my husband (who also works in entertainment for the Pistons!), my overly needy and expressive dog Roadie (who thinks he is either cat or human, we're not sure), and our two hilarious (and also needy) cats: Aspen and Cali.
For now, it's just the five of us taking life on, one NBA season at a time. I hope you get the chance to pop over and say hello every once in a while!
Thanks again, Gina, for allowing me to guest post today. Have a wonderful day, new Fitnessista friends!