love to Boston + the workout sandwich
Hi friends. My heart is still really heavy today after yesterday's tragic events in Boston. This post was originally supposed to publish around 3pm yesterday, but at the time felt so silly and inappropriate to post, I put it queue for this morning and enjoyed the evening with my family. Even though we had a great dinner together (for the record, according to Liv, Sweet Tomatoes is the best restaurant ever because they have all of her favorite foods in one place), I felt extremely sad. It was magnified because Jeni had just left, and I couldn't help but think of the families whose babies wouldn't come home or were badly injured. Even if they're grown up babies, they're still someone's child. Someone's sister. Someone's dad. Someone's best friend. Family. With how sad I was, I didn't cry until later last night while reading this article.
When disaster strikes, I try to remember the Fred Rogers quote and think of the helpers. Events like this magnify my faith in humanity because the good far outweighs the very few, very nasty bad apples. The helpers are true heroes – the ones who run TOWARDS the danger to help the victims.
[Source]
When things like this happen, it makes me not want to blog at all. It makes me want to do nothing but cuddle my baby and mourn what happened. While it's necessary, I realize that you eventually have to get back into the swing of things, and keep on keeping' on, because that's what those who were affected would likely want. The rest of my original post is below, but I wanted to say that Boston is on my mind. Love and prayers to everyone affected… I hope that you and your family are safe <3
____________________________________________________________________________
It's been a beautiful long weekend… I'm not ready for it to officially end.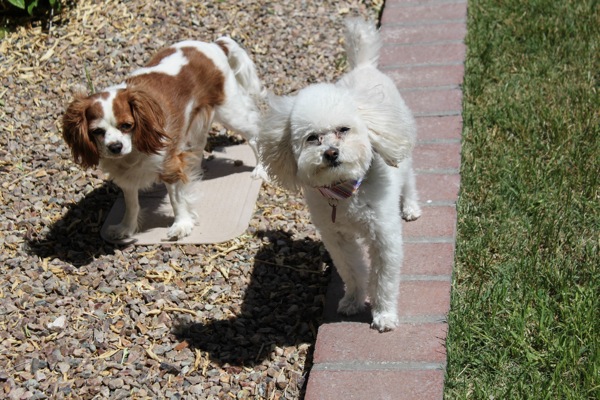 (Fur sisters say "Hi")
All weekends are like that, but you know what I mean 😉
I've spent so much time with my girlfriends and all of the babies, and we've had a blast at night going out and enjoying time together. Jeni lives in Vegas now and Michelle is in Texas, so to have two of my closet friends in Tucson at the same time has been amaaaazzzing.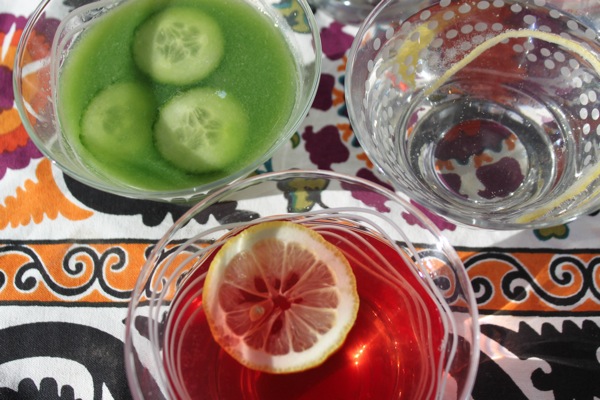 This morning, we all met up for bagels/coffee, then went to shop and walk around at La Encantada.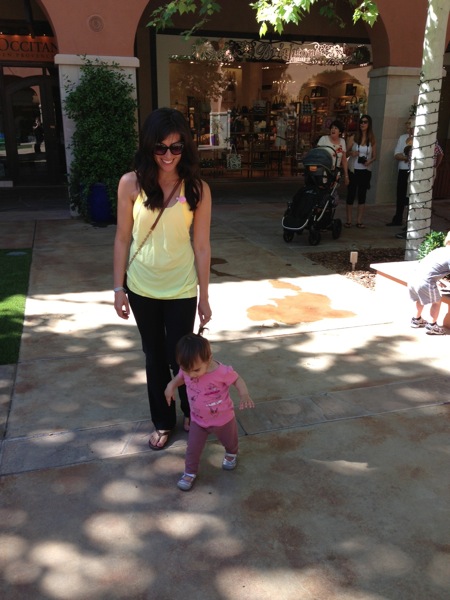 The perfect strategy: take the little ones to the toy store first so they're tired enough to hang out in their strollers while we shop 🙂
After last night's Zumba class, it feels good to have a day off from the gym. I originally thought I'd to pump some iron today, but squeezed in a 20 minute sesh yesterday morning while everyone was getting ready for the day.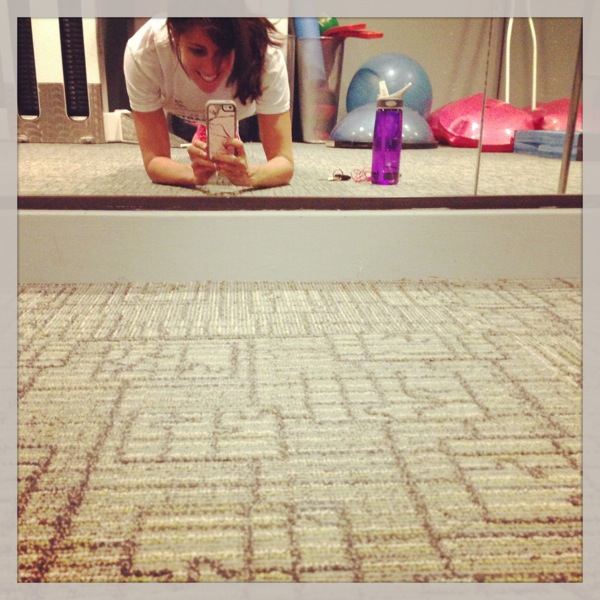 I thought I'd share two strategies I've been using with my personal workouts lately that I love.
Behold, the workout sandwich: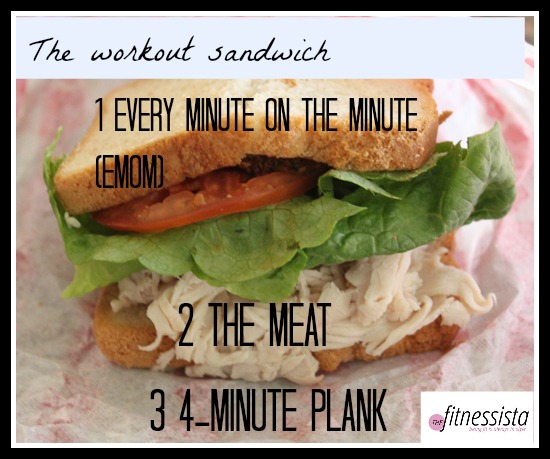 The every minute on the minute (EMOM) is something I picked up from my very limited CrossFit knowledge, but love to use in my own workouts. The idea is that you do the same amount of reps of an exercise each minute on the minute for the same number for minutes. It sounds confusing, but here's an example:
7 burpees
7 minutes total
7 burpees x 7 rounds = 49 burpees total (holy burpees!)
You begin each round on the minute. So if you finish your 7 burpees and it's only been 42 seconds of that minute, you get to rest for 18 seconds before starting again. Finishing quickly can be a blessing and a curse; you get it over with faster with more time to rest, but you have to work harder. I use the Tabata Pro app on my phone for this, and set it for 5 rounds of 1 minutes (usually). I love doing the 5 bear complex EMOM. It gets my heart rate up FAST, so when I start the "meat" of my workout (cardio or strength circuit) I'm ready to kill it.
4-minute plank:
1 minute regular plank (if I get bored or want to quit, I'll do any of these plank variations)
1 minute side plank or variation
1 minute regular plank or reverse plank
1 minute side plank on the other side
It's an awesome exclamation point to finish the workout and I can feel it working my entire body. If you just want to use plank for core strength, hold it for a maximum of 10 seconds, rest for 3 and repeat for 5-6 rounds. If you hold it longer, you start to engage and work your entire body.
Have you tried any new workout techniques lately? 
Have an wonderful day <3
xoxo
Gina