Hi friends! A very special hello to all of the new readers out there, too 🙂 Hope you've had a lovely day <3 Thank you for your amazing discussion this morning- I've loved reading your tips and advice, and will be answering any questions you asked after this post goes up.
My work day was a mixture of intense, tiring, restful, exciting and amazeballz. A lot went on today! Since I'm still in training mode, I was able to take and observe some very new-to-me classes, and also lay by the pool on my lunch break.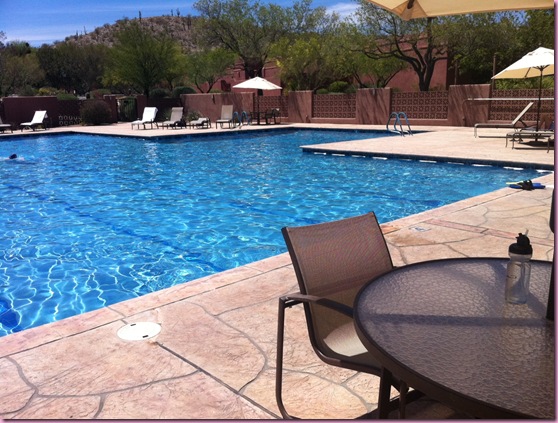 I like that 🙂
Here's a snapshot of what I did today:
-Ballet– This class was killer on the ol' bunskies and is one I'll probably be teaching.
-Weight room supervisor- I really enjoyed this one! I got to walk around the gym, give fitness advice, hand out fresh towels and talk to the guests as they worked out.
-Dance Party- no description necessary. LOVED this one 🙂
-Gliders- This class used the gliding disks that I was first introduced to at the SCW workshop last year. I learned some awesome exercises utilizing the gliding disks… this would make for a fun WMOW video, methinks.
-Drumming- I most likely will not teach this class. It was… unique.. and fun in a different way.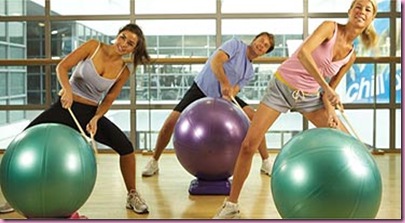 Source
(Basically we listened to music and drummed along. For example: grapevine, hit the ball, grapevine, hit the ball. Clank your sticks together, walk around in a circle, etc)
–Stretch. Much-needed, and we did a great IT band stretch that made my body rejoice.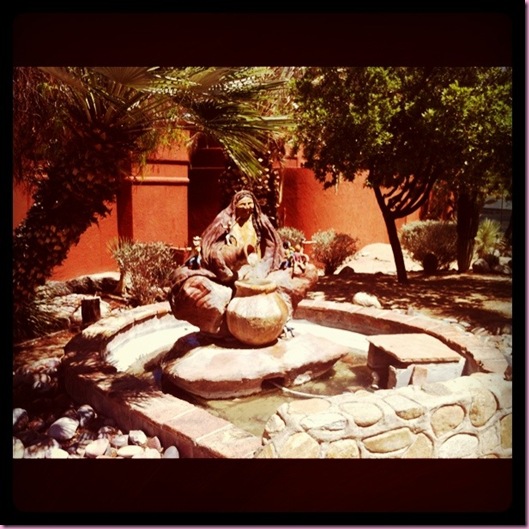 Needless to say, I'm a little sore –still have a day and a half to go this week- full of new knowledge and loving every second.
I couldn't eat a protein muffin fast enough when I walked in the door.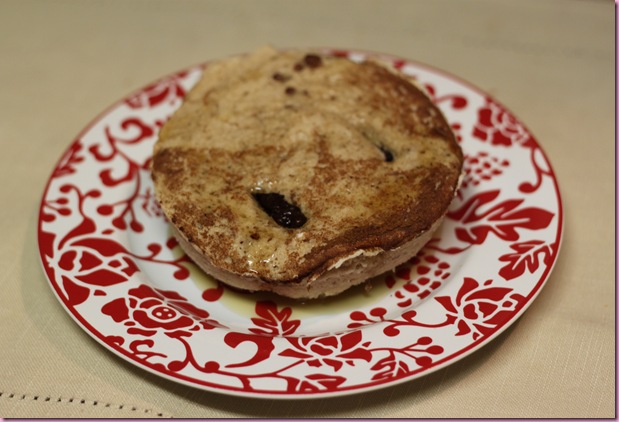 I've had one almost every day this week. It's so versatile, HUGE and filling. Today, I used applesauce and brown rice flour, no cacao powder, and wedged two dark chocolate squares into the batter halfway through cooking. Topped with maple syrup… swoon.
After I got my feast on and put some comfy clothes on, I was really excited to play with the tempeh I picked up this week.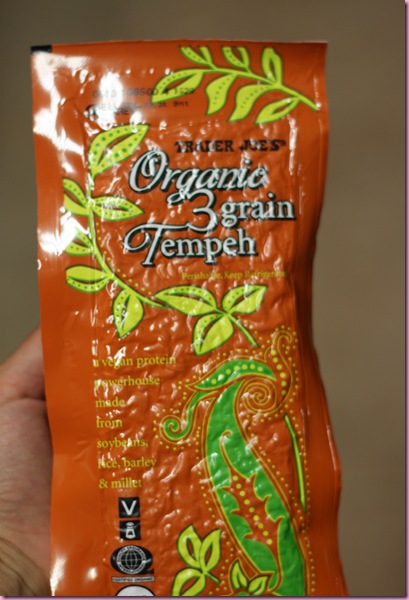 Tempeh looks SO weird raw!!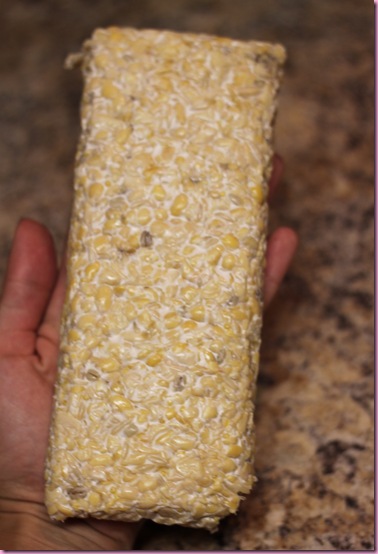 Since LA created a tempeh bacon beast, I figured I'd give a homemade version a whirl. I scoped out a few recipes online, but ended up using the marinade for Matthew Kenney's eggplant bacon. (I can't post the recipe here, but if you do a little googling, it is out there. The recipe is in his cookbook Everyday Raw, which is one of my all-time faves)
I thin-sliced the tempeh: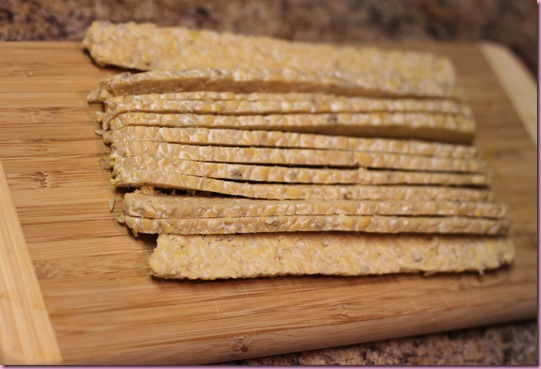 and made the marinade.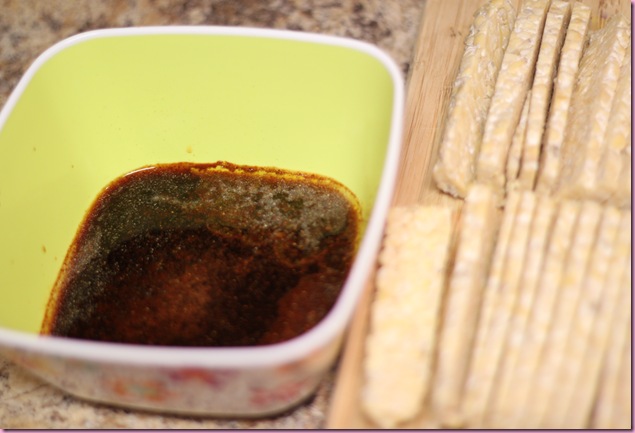 I split the marinade and slices into baggies so they can soak the spicy goodness up. After a couple of hours (or 20 minutes, if I can wait that long haha), it's just cook and eat! Baller.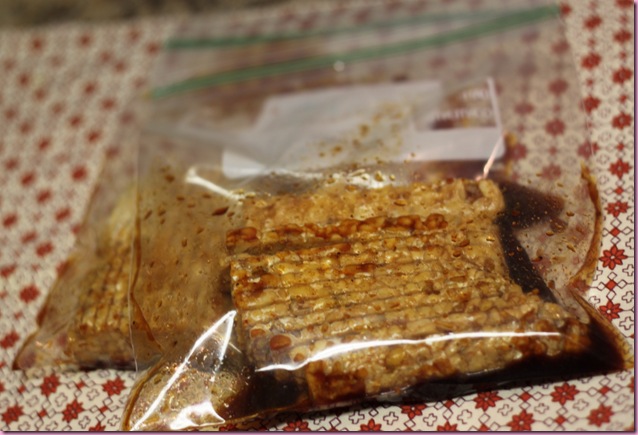 Well I'm off to foam roll my heart out and cook some of that tempeh bacon to eat atop this pizza….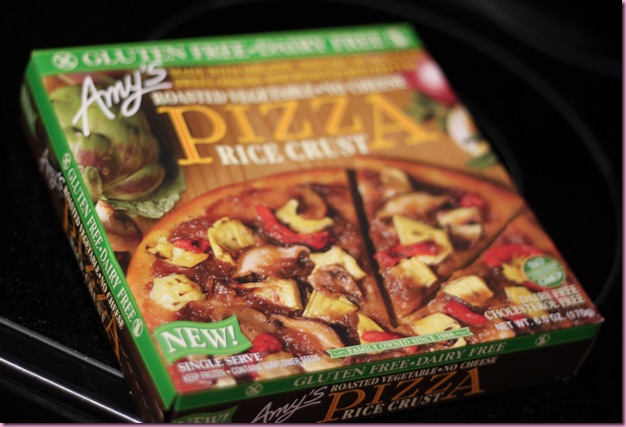 Enjoy your night and I'll see ya in the morning!
xoxo
Gina
Something to think: "Today I am thankful for my health and all of the things my body enables me to do." A guest started weeping after ballet this morning because she was so overcome with emotion. She said that while she was working out, it hit her that she is so very lucky to be able to move her body and do everything she's able to do. It was an incredible, beautiful moment. It's easy to get caught up in silly things, worry about bigger things, or have a bad day.. but if you have your health and you're ALIVE, that's really all that matters, ya know?