Helloooooo 😀 Thank you for all of the sweet wishes regarding my upcoming move- it's definitely bittersweet, but I'm SO stoked to be near family and civilization.
Last night, in honor of Indian Food Wednesday, we enjoyed some Tandoori-spiced Chickpea Burgers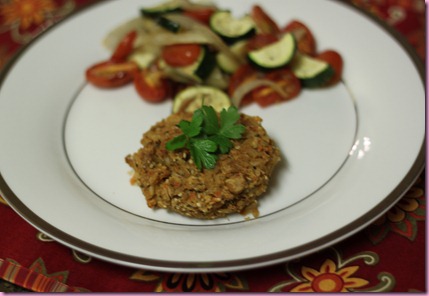 aka the McCurry burger 🙂
To make the burgers, I put 1/4 sweet onion and 1/4 bag of organic baby carrots in the food processor and pulsed,
to that mixture, I stirred in 1 1/2 C cooked long grain brown rice (about 3/4 C dry)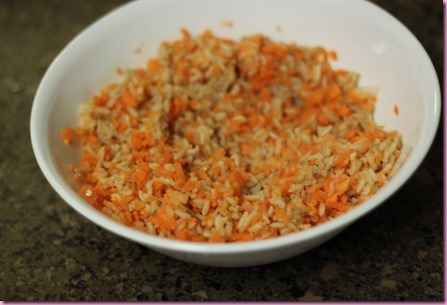 Spice action!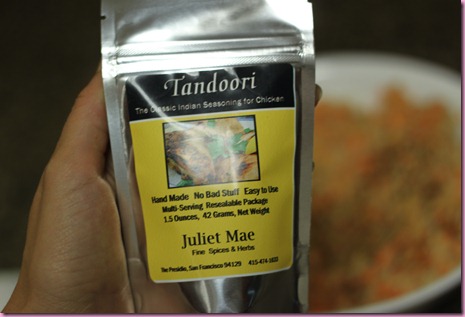 I seasoned the mix with Juliet Mae Tandoori spice (new in my OpenSky store)
and stirred in a can of organic chickpeas that had been blended in the Vitamixalicious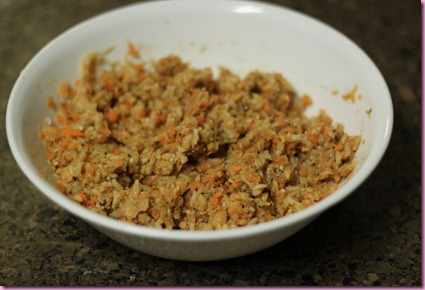 + 1 T Nama Shoyu, 2 T hemp seeds, hefty sprinkle of Garlic Gold nuggets, sea salt and pepepr
In the fridge for 30 minutes to set,
Into 4 hefty patties: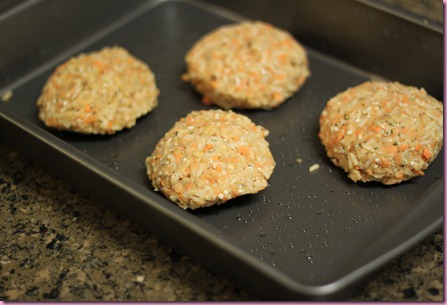 Baked for 20 minutes at 350; flipped and baked for 20 more minutes.
Served with roasted veg: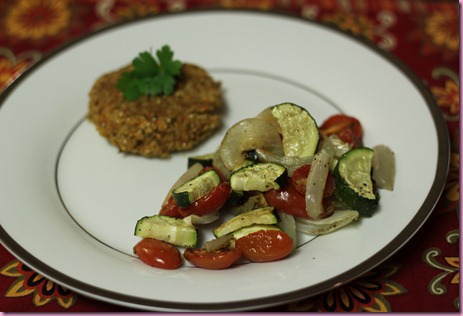 The pilot also had organic chicken seasoned with the Tandoori spice: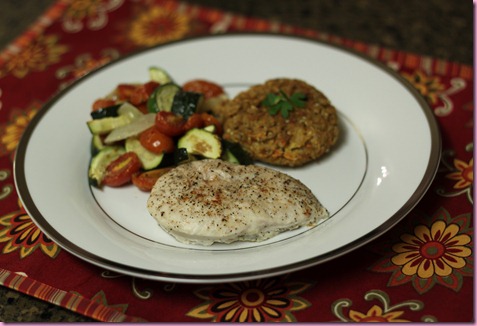 He liked it 😀
If dinner looked a little small… it's because we had some of these beforehand 😉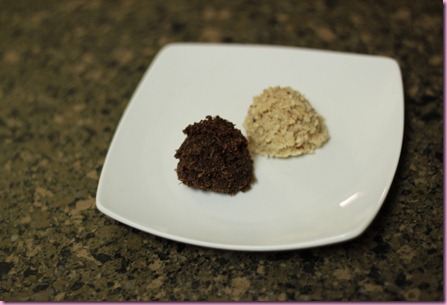 Just to make sure they tasted ok for the HLS peeps 😀
Today is going to be a whirlwind!
The plan:
-Turbo + Bfast
-Drop off Vieserton
-Finish packing
-Run last-minute errands and to the post office
-Pray my Rent the Runway dresses get here
-Drop off Bella
-Leave for Jacksonville!
See ya from J-ville 🙂
xoxo,
Gina
Something to do: You have until noon EST to send your favorite workout DVD review– I'll be posting these tomorrow instead of today since it's been a little frantic up in herrrre 🙂
Something to think: Think about working out as something you do for YOU, not just to burn calories. When you work out, you feel better, you treat others with more kindness and patience than you might have otherwise, problems seem much more manageable after a good workout, and getting your sweat on does crazy awesome things for your health. The calorie burn and physical benefits are just icing on the cake, beebs 🙂