As you could probably tell from our last pics of the day, we have someone very special to introduce 🙂
Meet Caroline: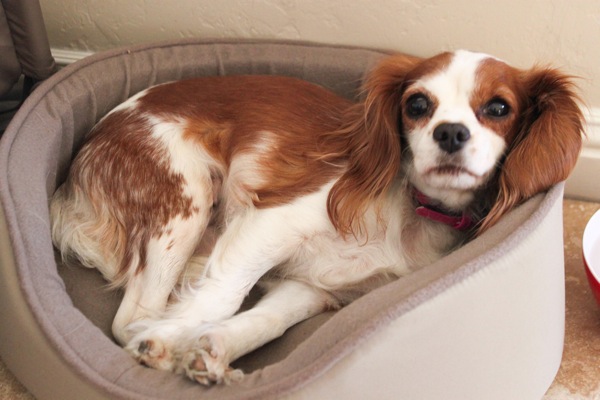 Here's a little info about the sweet girl, who joined our family on Friday.
We picked her up in Phoenix from a foster family, who were taking care of her through a Cavalier King Charles rescue group. They recently saved over 30 Cavaliers from a puppy mill in Arkansas, and brought them all to Arizona to find loving families to adopt the dogs.
The Pilot and I had been wanting to get a second dog and friend for Bell for over a year, but wanted to wait until we knew we had found the right one. We'd take trips to the Humane Society because we knew we wanted our next dog to be a rescue (didn't have a breed preference, but needed to be good with other small dogs, kids and hopefully housetrained) and would research online. When I found Caroline through a rescue website, I thought she may be a good fit since she's fairly young (they think she's a year and a half) and loves other dogs and babies/kids. I filled out an application to receive more info and wasn't really expecting to receive a phone call. The rescue organization called a few days later, and we were so excited.
I talked to the representative for about 45 minutes on the phone to hear as much as possible about Caroline, and was also transparent about our last dog and the incident when Viesa attacked Bell. (Viesa is now living with good friends– Meg's sister and her hubby!- and is queen of the castle. We get to see her often so it was the best possible solution.) We know Bell loves other dogs and thrives when she has dog company, but wanted to make sure that any potential dogs did not have issues with aggression or dominance. Caroline is the exact opposite- she's a shy, timid and easygoing girl, and has been through quite a lot.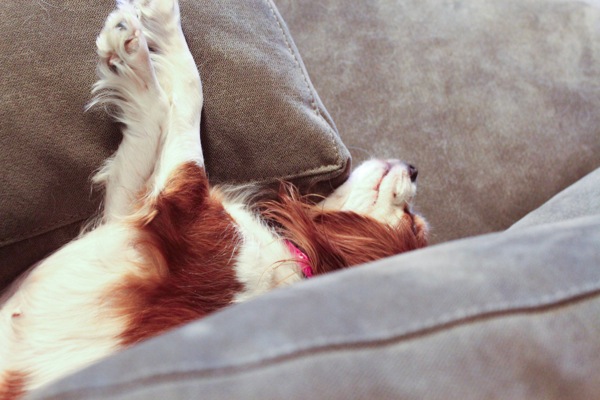 When they picked up Caroline from the puppy mill, she was one of the "mama dogs" even though she was only about a year and a half old. She's had at least one or two litters of puppies (when she's a baby herself), but they're not sure how many. From being in the puppy mill, she's not quite used to the outdoors yet and hasn't been walked on a leash. When I tried to put one on her at my aunt's house in Phoenix, she just laid on the grass, so we all hung out outside until she was ready to go in.
At the same time, she seems to be housetrained fairly well (for now, we just take her out often and she's gone outside each time- we make sure to give her lots of praise and a treat) and is still recovering from her trips. She's been eating and drinking water like a champ, so we feel good about being able to help her gain some weight, since all of the dogs were extremely frail when they were initially rescued. The good news is that Bella is as happy as can be with her new friend -they already follow each other around- and the Pilot and I are pretty sure it's because Bella thinks she's a person. "Oh, we got a dog?! Cool, what are we gonna name her??"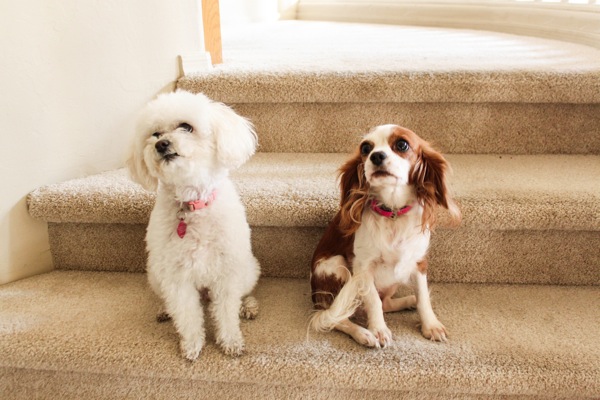 What we can tell about Caroline so far:
-She LOVES the backyard. She'll walk around, explore and wag her tail- it's a lot of fun to take her outside and I'm hoping she'll eventually enjoy going on walks with us. Anyone have tips for helping her get used to walking? I'm probably not going to try again for a little while, until she's settled, but I would love any advice. At first, she was trying to figure out what the backyard was, and now she and Bella are already playing and chasing each other around.
-She also loves sleeping in our bed, and the comfy new dog bed the Pilot picked up for her.
-She's an angel to Liv and Bell. Liv has learned how to have "gentle hands" from petting Bell so often, so Caroline will lay down next to Liv and Livi gives her a few little pats- it's pretty sweet. I've never seen Liv talk the way she has to Caroline.. she's obviously really excited to have another dog in the house. Caroline walked into Liv's room when I was getting her out of her crib this morning, and Liv yelled, "HIIIIII!" and started waving.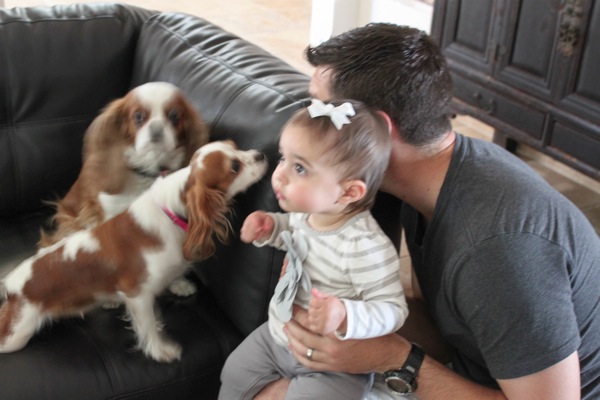 -She's a shy girl for now, but has already blossomed and come out of her shell so much since we first picked her up. There's a huge difference in her personality and comfort level since we brought her home as she continues to adjust.
-She already fits in perfectly and we're so happy to have her. <3