"Daaaamn, girl" December Workout
That's the only title that came to mind.. so I'm just gonna roll with it 😉 Not only are other people going to be thinking that when they see your results, but that's how you'll feel after each workout: proud of yourself! And ready for a shower.
This workout is meant to be completed circuit-style in 3 rounds. Focus on form while endeavoring to move quickly from one exercise to the next, for the specified amount of sets.
Leave a comment to let me know what you think! Another quick workout to add to your holiday rotation 🙂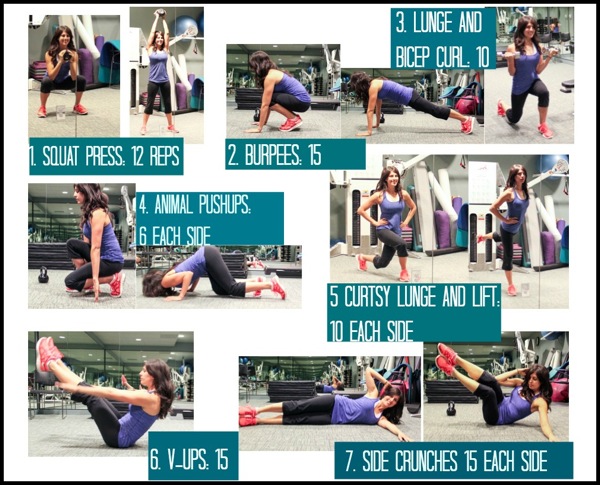 3 rounds:
Squat press: As you squat, hold the kettlebell (or dumbbell) at your chest. Press the weight straight up as you rise from the squat. Remember to keep your weight in your heels, chest lifted and core engaged.
Burpees: I'm sure many of you already know and love/hate these guys. If burpees are too much for you, try walking into each position instead of jumping. 
Lunge and bicep curl: As you lunge, perform a bicep curl, keeping your elbows close to your sides and lunging straight down instead of forward. To switch it up, try static bicep curls, hammer curls or unilateral curls. To avoid bicep curl overload, only do 10-15 bicep curls per round (for example, you'll lunge 10 times on the right, but only do 5 bicep curls. Switch to lunge 10 times on the left, while only doing 5 more bicep curls = 10 lunges each side, 10 bicep curls total)
Animal pushups: This is a fun(ish) one! Stagger your feet and keeping your chest lifted, lower down to tap the floor right in front of your front foot. Push through your legs to land forward in a deep triceps pushup. Push through your hands (using your triceps and chest) to land where you tapped the floor and rise up.
Curtsy lunge and hip extension: The key to a killer curtsy lunge is to not be afraid to step wayyyy behind your supporting leg. Press through the front leg as you raise your back leg, squeezing your glutes.
V-ups: Exhale as you come up and reach for your ankles. If this is too much, try it with bent knees. Make sure to maintain control and perform the movement slowly.
Side crunches: Exhale as you raise your legs and crunch towards the side. Visualize those chiseled abs! (I always like to think of Zuzana doing this move whenever I'm rocking out some side crunches)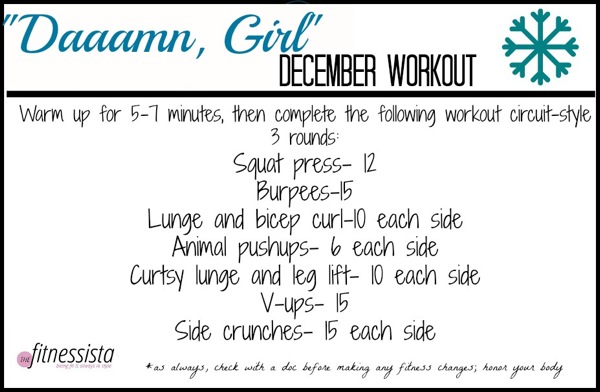 Happy training!
xoxo
Gina
ps. Thank you so much for your kind words about Caroline, your heartwarming animal rescue stories, and for all of the leash tips. I took Caroline and Bell out front last night for a while to watch the Pilot put Christmas lights up. She did really well!! We're so happy to have her in the family.