Tempeh Bacon BLT Kale Salad
This kale salad is massaged with a savory avocado dressing and topped with crunchy tempeh bacon pieces. It's the perfect make-ahead salad for the week or for any summer get-togethers.
Hi friends! How are ya? Hope you're having a good morning. We're just hanging out here at home and getting ready for the day's adventures. P has taken a couch nap snuggled up to me every day for the past few weeks – I thought we were ditching her nap, but turns out she doesn't want it to be an official nap – so it's been a nice midday break from the nonstop to-dos during the day.
The other night, Pilot and I were able to catch an impromptu date night to Salty Snapper for oysters and margaritas, and it was perfect. They had live country music on the patio, the weather was perfect. and the gnats took a break from harassing everyone.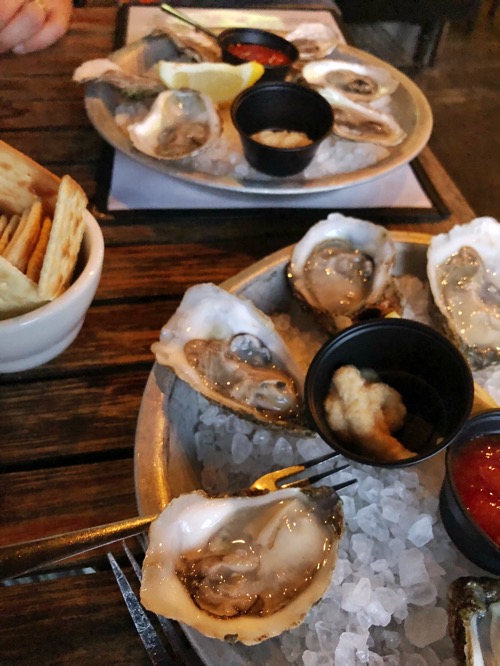 Tempeh Bacon BLT Kale Salad
For today, I wanted to share this super easy and healthy salad with you all. (<— note: Liv officially says y'all in real life, and it sounds pretty darn adorable.) This is a kale salad unlike your usual kale salads. It's packed with flavor and has these crunchy savory bites of tempeh bacon in it.
It's like the vegan salad version of a BLT.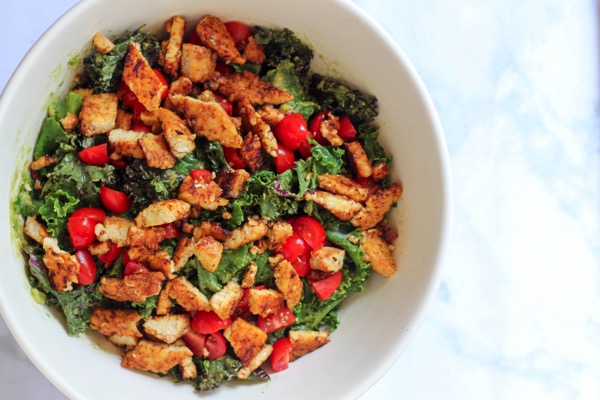 I took it to an event at the Pilot's work because I knew pizza was going to be the main course and I was craving a hearty salad. (We we're asked to bring a side dish or appetizer.) I wasn't sure how it would go over – I took some artichoke dip with chips, too, just so I wasn't the "kale salad girl" – and tall dudes wearing flight suits filled their plates with mountains of kale to accompany the pizza. I was a little surprised, but TBH, I wasn't that surprised because it's good. Like, really, really good.
Kale salads have to be done right. I don't want to chew on my salad for 1800 years and raw kale by itself is kind of stinky and gross. The key is to massage the kale to break it down. It makes it easier to digest and adds a ton of flavor. (PS I get that saying to massage your kale is kind of weird, but there's really no other way to describe it. You put on some John Legend, and use your hands to squeeze and massage the kale.)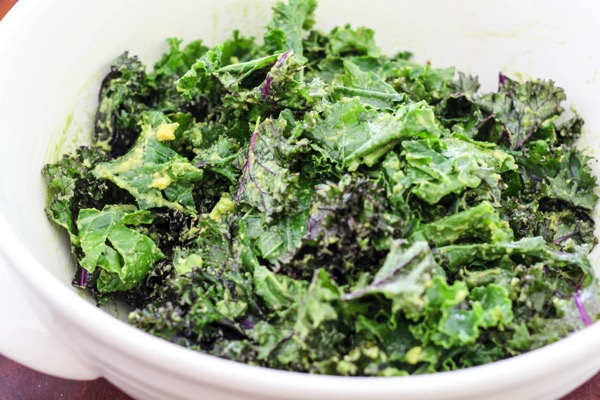 While you're massaging the kale until it shrinks down and absorbs the dressing, the tempeh bacon is happily marinating away.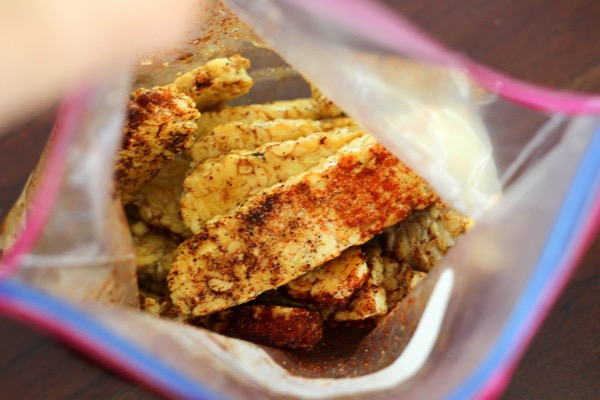 I fell in love with tempeh bacon many years ago, and it's one of my favorite ways to enjoy tempeh. You just add your seasonings to a bag, slice up the tempeh, and let it set in the fridge for a little while (I've done it for as little as 15 minutes) up to overnight.
When you're ready to cook it, just pan-sear in a oil on the stovetop for a few minutes on each side.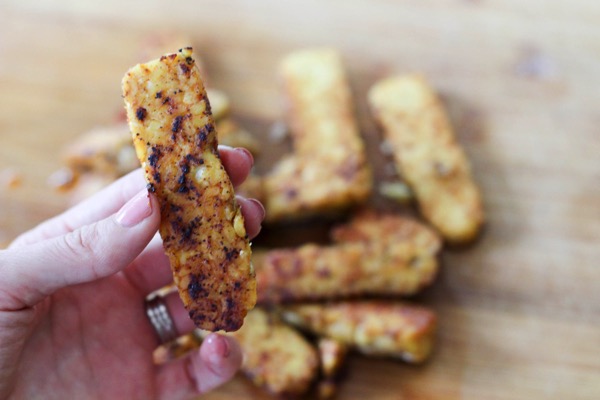 It's crisp, smoky, and totally amazing on sandwiches and salads.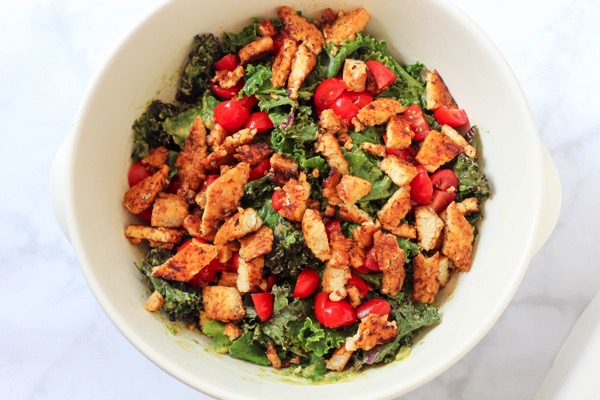 Here's the recipe if you'd like to give it a try!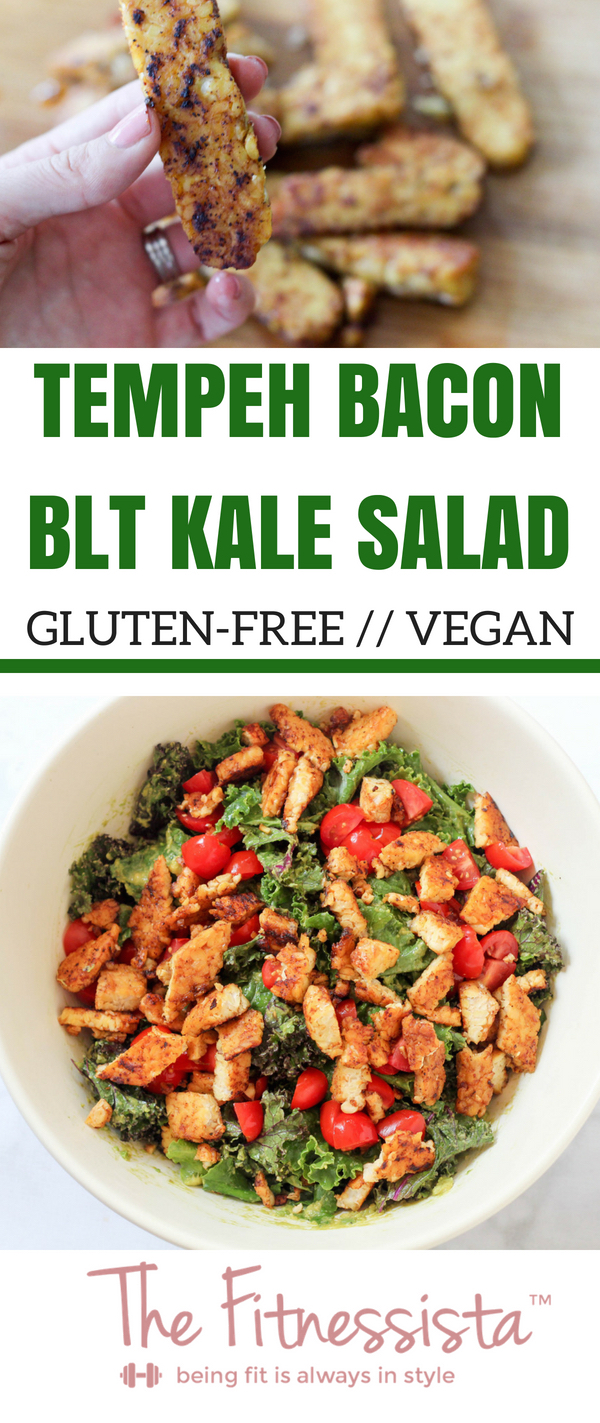 Tempeh Bacon BLT Salad
A delicious and healthy kale salad recipe, using crispy tempeh bacon. Make it in advance to enjoy for lunches, or take it with you to any upcoming summer parties.
Prep Time:

20

Total Time:

20 minutes
For the kale
3

bunches of kale, washed, ribs removed, and torn into bite-sized pieces

2

avocados

1/4 cup

tamari

1/4 cup

oil (I used avocado)
Juice of

1

lemon
Splash of sriracha
Salt, pepper, and garlic powder
For the tempeh bacon
1

block of tempeh, sliced

3 tablespoons

Tamari

3 tablespoons

maple syrup

1 teaspoon

spoked paprika

1/2 teaspoon

garlic

1/4 teaspoon

oregano

1/2 teaspoon

chili powder
Salt and pepper to taste
For serving
1 pint

of cherry tomatoes, washed and cut into

four

ths
Instructions
Make the tempeh marinade. Combine all ingredients into a resealable bag, and place in the fridge to marinate for as little as 15 minutes or up to overnight.
In a large salad bowl, mashed the avocado and add tamari, oil, and the lemon juice. Stir well. Add the kale to the bowl, and using your hands, massage the kale to wilt the leaves and coat entirely with the dressing. Season well with salt, pepper, and garlic powder.
Make the tempeh bacon. In a large saucepan over medium-high heat, add some oil until warm. Add the marinated tempeh to the pan and sear for 3 minutes or so on each side, until browned and crispy. (Hint: if you use a bit more oil, it gets crispier.) Set aside to cool slightly before chopping into smaller pieces.
Assemble the salad
Add the tempeh bacon to the bowl with the marinated kale. Top with tomatoes and stir well to combine. Season as needed with salt and pepper. Serve immediately, or store covered in the fridge.
Favorite use for kale? Any salads you're loving right now?
Hope you have a great day and I'll see ya in the am with some mom confessions.
xo
Gina
More of my favorite salad recipes:
This classic savory kale salad
1 kale salad base, 3 different salads
Healthy homemade dairy-free dressings