Snow day + mom/life hacks
Hi friends! Happy Thursday! How's the morning treating ya? I've loved reading all of the awesome comments on my last post. 🙂
We had the craziest surprise yesterday: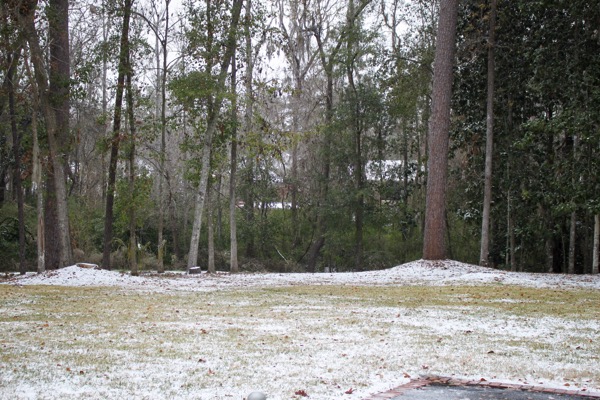 SNOW!
Apparently it hasn't snowed like this in Valdosta for 20 years. It was magical and stunning. (I'm sure all of my friends who see snow all the time and have to live/deal with it regularly are groaning. It's definitely a novelty for us!)
Liv came into our room was like, "Mom, you have to come out here! It's the most beautiful thing I've ever seen."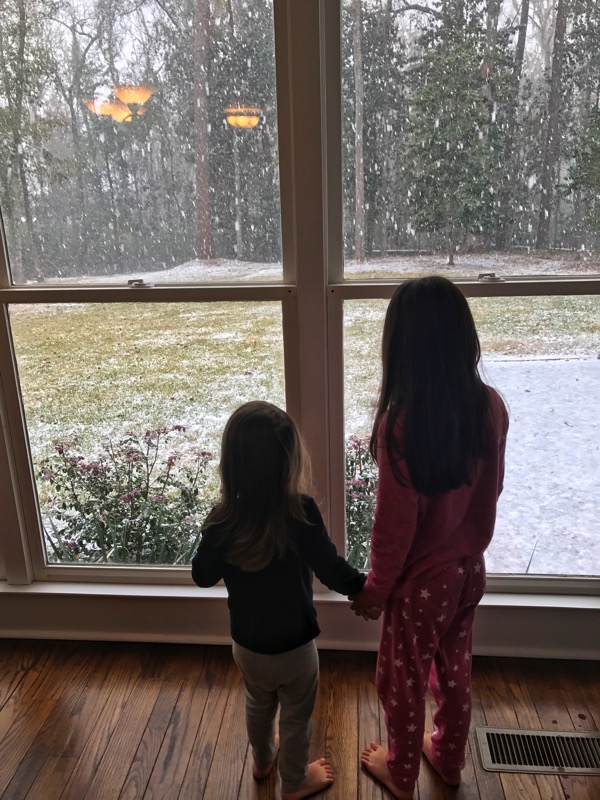 Sure enough, big, fluffy snowflakes were drifting down to cover our yard and driveway. It was like a winter wonderland.
When we went to get P out of her bed, Liv opened the shades to her room. For one of the few times in her young life, P was speechless.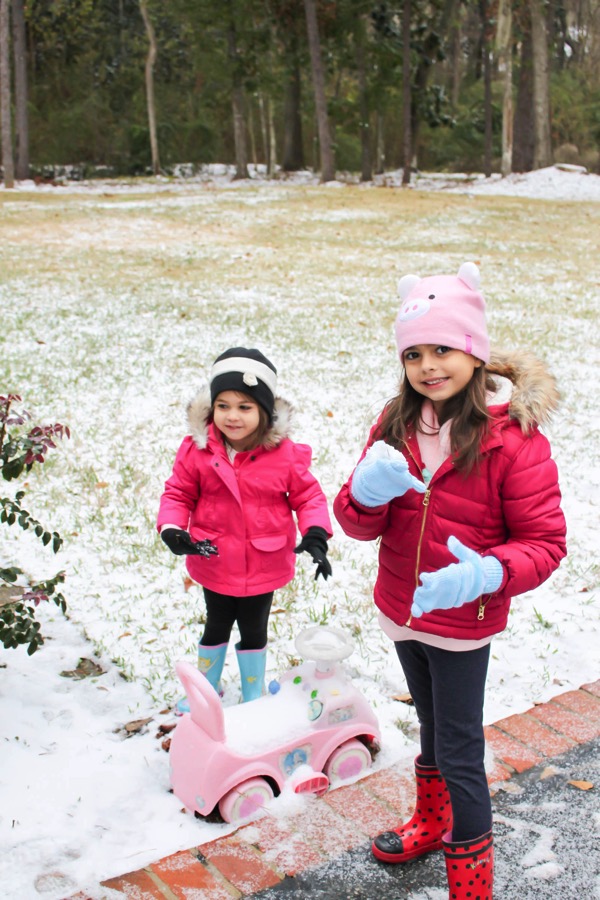 The most difficult part of the whole morning was trying to convince the girls to eat breakfast before we could all bundle in multiple layers to head outside.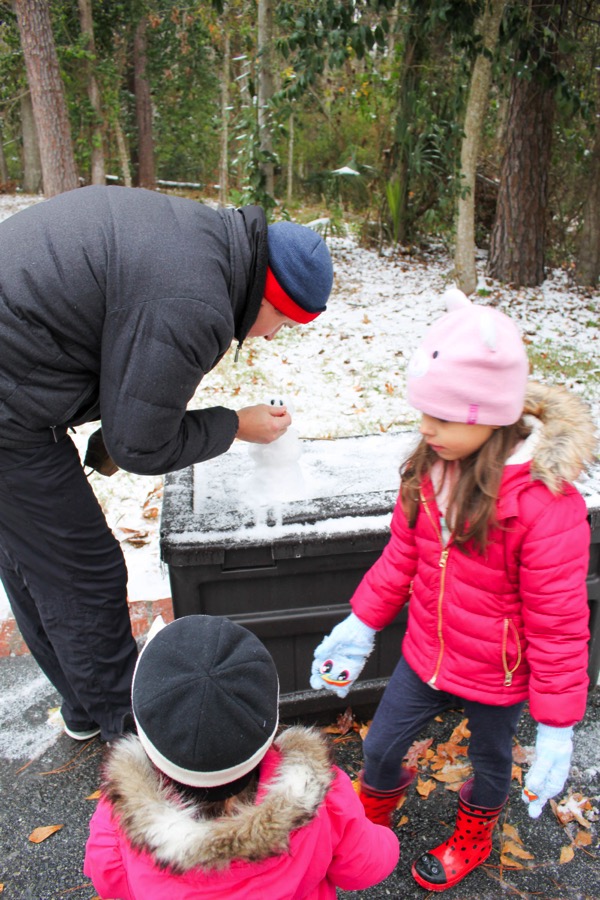 The girls tossed the snow in the air, held icicles, chased each other around, and built a snowman.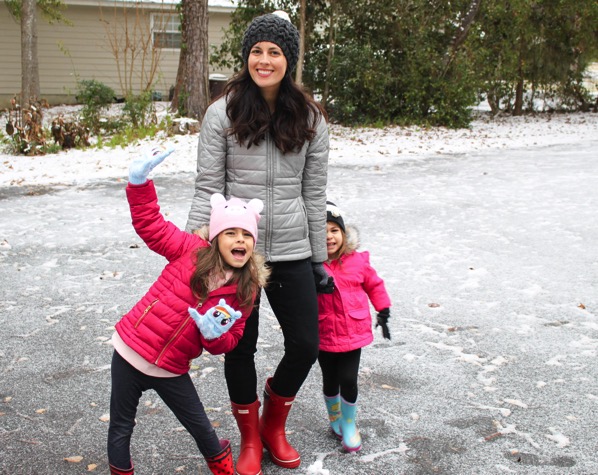 (Poor P started screaming because she got ice in her boot. I took her inside for a quick outfit change and then she was happy again.)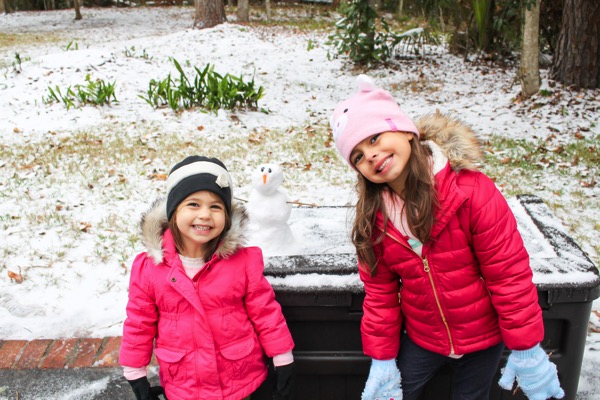 Even when the snow melted, he was still hanging out on the patio.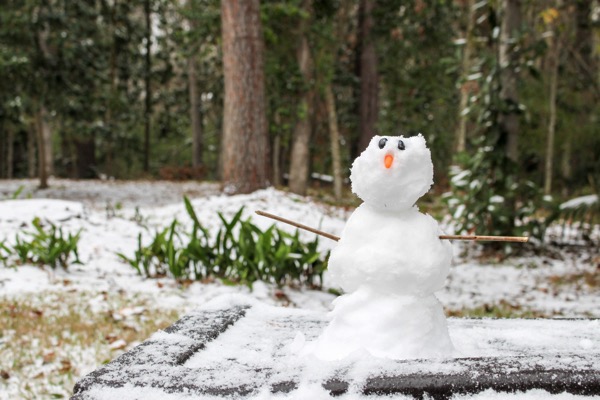 The Pilot and I also had a pretty intense snowball fight haha. We spent the day hanging out at home, watching movies, drinking hot cocoa and catching up on small things around the house. It's funny because this week was our week back to reality with the Pilot returning to work and the girls heading back to school. The snow day totally changed all of that. It was like, "Welcome to real life again. Just kidding! Here's a bonus day of vacation." I'll take it.
Dinner was one of our faves: poke bowls!
I just cooked some sushi rice in the Instant Pot and served it with tuna tataki (from the freezer section at Whole Foods by the sushi bar), cucumber, avocado, nori and pickled ginger. I added some kale with ginger dressing to my bowl, too.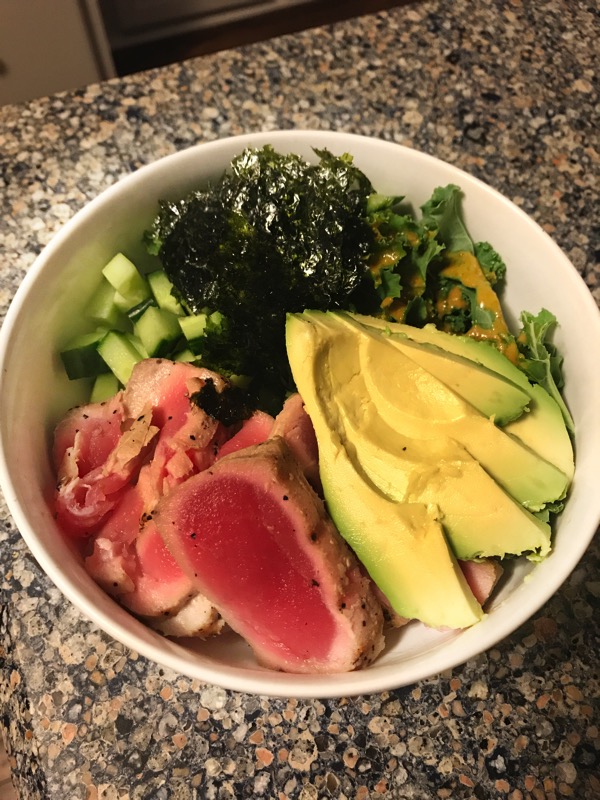 So today's post is a bit of a random one, but let's talk about mom/life hacks. I'm in the Skimm'bassadors group on Facebook, and it's one of my favorite places on the internet. It's where I get awesome book recommendations, hilarious memes, fun stories and tips for products. (It's where I first learned about this incredible hair styler!)
Last week, they were talking about life hacks: simple things you do to make life easier. I really loved reading through the list (things like setting the coffee pot to brew 15 minutes before you wake up, quick recipes, keyboard shortcuts and cleaning tips) and thought it was a valuable discussion. When I did my blog survey, a reader friend asked me to share my own list of mom hacks, so between those two things, it gave me the inspiration for this post/topic.
So here are the things that came to my mind as "mom hacks" that I do to make life a little easier:
– 1 load of laundry every day, or it will pile up to an unsurmountable amount. This is CLUTCH. This means 1 load of laundry, from start to finish including folding and putting it away (<— the worst part). I let it pile up over the holidays and had six loads of clean laundry to put away the other day. Never again.
– Pack snacks and lay out clothes for the next day. This makes the mornings so much easier. We already have some struggles getting ready for the day on time, so there's no way I'd be able to add picking out outfits and packing food to the mix. This way, all I have to do is get the crew fed and dressed, and we're out the door.
– 2 emergency lollipops in my purse at all times. This may be my #1 mom hack. I always have two of the Yum Earth organic lollipops on me. Always. I'm not a believer in rewarding tantrums or distracting with sweets, but sometimes when you feel things start to escalate, it's a lifesaver. (Especially when if you feel a tantrum coming on in the worst place possible: an airplane.) I use them for emergency purposes and they save the day. (For example, once we were waiting in line at Target and it was taking FOREVER, and P kept trying to run away from me. I handed her a lollipop, let her sit in the cart, and boom. We lasted until it was our turn to pay.)
– Serve something you know they love with the newer or more unique things. Sometimes I'll make dishes with more intense flavor profiles, like curry spices or lots of fresh herbs and citrus zest. Sometimes they surprise me and love it, sometimes they hate it. If I'm serving something that's totally new to them, I include something familiar that they love. Things that they always go crazy for: Annie's mac n' cheese, garlic bread (we call it "baby toast": homemade sourdough broiled with butter, a little salt and garlic), fresh berries, or roasted broccoli with parmesan.
– Related consequences. Time is a huge one. I feel like punishments have never been super effective for us. ("You hit your sister, so no TV shows for you today." <— they aren't related, so it's a punishment instead of a consequence.) We learned to create consequences based on what's going on, and it's a strategy I try to use when I can. Time usually works. (Example: "Since you didn't get dressed when I asked you to and took so much time to get ready, we won't have as much time at the park right now.")
– If you're making a snack for one child, make the same thing for the other child, even if they say they don't want it. They always do.
-Make more and freeze extras. This especially goes for breakfast items! They LOVE these pancakes, so I'll usually make a triple batch and freeze the rest for quick weekday breakfasts.
So tell me, friends: what's one (or some!) of your favorite mom or life hacks? Something that makes the day easier and bit more fun? Last time you saw snow?? The last time I saw it was in Lenox.
Have a wonderful day!
xo
Gina