My favorite cleanser + a giveaway
Hey everyone! Happy humpday 😀 Hope your day is going well!
I started mine with a lovely breakfast cookie: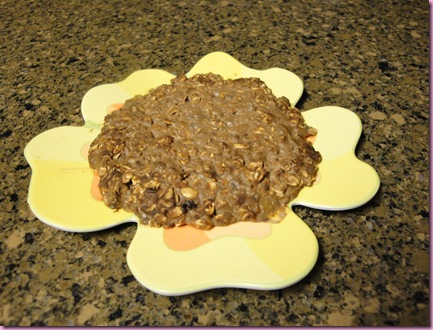 This beauty had:
-1/2 cup oats
-1/2 scoop vanilla Sun Warrior brown rice protein
-1 T almond butter
-1 smashed banana
-vanilla hempmilk
-sea salt
-stevia
-1 T raw cacao powder
-mesquite
-foodgasms 😀
The puppers and I practiced some of their tricks: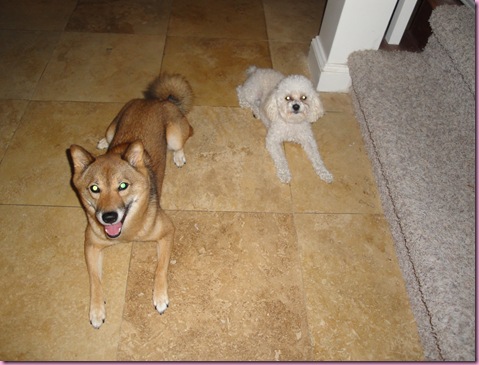 and I was off to work!
I only had one appointment this morning, and then I hopped on the elliptical for 30 minutes with the new issue of Women's Health 😀 A new magazine always makes cardio fly by!
Well, it's finally time for the fun beauty product giveaway! First, I thought I'd tell ya'll about my favorite cleanser 😉
****Note: I bought this product with my own dinero at Sephora, which is why it's going on the main page of the blog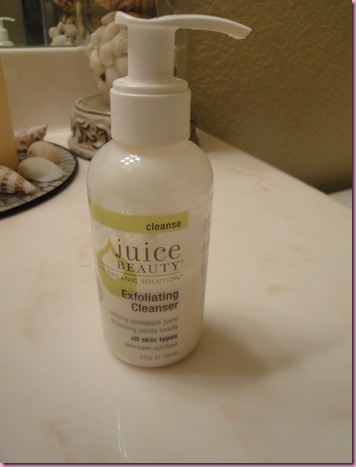 Juice Beauty Exfoliating Cleanser!
I always carry some kind of Juice Beauty cleanser with me in my gym bag. Since their products are organic and super gentle, they don't mess with my sensitive skin but are strong enough to get off makeup and gym grime 😀
This face wash is creamy and the exfoliating beads are not harsh at all—I can use it daily without irritating my face. It also gets eye makeup off pretty well, and doesn't have a "smell" to it—it's pretty much fragrance free, except for a light fresh scent.
Here's a little bit about Juice Beauty:
-Their products contain an antioxidant-rich 100% organic juice base, which provides vitamins, nutrients, and powerful polyphenols that help revitalize and protect aging and problem skin

–None of their products contain parabens, petroleum, tars, pesticides, sodium lauryl sulfates, phthalates, artificial dyes or synthetic fragrances

-They're extremely eco friendly! Juice Beauty uses recycled packaging, 100% recycled paper and cardboard, 80% of their products are produced with solar power, and wtheyonly purchase ingredients from USDA certified organic farms
And on top of that, every Juice Beauty product I've tried, I've fallen in love with. It's the only makeup and skincare brand that I know will work well with my skin, and it feels good that it's organic and environmentally friendly as well 😀
Since I'm such a huge Juice Beauty fan, I wrote to the company and requested a little sumthin' sumthin' so a lucky Fitnessista could enjoy the Juice Beauty goodness.
Want a full-sized bottle of my favorite cleanser???
Just CLICK HERE for your chance to have the same cleanser pictured above (except yours won't be half empty, haha)
I'm off to lunch with the girls, then on the prowl for Ugly Christmas sweaters 😀
xoxo,
Gina
Today's tip: For juice, it's ideal to drink it within 20 minutes after the juice has been made to get the maximum nutrients (this doesn't hold true for swanky wanky places like Liquiteria, who press their juices instead of pulverizing them—pressed juices are good for much longer). If you won't be able to drink your homemade juice right away, just toss it in the freezer until your ready to enjoy it 😀 I have half a freezer full of beet and apple juice, and coconut water 😉