Is that bread in your purse?
Hi guys 😀 Hope you've had a great day! Mine has been super busy per usual, but bueno 😀 I'm so glad you're enjoying the Juice Beauty giveaway! Keep those comments and tweets a-comin' 🙂
I met the girls for lonchi today at McAlister's and got the standard veggie chili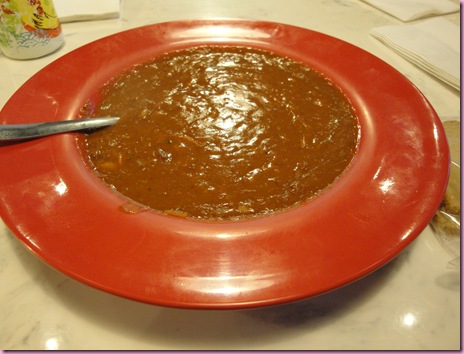 And the standard bread a la purse, that I brought from home 😀 Today instead of Ezekiel, it was millet. I'm obsessed 😀 I brought an extra piece for Jeni and Ashley to try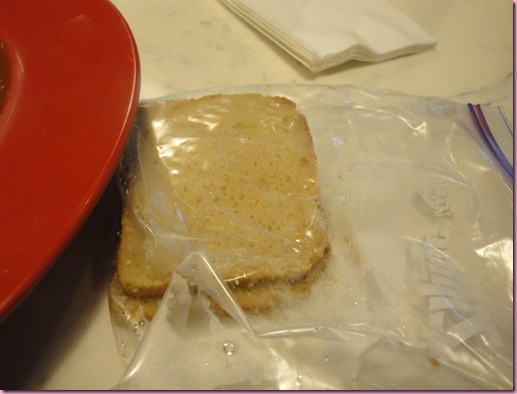 After lunch, we did some mall cardio and hit up Victoria's Secret (I had a couple of coupons I *had* to use) and Bath and Body Works for candles. We also hit up the health food store for some goodies, including an awesome Ginger Gizer drink that I was so stoked to try 😀
I poured 6 oz into a measuring cup and heated it up in the microwave for 2 minutes.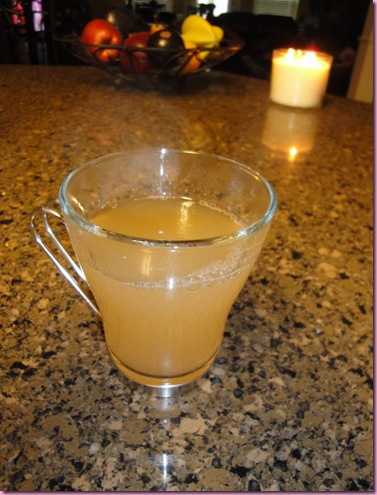 Oh my. It was SO INSANELY good 😀 Warming, slightly spicy and sweet. A new beverage love? Yes.
Snack was a COOKIE!!!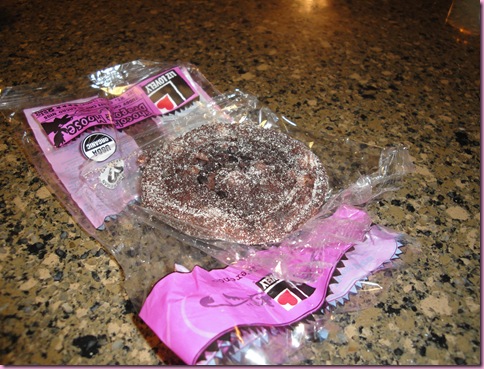 Obviously not the healthiest option in the world –note the sugar coating- but sometimes a vegan cookie makes the day so much better 😉
Other eats include (but are not limited to) an apple with mesquite and cinnamon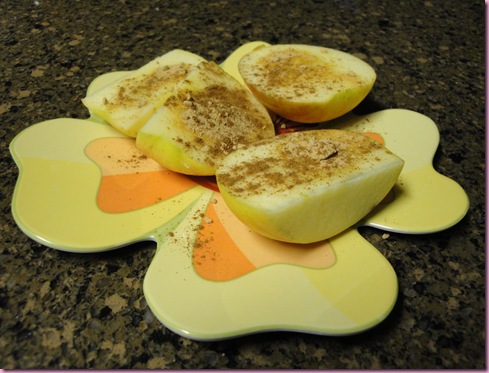 and a plate o' veggies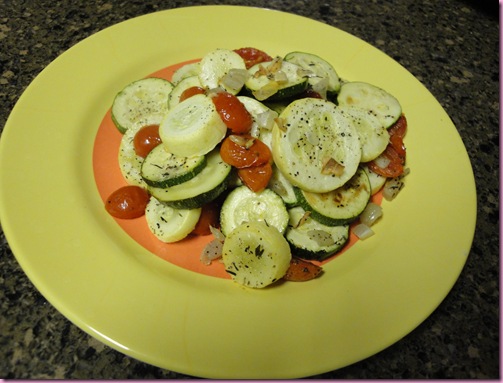 Dragon breath aside, I have a hard time cooking without onions and garlic in savory dishes. I love them both. That's what breath mints/gum were created for, right? 😉
Workout–wise, I did the 30 minutes on the elliptical this morning and then did 10 more with Jeni when we went to the gym tonight for legs.
We did about 45 minutes of weights and then I came back to my pilot and puppies 😀
We're going to bed like old people tonight because the pilot has to wake up at a ridiculous hour. I always feel bad going to bed later and waking him up, so I'm gonna crash, too 😉
Still on the hunt for an Ugly Christmas sweater… I have 2 days to find one!!!
Have a great night <3
Gina
Today's tip: Do not feel weird about bringing your own food/condiments/etc into a restaurant or other establishment. Some people get mad at me for saying this because I'm "taking money away from the business" by bringing in my own food (remember the Sneaky Popcorn Debate??). The thing is, until they serve food that I want to eat, I will bring my own. The bread today is an excellent example—McAlister's doesn't offer a 100% whole grain bread, so I brought my own. When/IF they decide to, I will be more than happy to purchase it. I think as long as you don't make a scene, it's more than ok to bring a little Goddess dressing/healthy bread/whatever suits your fancy to go with your meal 🙂 Anyone else carry food around in their purse??