Hey everyone! Hope you're having a happy humpday aka Indian Food Day! We'll be hitting up our favorite Indian place as soon as I finish Zumba. I was thinking about making dinner to save some dinero, since we got to pay some sweet dollars for Bella's vet visit, but the pilot and I need a date. We didn't even get to sleep in the same room last night—I was in one of the guest rooms with Bella and he was in our room with Viesa. *le sigh* Why can't all animals get along?? Sheesh 😉
This morning, I had a lovely sludge before heading to work: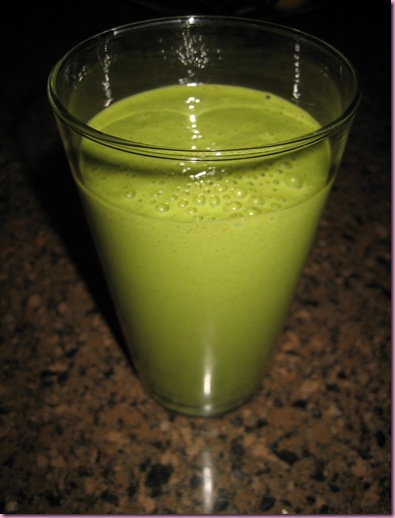 (1 cup vanilla hempmilk, 1 tbs vanilla brown rice protein, 1 scoop Vega-licious, spinach, Stevia, cinnamon, vanilla and sea salt). Lip smackin' tasty.
I heat-packed the invalid: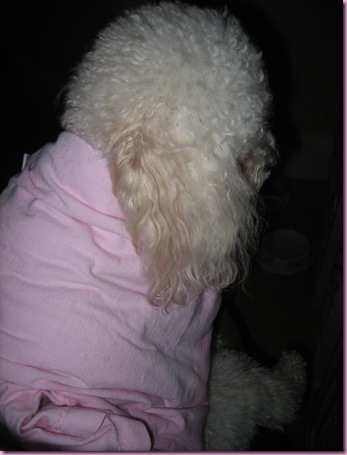 (I couldn't find any washcloths –we're more of a loofah family- so I took a T-shirt and ran hot water over it and have to hold it over Bella's wound twice a day for 10 minutes each time. She LOVES it! I think she feels like she's getting a puppy spa treatment)
I had to go into work for a little while and then came home for a fruit platter and a wonderful chat with a VeggieFriend.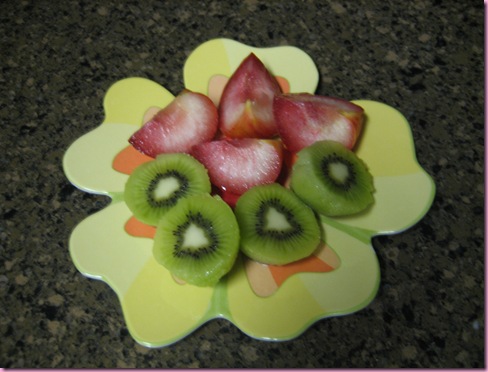 (1 dino Pluot –love these things!- and 2 bald kiwis)
The puppies each got walked, separately, and I was so excited to see a package from the madre and nana waiting for me!!
They sent me a boatload of goodies, including this new HUMMUS APPARATUS!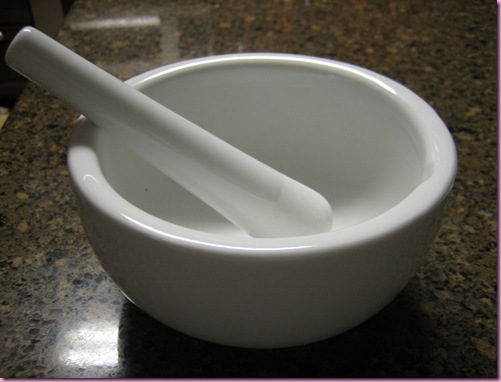 It's also known as a mortar and pestle but this baby is destined for a life of hummus-making. I've been wanting one ever since my auntie and I went to Opa – they serve the chickpeas, olive oil and garlic in a mortar and pestle and you smash it at your table. AMAZING! I need to have a dinner party ASAP 😀
*thank you for the cheer-up package, Madre and Nana! I love you 😀
For lonchi, I made some open-faced salad: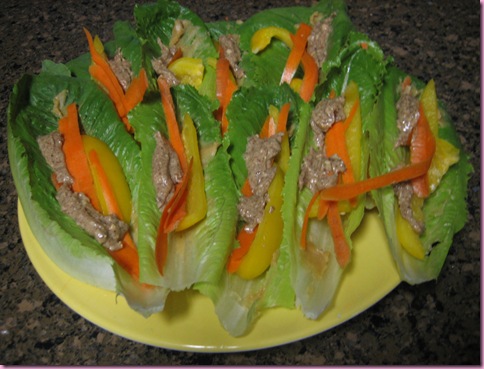 Just some romaine leaves with chickpea miso, topped with yellow bell pepper, carrot shreds and raw almond butter. I can't get enough of the miso-nut butter deliciousness… it's crazy good.
Well I'm gonna head back to work and then it's spin and Zumba time. I'll see ya after Indian!
Have a happy humpday!
<3
G$
Today's tip: Reading a magazine at work I saw this one in Food Network Magazine- for a kid's lunch (or for your own) make salad in a bag to go with your sandwich. Put the salad and veggies in a plastic baggie and dressing in a small container on the side. Pour said dressing into baggie, seal, and shake! Mess-free and no container to remember to bring home. Pretty nifty, eh? 😉