November Knockout Workout
Hey friends! I'm really excited about this month's workout: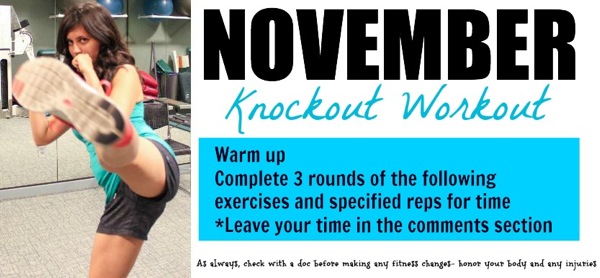 Unlike some of the monthly workouts we've done in the past, this one is done is rounds for time. Just because we're going for time, that doesn't mean we're sacrificing quality. If you need to take a break to maintain proper form, do it!
So, here's the workout:
After you warm up for 5 minutes, you'll complete 3 rounds of the following exercises: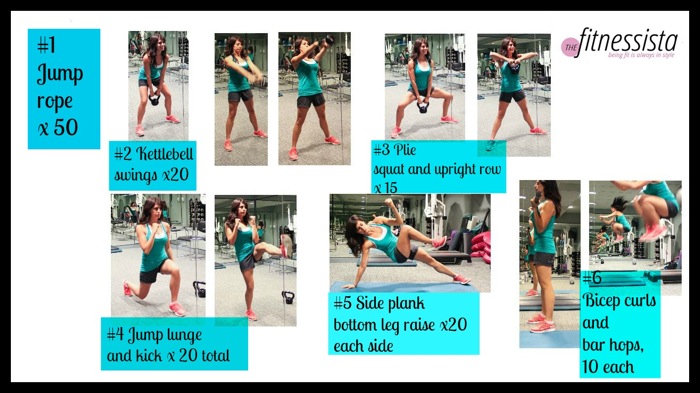 It's a quick one.. and a SWEATY one.
Some form cues:
#1) Pretty self explanatory. If you're a jump rope pro, try to change something from your usual jumping routine- try high knees, cross countries or double jumps
#2) Kettlebell swings. If you've never done these before, check out this video for proper form. Remember to "snap" your hips under- you use your glutes a LOT for this one- like someone is smacking you on the booty with a ruler.
#3) Keep legs wide and try to get your thighs parallel to the floor as you squat down. For the upright row, lead with your elbows and keep your core nice and toight.
#4) Jump lunge 2 times and then kick forward with the back leg, repeat until you've done 20 total lunges
#5) Come into a side plank and bending your bottom knee, bring it up, twist and lower down 20 times. Repear on the other side.
#6) 10 regular bicep curls, 10 jumps, hopping over the body bar. Be careful with this one, and try to get your knees up to your chest as you hop.
I hope you love it!
Please leave your time in the comments section each time you finish the workout. For more guidance on building your November workout plan, check out the monthly calendar.
Happy sweating!
xoxo.