10 months: some things we're loving
I don't ever want these posts to seem like I think  products make you a "better" parent.
If you're a regular Family page reader, you know how I feel about things. Loving your baby, providing warmth, comfort and food for your child is what makes you a great parent. That all being said: from my experience so far, kids like toys, books and music. There are also products that exist to make life a little easier or more convenient, and while not totally necessary, they're nice to have. I love learning from other moms and wish more moms would share the products that they find helpful and that their babies love. There's so much out there and sometimes the really important purchases are overwhelming to research (like a toddler car seat). 
That all being said, here are some of the things we're loving at 10 months:
-This sign:
We've had a small note taped to the door bell since shortly after Liv was born, saying "please do not ring or knock." Usually if someone is coming over, they'll text when they get here and we'll open the door -otherwise, Bella goes CRAZY- and we're cool with packages just being left on the doorstep. The sign is pretty weathered since it's been up since last February or so, and a couple of weeks ago, the FedEx guy woke Liv up from 3 naps. 3! He banged on the door, Bella started barking like a maniac and that was the end of it. I found the above sign on Etsy, and you can order any color combo you like.
-Her little pusher, *Boikido Wooden Push And Play – Rabbit Wagon
 I wanted to find a wood version and this one had great reviews on Amazon. She LOVES it. It's taken her a little while to get the hang of actually pushing it, but she loves to toys on the sides (they make a little maze), putting toys in the pusher and taking them out. Oh, and sometimes, she'll sit in the pusher.. it's pretty hilarious.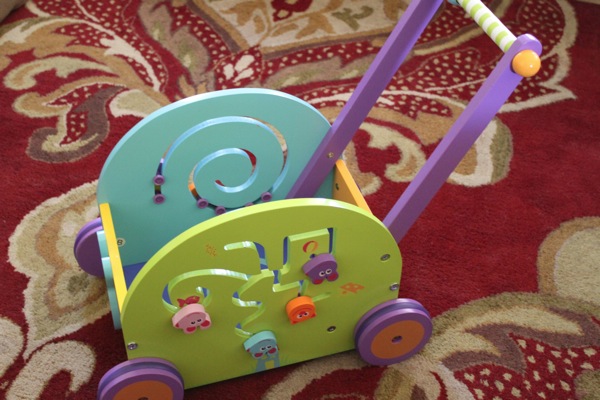 -This CD, *Animal Playground
. We borrowed it from the library and the song variety is so unique- lots of children's songs from around the world. Especially fun: tracks 2, 6 and 7.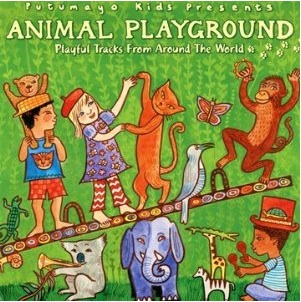 -Dollies. Watching Liv play make believe with her dolls may be the cutest thing ever. She always kisses them and will babble as she moves them around.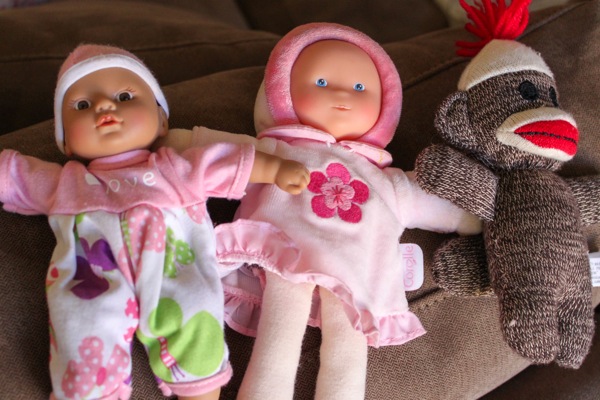 -*Balboa Baby Shopping Cart Cover, Suri
. I wasn't sure how much use I'd get out of this, especially since I wear Liv in the wrap most of the time when we're out, but it is incredible for restaurant dining. It fits all of the high chairs we've tried, and when we get home, I just throw it in the washer. It washes beautifully, has its own strap, she can ride in the carts at stores and it gives her a little extra comfort.  
Any products that you and your baby love? Please leave their age in the comment section, too- maybe it will help other moms with holiday gift ideas.
Current favorite music to play? 
We're huge fans of salsa dance party…. 
Hope you're having a wonderful Monday <3
xoxo
G
*=Amazon affiliate links
More: