"One song
workouts,
one song,
to make it less
boring…."
(holler for Rent… or really bad rewrites of "One Song Glory"
Something as small as a playlist has the power to make my workout full of sweat, triumph and victory, or just ruin it all together. For some people, the tunes don't seem to matter as much, but for me, they tend to drive my energy.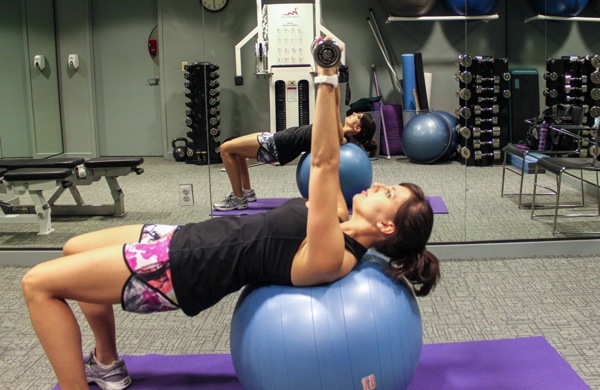 When I taught DJ dance last week, the DJ somehow knew what songs would pump me up (he knows that I like Pitbull). It set.my.soul.freeeeeeeeee. Whenever the current song would give way to a new one, I would think "YES!!!" and then go crazy. He also ended the class with "Don't Stop the Party." Well done, mister DJ.
While I love to use music for energy, I also like to use it to determine what type of cardio to do if I'm looking for a little inspiration. Since I taught spin for a couple of years, I got used to listening to music for sprint options, heavy, killer hills, jumping and steady state. I use the same technique on the treadmill or elliptical, and have since become a huge fan of what I like to call "musical cardio." It's a great way to keep things exciting and the workout will FLY BY.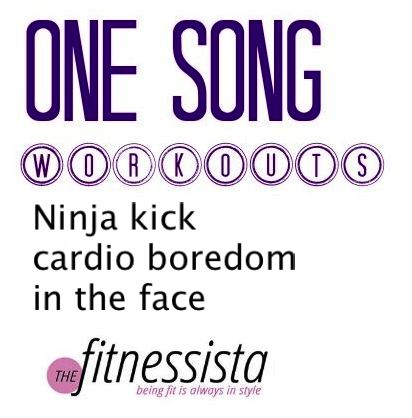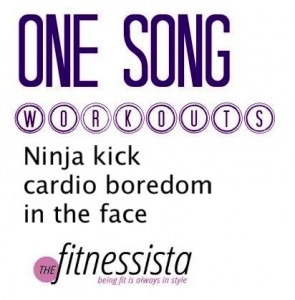 Here are some musical cardio options for a few songs I currently love:
CARDIO:
(can be done on the spin bike, elliptical or treadmill)
"Don't stop the party" Pitbull – gradually increase speed. Start with an easy pace you can maintain (a personal level 5-6 on a scale of 1-10). Every time you hear the chorus, increase your speed by at least .2mph (so if you were at 4.0, you'll go up to 4.2 and so on). Do this for the entire song.
"Limbo" Daddy Yankee- resistance climb. Start with a quick pace (walking briskly or jogging) and try to maintain your pace for the entire song. Start at a 5.0% incline. Every time he says "Limbo," increase the incline by 1-2% until you can't take it any more. Then, hold it there for the remainder of the song.
"Diamonds in the Sky" Rihanna– rolling hills. During each verse of the song, focus on keeping a quick pace (fast walk or jog) and add in resistance the entire verse. When you get to the chorus, decrease your incline down to 2-3% and go as fast as you can. Slow it back down for the next verse and build resistance.
"Bom Bom"Sam and the Womp– sprints. Easy pace for 30 seconds, HARD for 30 seconds, for the entire song. Watch your clock, and make sure that you're pushing yourself to the max for the hard intervals. This can be done through speed, resistance or a combination of the two.
"Blow Me (One Last Kiss)" P!nk- Incline down, speed up. Start with a heavy, intense incline (we're talking at least 12-15%) and a moderate/slow pace (walk). Every 20 seconds, decrease the incline 2% and increase the speed at least .2. By the end, you should be at your personal level 9 on a scale of 1-10.
STRENGTH:
"Scream & Shout" will.i.am ft. Britney Spears- Circuit alternating between:
10 squats
10 pushups
10 tricep dips
10 double crunches or V-ups on a bench.
Go through as many rounds as you can- almost 5 minutes of work.
"Locked Out of Heaven" Bruno Mars- plankstravaganza (<– all plank variations are there; rest as needed along the way).
Start in a regular plank- hold for 30 seconds,
side plank (30 seconds),
regular plank (lift one leg to make it more exciting- 30 seconds),
other side plank (30 seconds),
plank with hip drops (30 second)
the saw (30 seconds)
your favorite type of crunch for the remainder of the song.
"Hasta Que Salga el Sol" Don Omar- Circuit alternating between:
10 deadlifts (heavy)
10 overhead presses
10 jumping lunges (each side)
10 bent-over rows
Go through as many rounds as you can- 4 solid minutes of work.
For an entire workout, I'd warm up, complete the strength potion and follow with cardio for maximum results.
(As always, talk with a doc before changing up your workout routine, honor your body and your injuries.)
Let me know how it goes!
What's your POWER workout song right now? Leave it in the comments and if it's something I'm familiar with, I'll reply with something to do for the song if you're looking for some ideas!
Happy training 🙂
xoxo
Gina
Past musical cardio workouts: