Hi friends! How's your day going? HOLY roon giveaway entries!! I've loved reading all of your comments and feedback- you're all amazing. I need to do more random giveaways fo sho 🙂
Work today was a lot of fun. I was only scheduled for a half day (a nice break), and got to teach the lunchtime employee class. I can confidently say I killed them. And myself. Lots of pulsing lunges, squats, ball squeezes and bar work. It will hurt to walk tomorrow.
Lunch: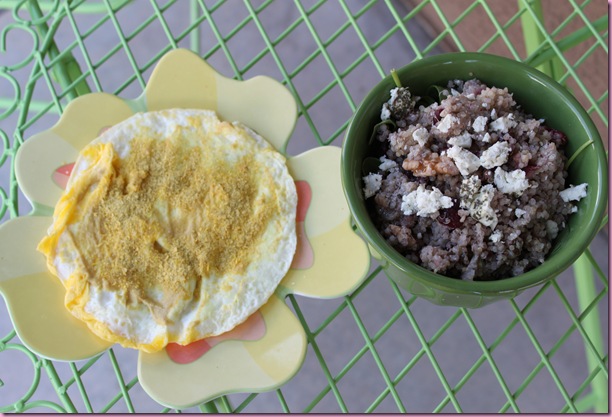 Flat egg (one egg + two egg whites) with mustard nutritional yeast (sounds nast, tastes great, I promise), leftover quinoa salad with greens and more goat cheese. You can never have enough goat cheese 😉
Bella even got TWO walks today!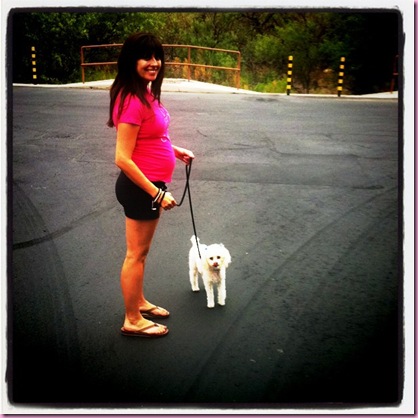 One before work and one with the Pilot. They were each only about 15 minutes long, but long enough for her to keep for sanity for the day so I'll call that a win 😉
For dinner, the Pilot and I decided to go on a little date. I haven't been grocery shopping yet, he's had an insane work schedule, and it was nice to have dinner and enjoy each other's company. It was a nice change from him watching TV and me on the computer, which happens more often than I'd like to around here.
Black bean soup + shrimp salad
Good stuff 😀
We're going to call it an early night over here, but I'll see ya bright and early with a macaroon winner + 10 Ways to Make September Stellar 🙂
xoxo
Gina
Something to do: Check out music podcasts for free, constant workout music. For today's class, I downloaded the DJ David S Podcast 1 hour mix and it was AWESOME. Lot's of top 40s stuff, mash-ups and keeps a constant beat. Perfect for group fitness or a solo workout.
Something to talk about: What was your last date like? Disaster or success? I'd call tonight's dinner date a success… I kind of like him.