Heyyyyyy

How are you friends?
This morning, I munched some tea and brown rice toast: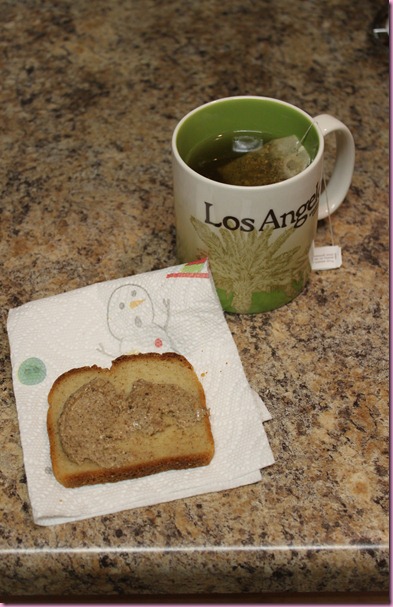 and met up with two work friends to take a Dance Cardio class, followed by BodyPump.
Dance Cardio was a BLAST –during "free style" we took turns ambushing people by shaking and dancing around them- and BodyPump….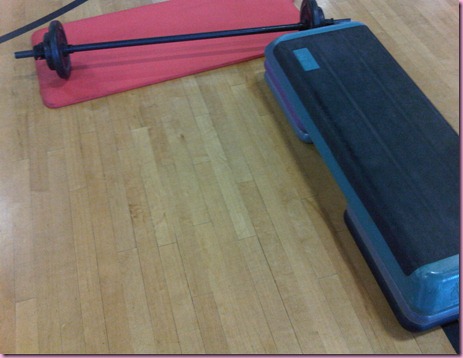 owned me.
Holy hell.
I've been slacking a little bit in the weights department lately, and every muscle I own was trembling after class! They remembered very quickly what it's like to burn out.
Here's how BodyPump goes:
-You grab a step, not for step aerobics purposes, but to lay on for chest and tricep exercises
-You'll also need a mat and a Body bar with flat weights clipped in place. You'll usually want to have a light and heavy one on each side so you can adjust as necessary
-Each track represents a specific muscle group. You do high reps, alternate your weights cadence and let your muscles scream for mercy. Today we did: warm up, squats, chest, shoulders, back, lunges, abs, triceps and biceps.
The verdict? I LOVED it. It's a great choice for people who aren't familiar with weight lifting enough to do it on their own and the pros can bump it up by adding more weight. The fact that you can adjust the weights to suit your needs means that your muscles will keep guessing and you won't plateau as quickly.
The only con I can think of was that the music was ultra lame. The instructor was fabulous, but the music was groan-y.
Also, I have a gym rant of the day: fellow fitness instructors, just because someone gives you a mic does not mean that you need to sing (badly) into it. Class does not equal karaoke. Thank you.
I'll definitely be back and can already tell I'm going to be sooooooooo sore. Lurve.
I ate this bad johnny in the car: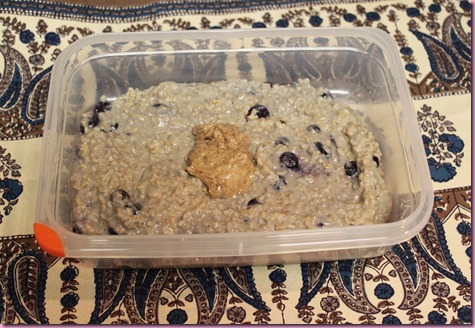 -1/2 C steel-cut GF oats (Bob's Red Mill brand)
-1 scoop Sun Warrior
-frozen organic blueberries
-Stevia, cinnamon, pinch of sea salt
-blob of almond butter
Since I'm out and about, I packed up a beast to munch later:
-greens
-grilled wild salmon
-tomatoes
-bell pepper
-rosemary
-balsamic dressing
Perfection.
Well I'm off to walk the puppers and then make roons. Meet me back here in the morning for a lil giveaway

xoxo
Gina
Random: Is this fix-able? Or do I need to order a new one? The strap on my Fast in Flight bag unsnapped last night while I was walking into the house and my camera went flying :/ The macro lens is now in two pieces….