Someone hasn't been able to start her day.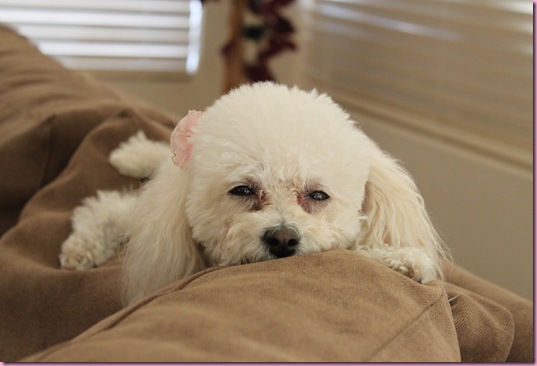 She's laying on the couch until she feels like fully waking up 😉
The Pilot and I slept in a little –he flew late again last night so I'll stay up until he's on the ground safe, and then hang out when he gets home- and then hit the gym this morning.
It was legs day <— a day I always kind of dread, but feel soooooo good when it's over!
Friday Frenzy Legs Workout
[Check with a doc if you plan to try this routine on your own]
| | |
| --- | --- |
| Warm-up | 5 minutes, elliptical (moderate) |
| Right leg lunge | 15 with 8 lb weights in each hand |
| Bodypump-style squats | Down for 2, up for 2; down for 3, up for 1; singles up and down (5 of each) |
| Left leg lunge | 15 with 8 lb weights in each hand |
| *Repeat lunges, squats, lunges 2 more times for a total of 3 of each exercise |   |
| Side-laying leg raises | All the way up, halfway down (10 times), pulse 15 times, circle to the front and back each 10 times (3 sets on right and left leg) |
| Calf raises | 50 |
| Plie squat with stability ball squeeze | 3 sets of 15 |
| Cool down and stretch |   |
I'm saving cardio for later today- I tend to get a better workout when I split up weights and cardio, especially when the weather is nice and I can go outside, or take a class at work.
When I got home, I settled down with a cup of minty hot chocolate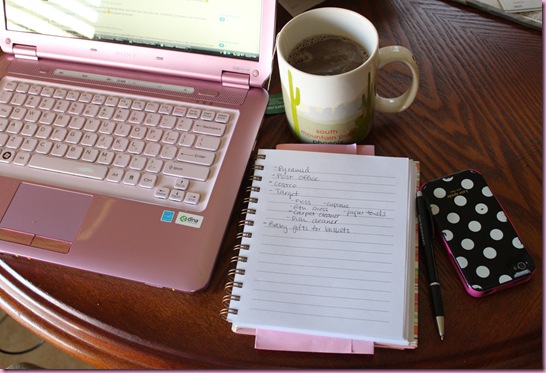 and started to plan out the day.
We have a lot of fun stuff going on this weekend (squadron party, fall festival, making another baby meal, birthday BBQ for that one guy I'm in love with), so I just have to run some errands and get things ready. Hoping I can sneak in an acupuncture appointment in there, too 🙂
Breakfast: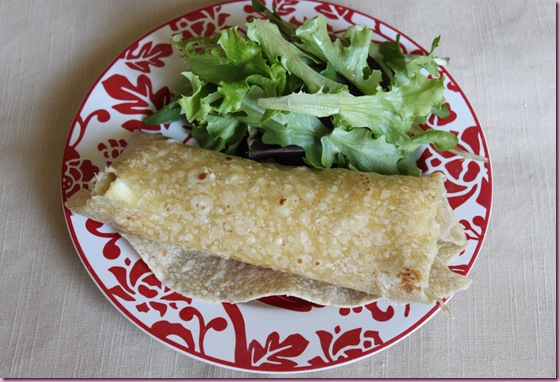 A 2 egg-rito with a little butter melted into the tortilla + salad. It makes me think of my childhood- madre would hand me an egg-rito to eat on the way to school. Good stuff.
I'm out!
See ya laterrrrr <3
xoxo
Gina
Something to talk about: How are your October goals going? We still have a little over a week to crank them out! I still need to plan a picnic and do a 5k- the rest are in the works 🙂
Also, can anyone recommend an iron supplement that isn't too horrible? I just got my blood test results from last week, and normal iron levels are 11.5-16.0, and I'm at 11.2 :/ Looks like it's supplement time over here.