Things I've learned [so far]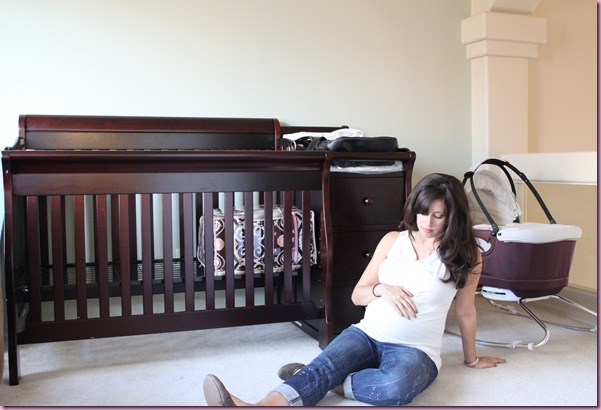 1. Baby clothes are so.stinking.cute. Way more fun than adult clothes, and wayyyy more fun than maternity clothes.
2. Letting go of control. Having this little baby kicking, growing and doing her thang, has really relaxed my type A personality. So many things are out of my control right now, and all I can do is educate myself, give myself the best environment possible and enjoy the ride. It's been weird/fun/interesting to actually "enjoy the ride" instead of planning out the entire agenda and Googling directions along the way 😉
3. When I'm no longer pregnant and I see a pregnant woman, I'll remember all of the wonderful things I heard while I was pregnant, and all of the things that were said that made my heart sink. Positive energy is so important in life, especially when you're growing a human inside your belly, who feels the things that you feel (happiness and elation, but also stress and sadness). I'll tell her she looks absolutely beautiful, which is a great thing to hear when you feel awkward.
4. I can already see some similarities in our little girl. She's a night owl like her daddy (kicks and flips all night!), loves Zumba music, and also won't perform under pressure (like someone else I know). When I was younger, my mom and nana used to want me to sing to EVERYONE, and I was so embarrassed. The only times I would do it usually involved some kind of bribe (terrible). Whenever the baby is kicking, I'll tell my mom to come and feel her, because she's only felt one kick and no one else has felt anything. As soon as my mom or anyone puts their hand on my belly, the kicking stops.
The only exception is her dad- she'll kick for him anytime. He'll lightly press down on my belly and she'll kick back- it's like a fun little game the two of them have.
5. Trusting in my body. I've been able to keep up a pretty solid fitness routine –very different than pre-pregnancy, but still there- but am just focusing on what feels good. Zumba still feels pretty good and a thousand times better since I got the belly support belt. It was my first time teaching wearing it yesterday, and it did the trick: perfect amount of support and wasn't too hot. My body will let me know when it's time to start the Zumba hiatus, or the same thing will happen to me that happened to my friend at work: she was teaching a crazy dance class with live drums and shaking it (and this girl can SHAKE IT), and my boss saw her and told her she was done, haha.
6. To enjoy every moment, even the not-so-fun parts, because it really does go by so quickly! I'm almost 30 weeks and the finish line is in sight. It doesn't feel like too long ago, when I was talking to Tom on FaceTime and crying over the happy news.
7. Sometimes it's ok to tell people what baby name you've chosen. Almost everyone over here knows, so I thought I'd give you one more letter 😉