Reader's Request: portion control and sizes
Real talk:
Serving size per bag of plantain chips: 1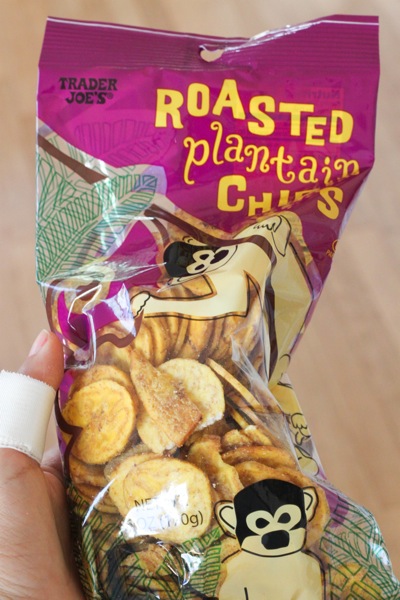 Serving size per bag of trail mix: 3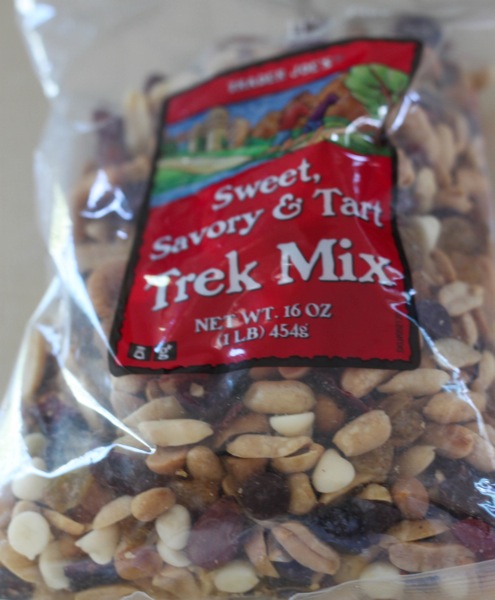 Serving size per bag of turkey jerky: 1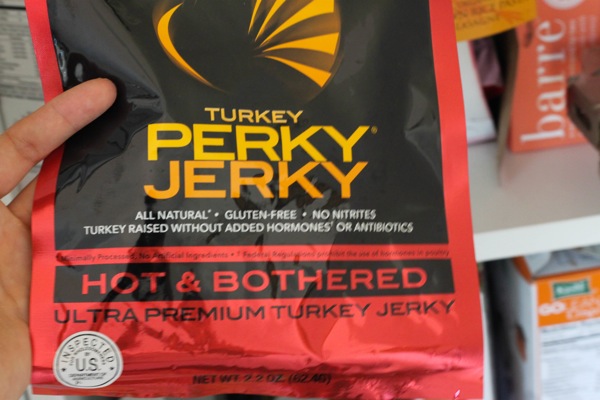 (AHH PERKY JERKY IS SO GOOD)
Please tell me I'm not alone.
For this reader's request, I thought that we could talk about portion control. As you can see from the above examples, I'm not exactly a pro at executing this for all foods, but for the most part I've found a good balance for myself. Instead of focusing on personal experience, however, I'm going to share some tips and tricks I picked up during my studies as a Weight Loss Specialist. (Head's up: I'm not a Registered Dietitian and cannot prescribe specific eating plans for special populations. Under my knowledge, I can safely advise proper portion control techniques for healthy foods. If you have specific questions, seek out the help of a local RD.)
One of the main focuses of my training was to learn effective techniques to coach clients of proper portion sizes and how to execute this (aka portion control). (This is one of those "do as I say, not as I do" things because I've been known to shove brownies in my face before walking in the gym doors to train a client.)
Some tips for portion sizes:
This is a great slideshow with visual tips
And a graphic I found here: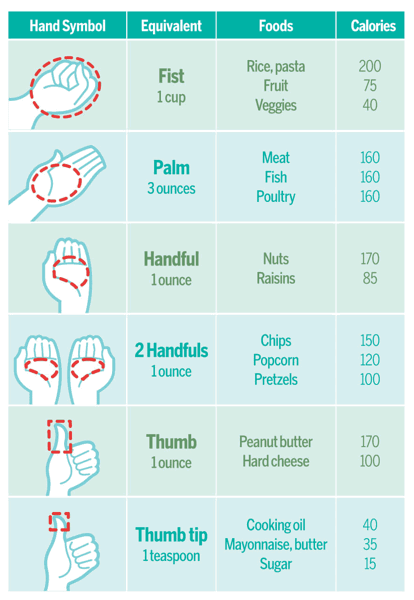 I've learned that it's a sustainable option for me to eyeball portion sizes instead of measuring them out. During my weight loss journey, there was a point where I measured and weighed ingredients before they went into our meal. (I was also learning how to cook at the time and wanted to be very precise about ingredients.) It turned food into a math project and sucked the joy out of creating recipes and meal ideas. So, I nixed it. Over time, if I notice that my *eyeball* portion sizes start to increase, I'll bust out the measuring cups again for little things (oats, almond butter) to bring myself back to reality.
Just like anything, you have to find and do what works best for you.
Some tips for portion control which can be a little trickier:
-Eat when you're hungry, and drink plenty of water throughout the day so your thirst cues aren't being mistaken for hunger. When I wait too long to have a meal, I'll usually face plant into the plantain chip or trail mix bag while I cook dinner. Sometimes, I'll notice I'm extremely hungry during the day if I haven't been drinking enough water. It's helpful to carry a water bottle around all day. Not only does it encourage me to drink more, but Livi will see me drinking from my water bottle and ask for her own.
-Aim for a balance or mix of types of food. If I notice that I'm starting to overboard on portion of a particular food, I'll switch gears. (For example, if I'm slamming a thousand tortilla chips with guacamole, I'll make a salad to go along with it.) Aim to include a variety of high nutrient low density foods (little caloric toll for the volume), and hydrating foods (such as fresh veggies and fruit).
-Check the label and stay mindful of how many servings are in a container of food. This doesn't mean that specified serving size is all you eat, but remaining aware of how many servings you're actually consuming. Measure ingredients if you find that it works for you.
-Don't beat yourself up about it, and remember that it's the forest and not the trees. Having a little extra of a particular treat/snack/whatever is not a big deal if you aim for a mix of whole, healthy foods most of the time. For example, each time I go to the zoo, I can basically expect to eat most of a giant bag of kettlecorn with my little sidekick. 😉
Do you measure or portion out your food? Any tricks you use to stay mindful of portion sizes? What's your favorite snack food or treat that you consider to be one *real* serving?
xoxo
Gina
Latest on the Fashion page: Capsule-ish wardrobe