Hi! Happy Monday!
YOU GUYS.
I finally did it.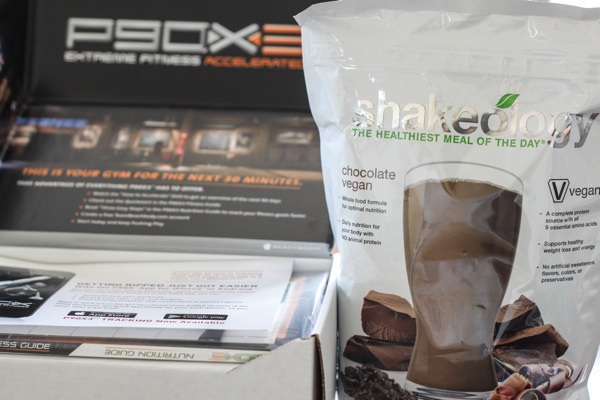 I went ahead and ordered Shakeology… and P90X3 to go along with it.
After trying Shakeology a couple of weeks ago, I couldn't stop thinking about the Vegan Chocolate. While I prefer to get my nutrients from whole foods for the most part, I'm pretty passionate about protein powder. I love to discover options with awesome taste + even better ingredients. Here are a few that I've rotated between:
1) Sun Warrior. This is a smooth vegan version (brown rice protein) with simple ingredients.
2) Vega. A vegan option (plant-based protein mix) with even better ingredients, but kind of tastes like biting into a tree, so I used it more rarely. (If you mix it with other ingredients, the taste is much better)
3) Raw Fit. A less expensive variation of Sun Warrior. It's a little chalkier, but the taste's great when you mix it into cookie dough cereal or a smoothie.
And now, Shakeology aka the only protein powder I want to drink with almond milk alone. It tastes like a luscious chocolatey shake and has a nutrient boost from a variety of superfoods.
I had it for a couple of days, thanks to some samples my friend Elizabeth sent to me, and noticed an increase in my energy and satiety levels. The snack monster didn't barge in the door at 3pm per the usual, and I was shocked by the awesome taste. (For the record, I also tried the tropical Strawberry Vegan flavor and was not a fan. It tasted like tropical death.) The only thing holding me back from purchasing the chocolate vegan was the price (it's $$ and I can get Raw Fit at the BX for $20).
Since falling in love with the Beachbody workouts, (I've done Insanity and TurboFire) I've received hundreds of emails and messages from Beachbody friends asking me to become a coach. I decided to go for it, but it's not my intent to sell Beachbody products on this site at this time, which is why there's no link. If you have questions about any of the Beachbody products, talk to my friend Elizabeth; she's the pro 🙂
Now that we got that out of the way, P90X3!!!! AHHHHH! I can't wait!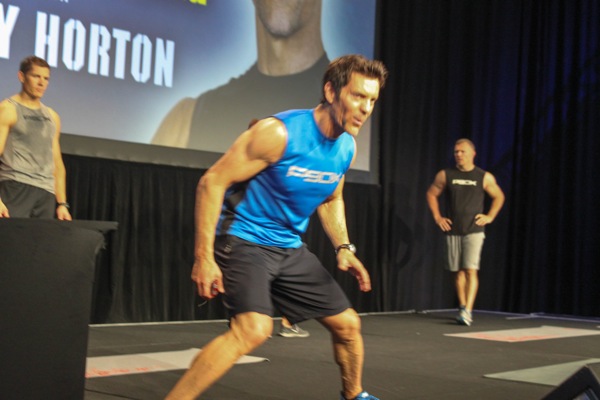 (Tony Horton: BEAST with some cheesyamazing one-liners. I'm excited to take his classes at IDEA this week!)
The Pilot has been wanting to try it, so I picked it up as something we could do together since we had a blast with the Insanity workouts. For now I'm cleared to resume normal workouts/life, modifying as needed, but have an appointment with a hand surgeon. If I partially cut a nerve, it will eventually repair on its own, but if it's fully severed, I'll need to have it repaired.
Have you tried any of the Beachbody workouts?
What about Shakeology? Fave protein powder (or protein-dense food)??
xoxo
Gina