Reader's Request: Fitnessista-fying Meals
Hey guys! How's your day been??
I was a wild child and left the house today 🙂 Sniffling and disheveled, I hit up the smoothie place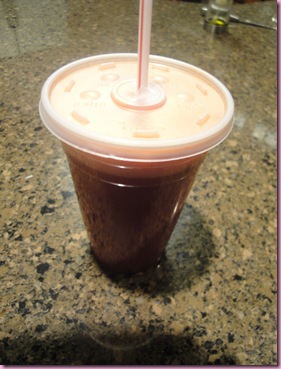 (carrot, apple, beet, ginjah)
Target (where I had an impromptu conference call- with beeping price guns in the background and half a voice– klassy)
TJ Maxx
and Publix.
Two *get well soon* purchases: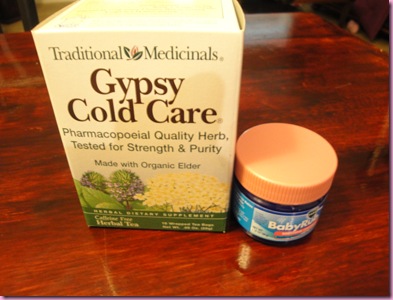 Vick's baby rub (it smells like Eucalyptus and mint, and makes me not quite so congested) and Cold tea 😀
For lunch, all I wanted was fresh fruit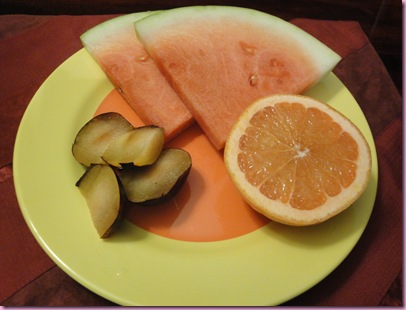 (my first grapefruit EVER! I liked it :D  )
and a cherry bomb diggity.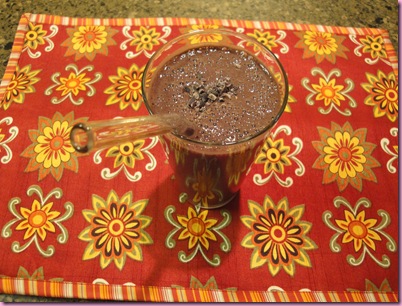 So since I've received a few questions on how to health-ify meals, I thought it would be a great topic for a reader's request post. Today we're focusing on dessert 🙂
A little note: When I Fitnessista-fy a recipe, it's usually for an everyday kind of meal or treat. The idea is to create the meal according to what I like to eat, without sacrificing the integrity or flavor of the dish. If we have company over or it's a once-in-a-while kinda thing, I'll make the meal as it's intended to be prepared, with minor changes (like using goat cheese instead of cow's, whole grain starch instead of white and the like) or prepare a meal that is healthy and just happens to taste fabulous. Or I'll make something that isn't considered health food at all.. but needs to be eaten on an occasional basis.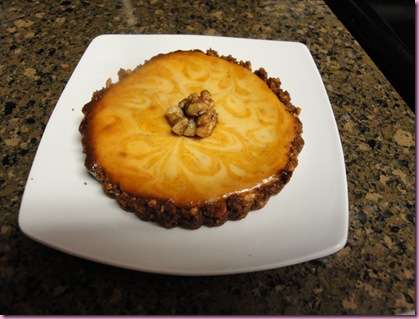 When it comes to dessert and we're having company over, my philosophy is "don't mess with dessert." It needs to taste amazing. Back in the day, I  once made Splenda apple crumble for company…and it was kind of a disaster 😉
For everyday, healthier treats I'll mess with them as much as I like 🙂 The key here is to use a lot of flavor and really good ingredients.
Here's an example:
Carrot Cake Cookies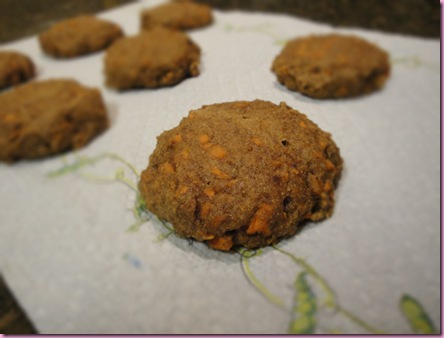 The recipe I played with can be found *here*
So when it comes to dessert, I'll look at three things:

1. Flour- the flour can almost always be swapped out. Spelt is usually my go-to flour

2. Fat- How can I reduce the fat in the recipe without drying it out?

3. Sugar– What would be a good option instead of white sugar?
For this particular recipe, they called for white flour. Easy peasy—spelt instead.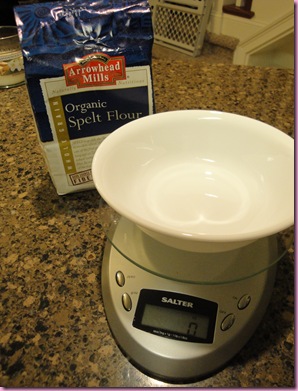 (I always weigh flour for baking- it helps ensure that there aren't any snafus)
For the fat, this recipe called for a stick of butter (1/2 C). Instead of that, I used a single serving of pear sauce + 1 T canola oil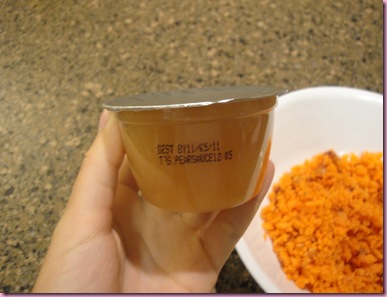 (Other great fat substitutes are apple sauce and plain nonfat yogurt- I usually like to add a little oil or butter, too, to make sure moisture isn't lost)
Instead of using an egg –I thought it would be fun to make these vegan- I would usually use a flax egg (1 T flax mixed with 3 T water). Since there was already a high water content from the pear sauce, I rolled with 1 T flax dissolved in 2 T water
As far as sugar goes, I rolled with 1/3 C Sucanat (unrefined brown sugar- it has a lovely deep flavor) and 1 chopped medjool date (nature's caramel, just to give a little extra sweetness and flavor)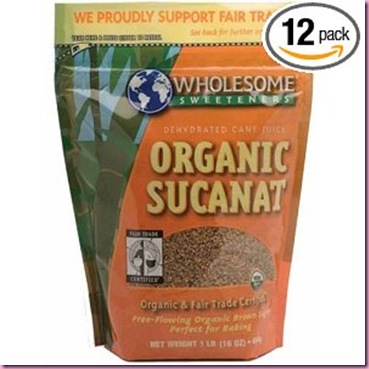 Source
Mix, mix, mix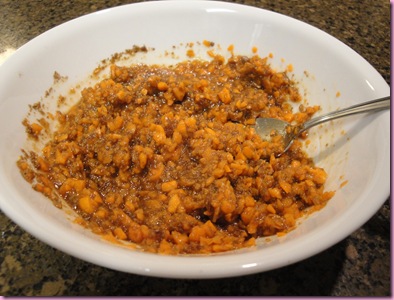 + flour
Baked for 10 min at 350 (on a greased cookie sheet)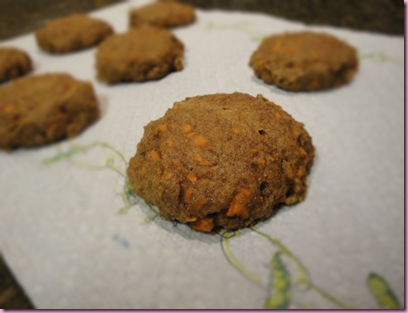 I had two 😀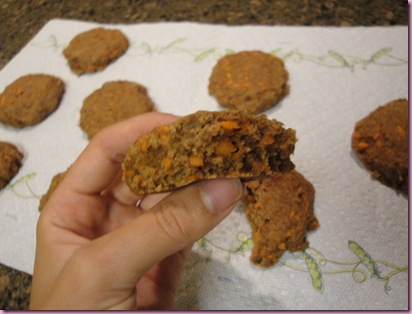 These came out much better than I expected. They're not super sweet, but still have a fabulous deep flavor. I think this is due to the Sucanat, the fact that I used fresh-ground cinnamon (I grind it in the coffee grinder) and William's Sonoma vanilla.
I didn't have stuff on hand to make icing, but I think they taste wonderful without. If you'd like to do icing, I'd probably use Earth Balance + powdered sugar + a little nutritional yeast for a "cream cheese" style icing.
So, would this be considered my recipe??
I don't think so. If I would have stumbled into the kitchen with an idea in my brain to make carrot cake cookies and gone on a whim, it would definitely be my recipe. Since I had my computer in the kitchen with me, I'd call that a no 🙂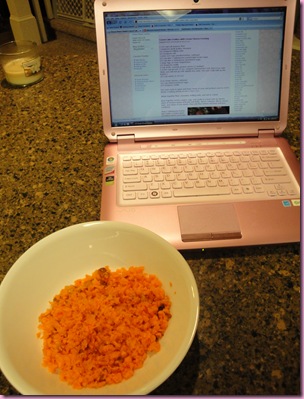 A few bloggies have talked about this subject already (like Tina and Averie) but I'm interested to hear what you guys think… What makes a recipe *your own*? Does using the same proportions and ingredients but changing one thing make it your recipe??
Well I'm off to practice my Zumba dances and take a nap. I had to cancel my training appointments again- I miss my clients! Here's hoping I fight this thing like a ninja and am on the mend tomorrow 🙂
Have a lovely night <3
Gina
Something *else* to talk about: What are some of your favorite dessert ingredient swap outs? Or do you prefer not to mess with a good thing?
Something to read:
–Is 9 Daily Servings of Veggies ok?