Reader's Request: What's in the Bag?
Hi guys! Hope you're having a fabulous Friday! <3
I thought today would be a lovely day for a reader's request and thought this was a fun one:
From Brittany:
I've always wanted to see is what do you bring to the gym every time (ipod, water bottle, towel.. etc) and also any beauty products to use after the gym so i don't smell all sweaty in class! (things like dry shampoo.. deodorant)
So here's my gym bag of justice.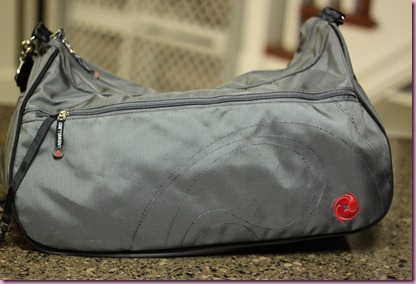 Since I left the business professional job thang a couple of years ago, I usually meet up with friends or train clients after my workouts. (I used to go straight from the gym to work) For this example, let's pretend that I'm meeting friends for a casual breakfast after my gym sesh 😉
A lil disclaimer: my gym bag was a freebie but everything inside is stuff that I bought with my own dinero. I'm not sponsored or paid by these companies in any way- I just like them 😀
The goods: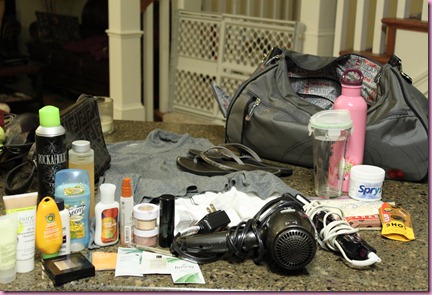 Cosmetic schtuff,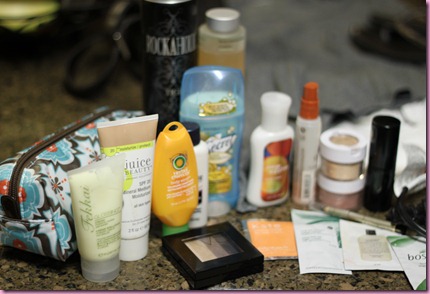 -Hair glossing cream (Freddrick Fekkai is my fave and they have the mini bottles at Bath and Body Works)
-Moisturizer (Juice Beauty tinted with SPF)
-Mini shampoos and conditioner
-Deodorant
-Face wash (LOVE Korres right now)
-Rockstar dry shampoo
-Mini lotion and leave-in conditioner
-Mineral makeup (from Targizzle)
-Brush
-Eyeshadow
-And samples of body wash and scrub
A tip: samples are your friend! I hoard samples from Sephora for gym and travel purposes. Stash mini samples of perfume, cosmetics and body care in your gym bag- perfect one a one-time use and this way, you won't have to bring a full bottle and get to try something new!
 Hair schtuff,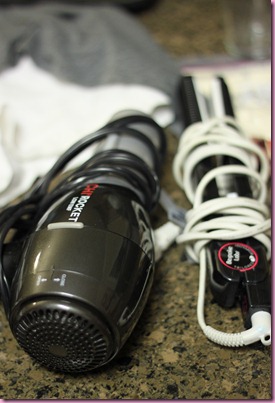 -Straightener and blow dryer
*I don't always wash and blow dry my hair after the gym—I'll put my hair in a high bun, take a shower, and then spray dry shampoo, brush, quick blow dry and run a straightener through it. Good as new 🙂
Food gear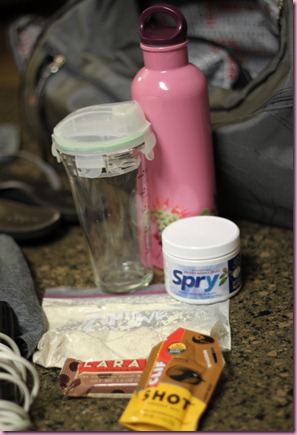 -Sun Warrior in a baggie with protein shaker cup
-Water bottle
-Spry gum
-Larabar for an emergency snack (whole grain wrap with ab, or hummus and veg is great too)
-Goo in case I take a class and then want to do weights or vise versa – to get in extra carbs
Clothes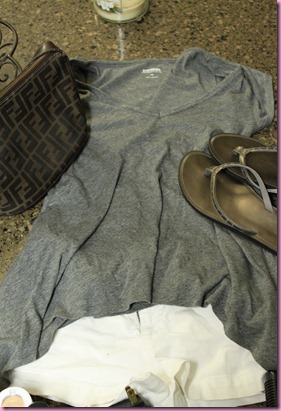 -Just a pair of shorts and top with flip flops and a purse
-Fresh unmentionables (not posting those on the blog… that's weird, haha)
I think that's about it!
Am I forgetting anything??
Any tips for changing or packing for the gym? Favorite post workout products? One of my clients takes what she calls "airplane baths" when she's in a hurry—she uses baby wipes to towel off and changes for work super fast. She always smells lovely, too 🙂
Hope ya'll liked this reader's request post! Please send requests my way, fitnessista at gmail dot com, subject: Reader's Request
Enjoy your night!!
xoxo,
Gina