Hi friends! We're enjoying one last day in Cali, but in the meantime, I have some fun posts planned! Today is a giveaway and Fashion post, and tomorrow: a new dance cardio video. Hope you're having a wonderful start to your week! xo
_______________________________________________________________
My normal skincare routine would probably make some people shudder.
It involves using a little cleanser (usually Yes To brand or Juice Beauty) on the Clairsonic at night, nighttime moisturizer, and tinted SPF moisturizer for day. Once or twice a week, I feel fancy and use a LUSH face mask. That's it. Full-on skincare/makeup routines freak me out a little bit (toner, exfoliator, makeup remover, primer, whaaaaat?!) and I always feel intimidated when I check out new products. If it ain't broke, right?
Well, my friend Jeni has always had absolutely gorgeous skin. In the 5 years I've known her, it's continued to become even more vibrant and beautiful. When she last came to visit, it was absolutely glowing, so I asked what products she'd been using. (Unlike me, Jeni knows about makeup and skincare and stuff haha.) She had started using the Rodan + Fields products (founded by the same doctors who created the ProActiv solution) and loved them so much that she became a consultant for them. Since I was curious to try it out, she offered to send me some samples when she got home. (And because she's one of my closest friends and know it's important to me, she also triple-checked to make sure that the products weren't tested on animals. Rodan +Fields is cruelty-free and supported by PETA.)
When I first opened the package, I was really excited to try out the facial, lip serum and exfoliator she sent. The verdict? I absolutely loved everything. My skin looked noticeably different in a couple of weeks. Since I found the products to be extremely effective (yet gentle enough for my sensitive skin) I asked Jeni if she might be able to do a giveaway.
Here's what one lucky winner will receive: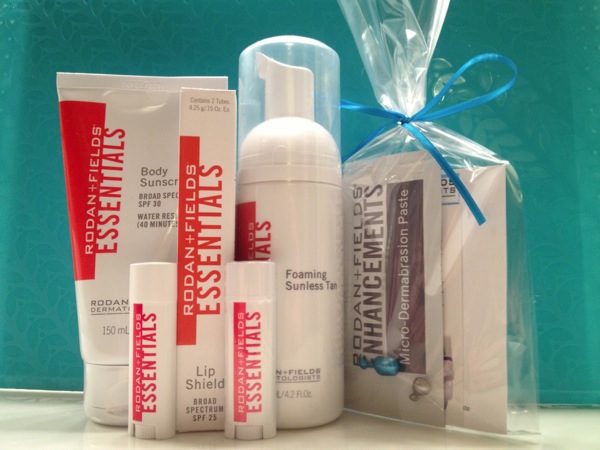 Mini Facial:
You can check out more of the products on her site here and there is a solution tool to help decide what products would be best for your skin.
How to enter:
Just leave a comment with with your favorite skincare or beauty product. If I had to narrow it down to one, mine would be Moroccan oil. It makes my hair smell great and keeps the frizzies away.
I'll pick the winner via random number generator and announce in this week's Friday Faves post.
Hope you have a wonderful day! <3
xoxo
Gina
(Not sponsored– just wanted to support one of my best friends and spread the word about this awesome line)