Scooter girl + what I read in Feb
We have a scooter fanatic over here 🙂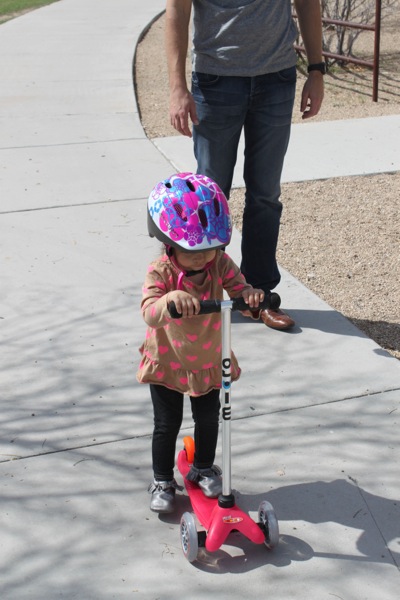 I ordered the scooter because I noticed Liv was trying to move herself on the trike by pushing her feet against the ground. We got a lot of good use out of the trike, but I feel like she's already outgrown it. We looked at the balance bikes, but I thought a scooter would be a better option, especially since she'll be able to ride it around our beach walks (!). The second I took it out of the box, I assembled it, and she was scooting around the living room within minutes.
So much fun, and another outdoor activity we can enjoy together <3
After the park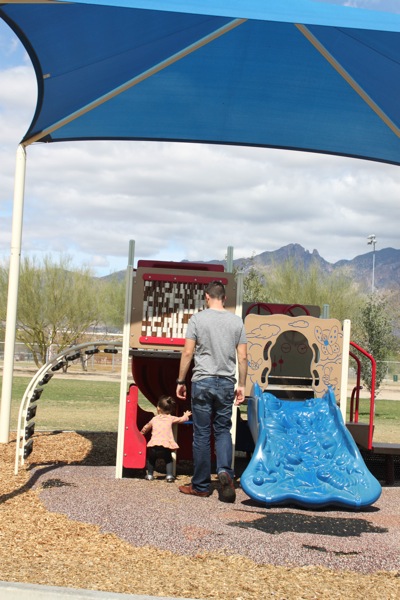 and naptime yesterday, the Pilot grilled a feast to enjoy while watching the Wildcats and then the Oscars.
The classic never dies: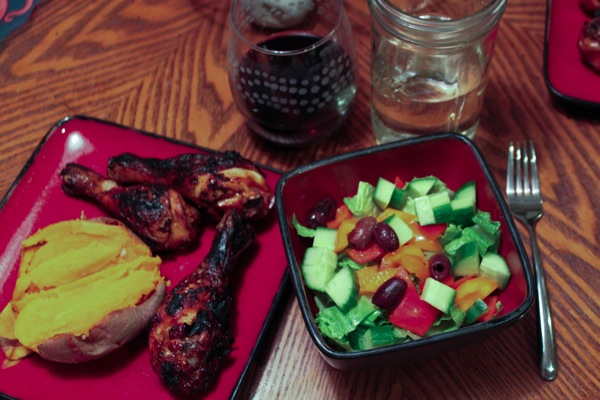 I crashed out while reading the Kindle. I'd been sleeping horribly lately, but found that getting back in the swing of reading at night has helped me wind down. Knock on wood, I'd had a few days of awesome sleep (minus the pre-race hotel sleep haha). 
Today, I thought I'd share my February reads: Morning Glory and Let's Pretend This Never Happened.
I started reading Morning Glory on the Kindle quite a while ago. Just like all of Sarah Jio's novels, I got sucked it, was lamenting the fact that it would soon be over, and decided to savor it. So much in fact I stopped reading entirely and forgot about it. Whoops. When I finally got some time to open my Kindle, there it was, and I was finally able to finish it last month. It was everything I expected: engrossing, tugged at my heartstrings, and I cried when it was over. Sarah Jio has a talent for interweaving past and present, and she has a lovely way with words.
Morning Glory takes place on a houseboat on Seattle's Lake Union (very Sleepless in Seattle-esque), when editor Ada leaves her job and New York to escape the memories of a personal tragedy. She soon discovers a mystery on Boat Street regarding the disappearance of a local woman in the 1950s and is determined to unlock the secrets no one will discuss. It's a quick read, and I highly recommend it!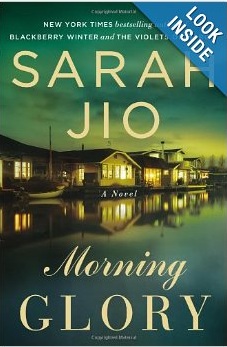 The second book I "read" was actually listened to via Audible. (Thank you so much to those of you who suggested it! I LOVE it.) To be totally honest, after listening to the audio version, I'm not sure I'd want to read the book. Jenny Lawson is particularly hilarious while she reads Let's Pretend This Never Happened, especially when she describes the photos in the book and "singing" the titles for each chapter. It's gold.There is abundant usage of the F word (which is why I listened to this when I was in the car alone, usually driving to yoga, or during strength training. It was a bonus ab workout because I was laughing so hard) and delightfully told with Jenny's unique voice. It's a great book if you want to relive her hilariously awkward moments (and thank the world that your father's wild turkeys didn't overrun your school and that you never ran into a deer carcass) and if you're not easily offended.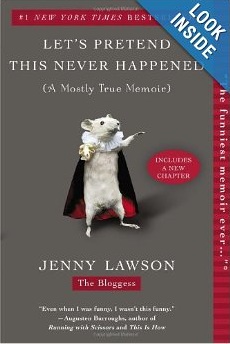 Here's a description:
"When Jenny Lawson was little, all she ever wanted was to fit in. That dream was cut short by her fantastically unbalanced father (a professional taxidermist who created dead-animal hand puppets) and a childhood of wearing winter shoes made out of used bread sacks. It did, however, open up an opportunity for Lawson to find the humor in the strange shame spiral that is her life, and we are all the better for it.
Lawson's long-suffering husband and sweet daughter are the perfect comedic foils to her absurdities, and help her to uncover the surprising discovery that the most terribly human moments-the ones we want to pretend never happened-are the very same moments that make us the people we are today.
Let's Pretend This Never Happened: A Mostly True Memoir is a poignantly disturbing, yet darkly hysterical tome for every intellectual misfit who thought they were the only ones to think the things that Lawson dares to say out loud. Like laughing at a funeral, this book is both irreverent and impossible to hold back once you get started."
Did you read any awesome books in February? I started The Husband's Secret last week and am totally sucked in.
Have a great night! <3
xoxo
Gina