Hey hey hey 😀 How's your evening going?
I loved reading about your Lent ideas and spring challenges- keep 'em coming 😀 It's funny because usually I'd be living up Fat Tuesday in full splendor, but after my Valentine's feast, I don't feel a need to. I think I'll be satisfied on the sweet front for 40 days.. at least that's what I say for now 😉
This morning's snack was this little gem (which yes, is considered a "sweet", so after today, it's out of commission for a while)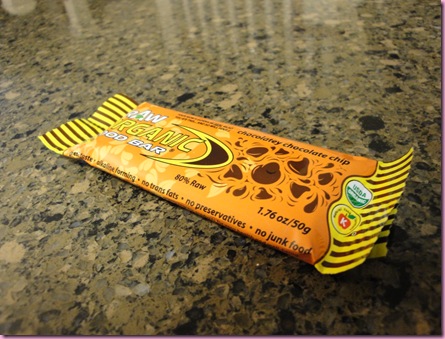 I ran a boatload of errands, cleaned the casa and met with the cafe owners to go over a tentative menu and plans. We actually have a crazy awesome giveaway planned for tomorrow so stay tuned!
For lunch, I couldn't wait to break out this classy new vinegar: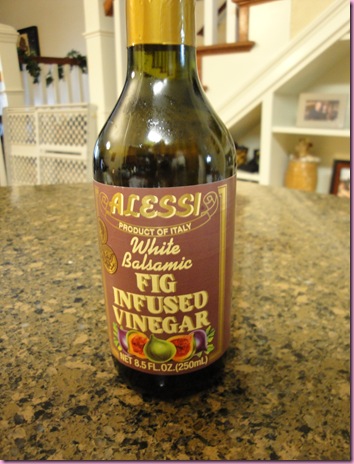 Mmmmm 😀
I made a salad beast with rainbow chard, spiralized beet, tomatoes, raw goat cheddar, oregano, fresh basil, sweet onion and fig vinegar.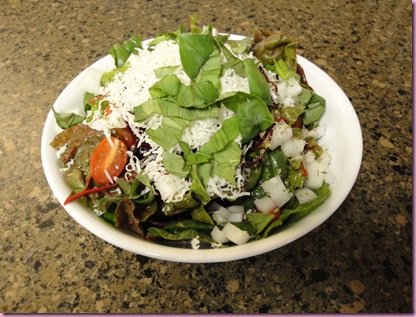 After mashing everything around: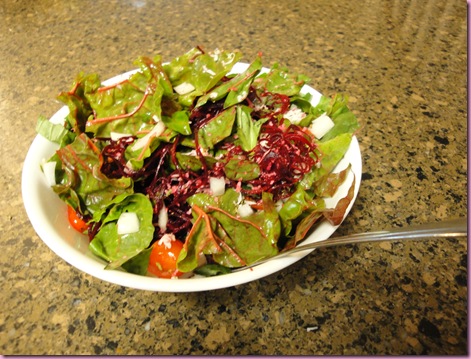 Rainbow chard is by far my favorite green. Now I just have to figure out how to plant it because it's not sold anywhere in Valdosta (yet).
Dessert was some millet with maca and cinnamon: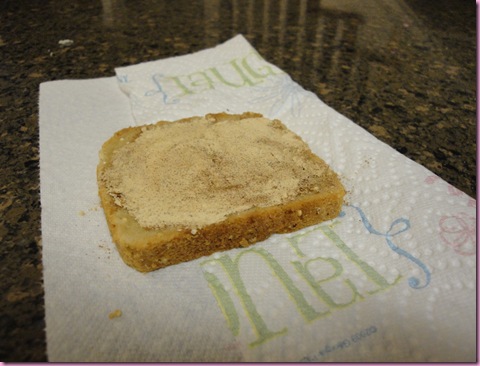 (Please excuse the fine china)
I hit up the gym before my first training appointment and did 30 minutes on the elliptical, 10 minutes on the treadmill and 20 minutes of shoulders, triceps and chest. It was a fast and furious weight workout and then I trained a client.
When I got back to the casa in between appointments, I had a two egg white puff, coated in chili powder and nutritional yeast.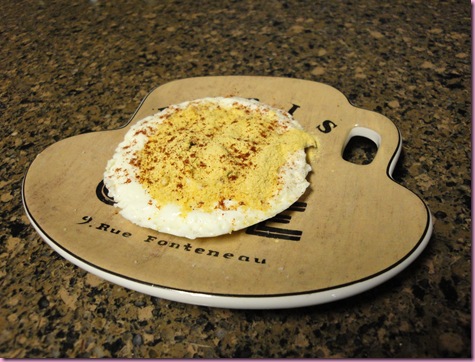 The nutritional yeast was so BUTTERY on top of the egg! Uhhhhhmazin'. As I was devouring, I couldn't help but wonder if I'm a hypocrite for not eating chickens and still eating their unfertilized embryos. Don't answer that 😉 I just love eggies so and always, always buy organic.
I had two more appointments and then came back to make a shrimp feast for my pilot love and I. Time for jammies and chillaxin' 😀
See ya tomorrow with a fun reader's request post and a giveaway!
xoxo,
Gina
Questions and answers: (from Ask Me Anything)
How old is the pilot? Has he been in the air force for a long time?
The pilot is 29 and he's been in the Air Force for a little under 7 years.
What ever happened with giving Viesa away? Is she better with Bella? Are you keeping her for good? (I love when you post puppy pics!)
For now, we're keeping Viesa until my brother and his girlfriend can adopt her. She's been incredibly good *knock on wood* because we've had to lay the smack down with disciplining both of the dogs. I had a tendency to let them walk all over me because they're so cute –I was the only one here every time Viesa would attack Bella- so I've been making the dogs sit before I pet them or give them love, and have been trying to act like *master* of the casa. We also treat Viesa as the alpha dog, which is what she needs.. so she always gets treats first and her food first.
Why would you open a cafe if you are going to move in a year? Isn't that a waste of time? Why not wait till you move?
A year is a year, and I'm going to live it up! The amazing thing is that this is something I've really wanted to do, and now that I have an investor, I really need to take this opportunity. The fact that I can get my online bakery started as well is just icing on the cake. I'll be able to get experience and knowledge and when we move, it will be much easier for me to open my own place.
What do you mean when you say that you are going to give up "sweets?" Does that include all desserts and anything with sugar? What about food containing agave or stevia? I want to join you!!
Yup, that includes all desserts and sugar. This doesn't include cacao powder or Sun Warrior protein, but includes Larabars (they're like dessert to me), Stevia (YIKES!) and agave. Fruit is definitely ok and I'd love some sweet-free company for the 40 days!
Sometimes I look at your life an am struck by extreme life envy … if you could change ONE thing about your life, what would it be?
I promise that my life isn't perfect 😀 The main thing I would change would be the ability to live wherever I wanted. Sometimes I feel like SO many things would be easier if we could live wherever we chose!