Hi friends 🙂 How's your morning going?? Mine is pretty bueno.
So glad you like the biscuit recipe! Let me know if you try them 🙂
I have a new food obsession: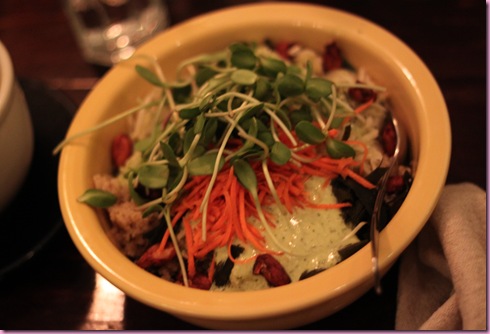 Grain bowls!
The obsession began when I had the macrobiotic bowl at Cafe Gratitude in San Francisco. I just love the idea- greens, grains, healthy fats, sauce, all in one bowl of happiness.
I've re-created the bowl at home a few times since then, and it's been a perfect take-to-work option and you can mix it up so many different ways.
Step 1: Add your greens.

Last night I rolled with massaged kale (with olive oil, lemon juice and Cayenne). Arugula, spinach, broccoli, zucchini or mix greens would work great too.

Step 2: Add half of your toppings.

I used sauerkraut and dulse. The options are endless here: chopped veggies, olives, sundried tomatoes, berries, whatever you're feeling.

Step 3: Add your grains + healthy fat + more toppings

I've been on a millet kick lately, so I rolled with that, but you could definitely use brown rice, quinoa, wheat berries, any grain that you love.

As far as the healthy fat goes: hummus, sauce (yogurt sauce, almond butter-sauce, curry sauce) would all be amazing.
Some other options:

Mexican style: Spinach with black beans, chopped tomatoes, bell pepper, onion, brown rice and hot sauce

Greek style: Arugula with quinoa, mint, parsley, bell pepper, cucumber, and a yogurt sauce (or vinaigrette)

Autumn style: Spinach with chopped apple and onion, dried cranberries, brown rice, goat cheese and balsamic vinaigrette.
Many grain bowls will be feasted on in the future 😀
This morning, I'm off to practice with some work friends and then going to the mall. I've only been TWICE since I've been in Orlando. I don't even know who I am 😉
Breakfast will be waiting in the car: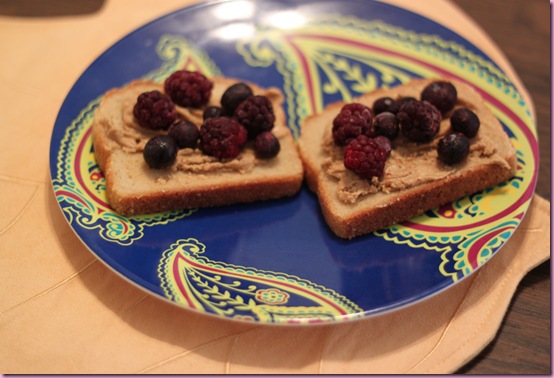 Brown rice toast with cashew butter and frozen organic berries. By the time yoga is over, the berries will be softened and ready to eat.
See ya later today!
xoxo,
Gina
Zumba song of the day:  "Danza Kuduro" Don Omar