Thanksgiving Leftovers: Sweet Potato Biscuits
Hi guys! How are you? Hope you've had a glorious day

I started mine off with a dip into the cashew butter, a piece of brown rice toast and a smoothie with Sun Warrior, almond milk and organic berries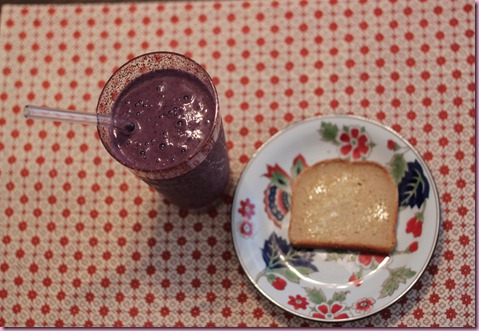 + a yoga practice with Rob at Full Circle. It was a more restorative practice, but still made me sweat like a monkey. My toe is still broken (and purple… and crooked) from when I broke it on my birthday, and when he was helping me hold my legs up in handstand, I kept thinking "Please, please don't look at my toe." It looks terrible but doesn't hurt. A trip to the doc will be happening soon…
Thoughts of these made it all better though: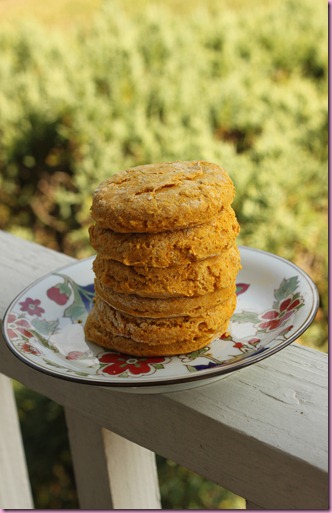 Gluten-free vegan-able, Sweet Potato Biscuits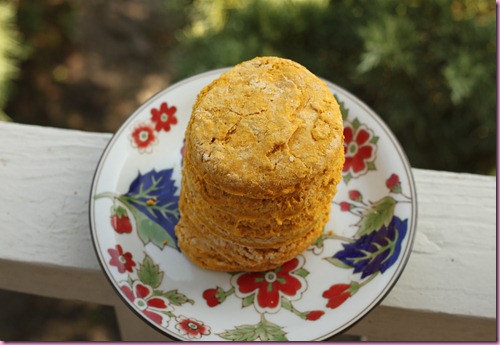 These are perfect for Thanksgiving leftovers!!
Sweet potatoes are pretty much never leftovers (or do-agains as I like to say) in our house. If we have a baked sweet potato from the night before, I'll usually eat it cold out of the fridge while I decide what I want for breakfast

Thanksgiving is pretty much the only time we'll have surplus sweet taters in our house, which makes this a great recipe to change things up a little. If you don't have sweet potato puree on hand, the canned stuff is great too.
Makes 6 large biscuits

1 1/2 C Bob's red Mill GF Baking Mix (spelt flour or wheat would be lovely too)

3 1/4 t baking powder

1/2 t xanthan gum (can omit if you aren't using gluten-free flour)

3/4 C sweet potato puree (a la can or leftover from Thanksgiving)

1/2 t salt

Stevia to taste

1/3 C milk of choice (I used almond)

3 T butter (I used organic butter, but Earth Balance would be lovely too)

1. Preheat the oven to 375. In a bowl, add the flour, xanthan gum, sea salt, Stevia and baking powder. Mix well,

2. Add the butter (which should be cold and diced), and using a pastry cutter, knives or your fingers, cut in the butter until the mixture resembles little pearls. This is what will give the biscuits the flaky layers.

3. Add the sweet potato, milk and stir well.

4. Roll onto a floured surface, about 1 1/2 in high. (I cover the counter with plastic wrap or you could use a large cutting board)

5. Use a biscuit cutter to cut out the biscuits and place them onto a greased cookie sheet.

Don't have a biscuit cutter? I don't either. A glass or can works nicely

6. Bake for 10 minutes at 375, or until golden brown and delicious.

7. Eat warm… butter/honey/jam optional
Please let me know if you try these! Hope you love them as much as I did.
I'm back to work but I'll see ya in the morning!
Stay tuned for more Thanksgiving leftover ideas in the next week

xoxo
Gina