Heyyyyyy 😀 Happy Sunday! Hope yours has been restful and glorious thus far.
Work last night was a blasty as usual. I love doing desserts and being surrounded with decadent treats all night 😉 As you guys probably know, it's nearly impossible to take pics while I'm working –usually my hands are covered in dough or chocolate- but I did manage to take this one before setting it out.
Meet the Four Shot, my plating nemesis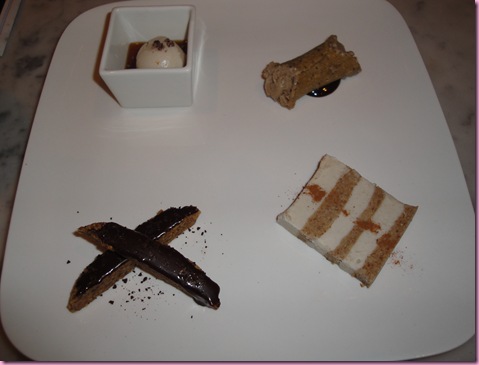 It really is delicious and I'd probably order it if I were dining at the restaurant (as I love chocolate and coffee flavors) but it's a beast to put together! Two blobs of ganache –one in the little dish and one under the cannolli- a squirt of coffee into the dish, stuff the cannolli with coffee gelato, grab two biscotti and garnish with coffee, get the tiramisu and garnish with cinnamon, scoop affogato ice cream into the dish and garnish with cacao nibs. Just typing it makes my heart race. It's a fast and furious process 😀
After work, I wasn't really starving thanks to my Amy's burrito, but knew I had to eat so I had two of my favorite things: Tropical Popeye smoothie and some eggplant bacon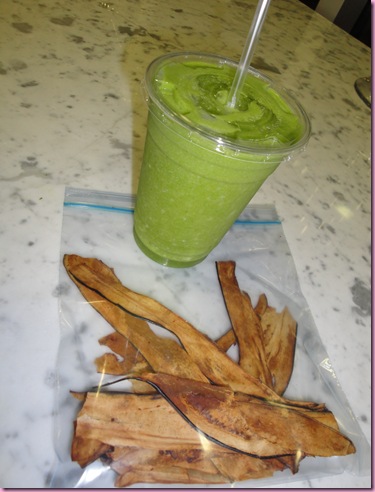 When I got back to the hotel-casa, to my utter shock and amazement, the internet was working! I was so happy I celebrated by facebooking it up and lurking all my favorite blogs before calling it a night 😀
I slept in –yeahhhhhh!!!- and decided to go to Targizzle before meeting Michelle for bfast at 105degrees.
I grabbed a plain hot green tea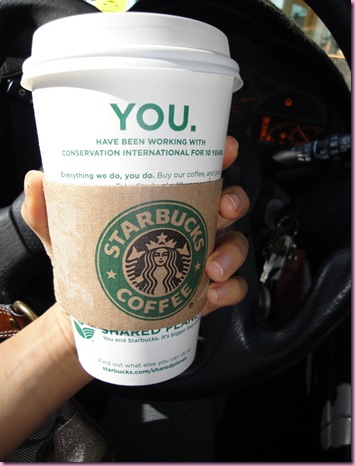 and picked up Bella's Halloween costume: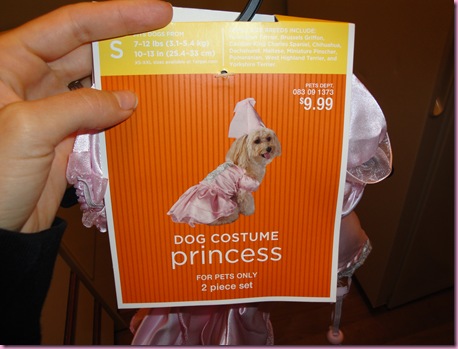 (For Pets Only. Well I would hope so, haha)
She'll be such a beautiful puppy princess 😀 Anyone else love dressing their dogs up for Halloween? My Orlando familia also gets in on the tradition.. their cute little yorkie has been Elvis and a pirate for past Halloweens 😀
Michelle and I had an amazing bfast per usual and dined on the patio since the weather was absolutely perfect.
After much debating –in all honesty I really wanted a Pina Coloada for bfast but decided against it- I rolled with my staples because I'm boring I love them so much.
Eggplant bacon: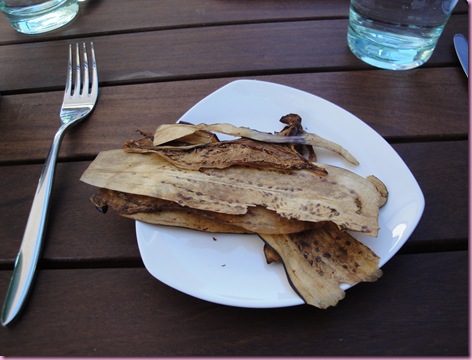 Thai Green Smoothie: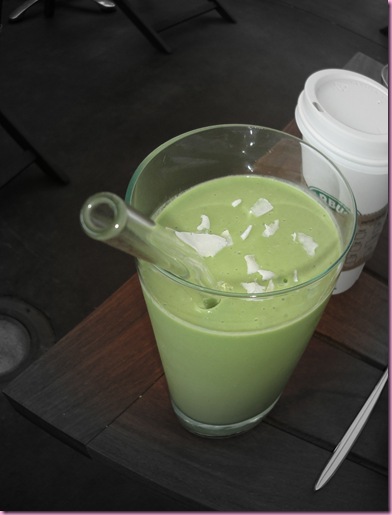 Young Coconut, Almond Milk, Dates, Mango, Spinach, Lemongrass, Thai Chili
Love those glass straws! I might need to purchase some for at-home use 🙂 For those of you who have asked, you just put them into the dishwasher with the other dishes. Pretty sweet, eh?
After bfast, and chatting with some of our yoga friends who dine there regularly (Hi Suzanne and Ramsey!) we went to the health food store to get some food for the week.
When I got back to the hotel-casa, I was feeling snackalicious so I had some eggplant bacon (just kidding).
An apple with almond butter and cinnamon: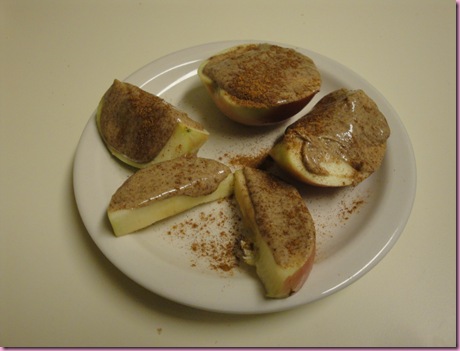 And a mug of Ezekiel sprouted grain cereal with almond milk: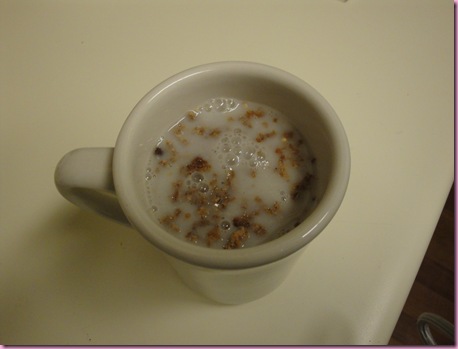 And then refilled the mug because I have no portion control with cereal it was just so delicious 😉
Time to get ready for the gym (cardio sesh with the new issue of Shape mag) and then work.
Enjoy the rest of your day!
xoxo,
G$
Something to Talk About: What's your favorite Halloween candy? Mine is candy corn, all the way. I get so excited when I see it popping up on store shelves! 😀