Helloooooo 😀 Lack of technology isn't going to keep me away! 😉 I've been bumming WiFi from school—I'm writing this from the internet-less hotel and will post it when I get to work. Still no word on when we'll have internet again and no one seems to be in a hurry to fix it. Fun times 😀
How was your day? Mine has been bueno, thanks to another incredible yoga class at The Yoga Room. I wrote a little about my first experience in this post, but just have to say again how much I truly love it. The owner Laura has given me a newfound love for yoga and classes at her studio are one of the things I'm going to miss most about OKC.
I've been doing some hotel podcasts as well, courtesy of YogaDownload: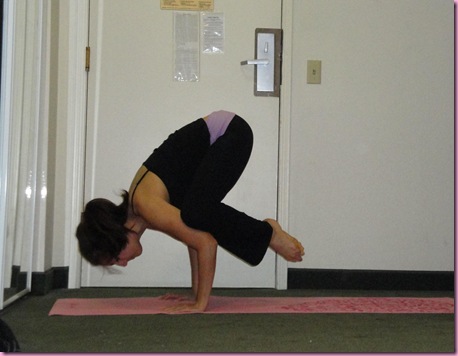 (Because all the cool kids press the timer button on the camera, run and jump into crow pose, haha)
It's so funny because I haven't always been a huge yoga fan. I started a couple of Rodney Yee DVDs when I began my weight loss journey, and after that I never really got into it. After a few super lame classes at the base gym, I called it quits until last fall when I started to give yoga another chance. I am SO glad I did and am hoping to one day get (almost) as good as Jenna, Heather or Averie 😀
After yoga, we had to go to school for a Saturday class on menu development. For our "final" we're creating an entirely raw meal using our own recipes: appetizer, entree and dessert. I'm not spilling the beans yet on what I'll be making, but I will tell you it's Mediterranean-inspired 😉 Any guesses?
For bfast, Michelle and I ordered some food from the cafe to munch while we were at school since yoga kicked our booties and we were starving.
I got my favorite blueberry pancakes and a Spice-C smoothie.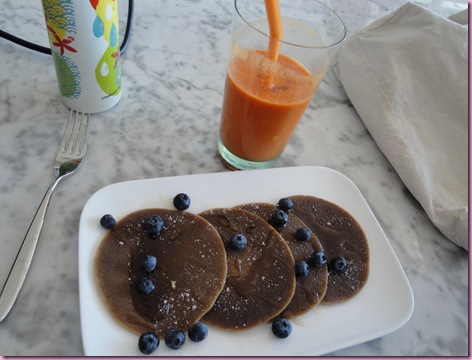 So delicious and it was perfect brain fuel to help me think of some meal ideas 😀
After school, we came back to the hotel-casa and I got started on laundry. I'm so glad I'll probably only have to do it one more time before we leave! I'm totally shocked that we only have 1 more week of school—time has flown by, just like I thought it would.
For lonchi, I munched a glorious salad beast that I brought back from school. Everyone else ate it while we were in class, but since I had just had my pancakes, I saved it for later.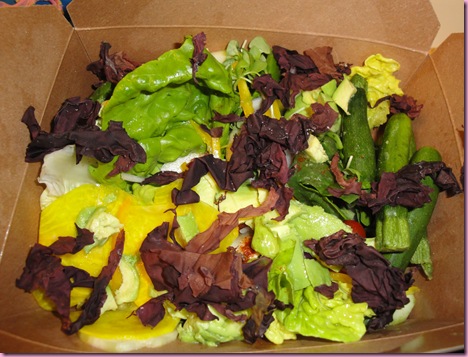 Dulse, 1/2 small cado, greens, baby zucchini, golden beet, bell pepper and tomato with lime juice and cayenne
And what I was seriously hankering for: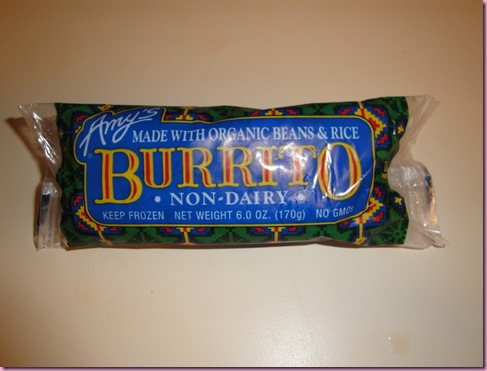 Maybe I love these so much because they remind me of my late night stops to Viva burrito in high school and college with friends 😀 Much healthier, but still a gooey bean burrito shrouded in a warm tortilla.
Covered in the good stuff: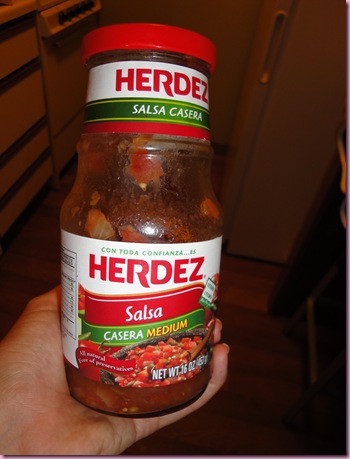 Yes, I've finished almost an entire jar in a week 😉
Well I'm back at work now, ready for a busy Saturday night (please get dessert, people!).
Mayjah congrats to my friend Jenn for blowing her 10k goal into the dust. So proud of you, speed demon! GOOD LUCK to all of you who have races tomorrow! Rock it out.
See you soon!
xoxo,
G$