Hi friends! Happy Monday! How are you doing this morning? We've been hit with a little bit of a wintery spell. It's not cold (yet), but it's been cloudy and lovely. It almost feels like winter even though we're still in short sleeves and dresses. I'm enjoying it while we can!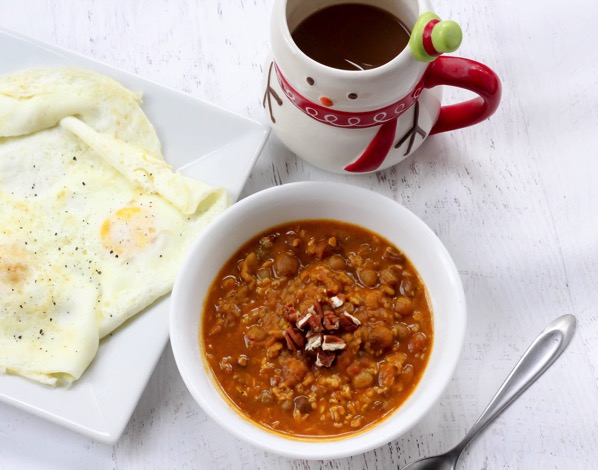 (confession: I've been using my favorite snowman mug since April)
It was quite the festive weekend over here. The fun kicked off Friday night with the Pilot's work Christmas party.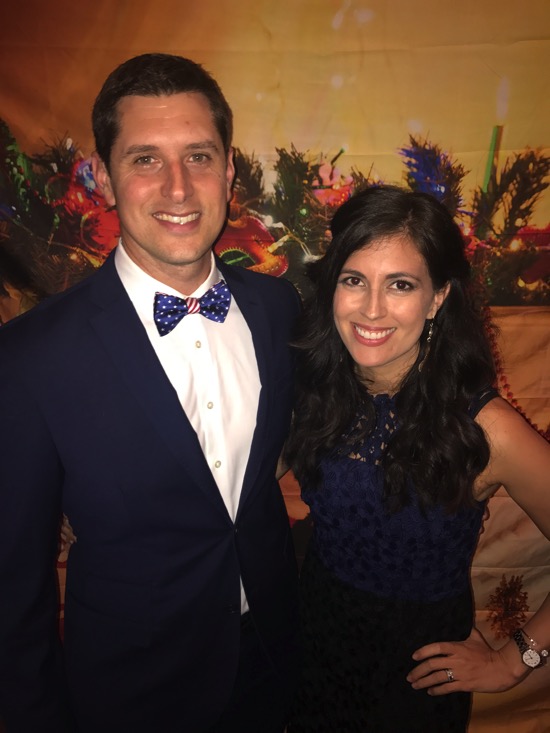 I arrived early along with some of the girls to get everything set up. The party was located at Frogtown winery, which is in an even smaller nearby town, Hahira. (Note: when we first moved here back in '08, I thought Hahira was pronounced "Hah-heera." It's hay-hi-ra. It mystifies me to this day.) The winery is in a cabin or lodge-esque building (almost like a cabin bar if that makes any sense), so there was a lot to work with as far as decor goes. It's a woodsy, open space, with tables and a bar area.
We went with plaid table runners and these centerpieces: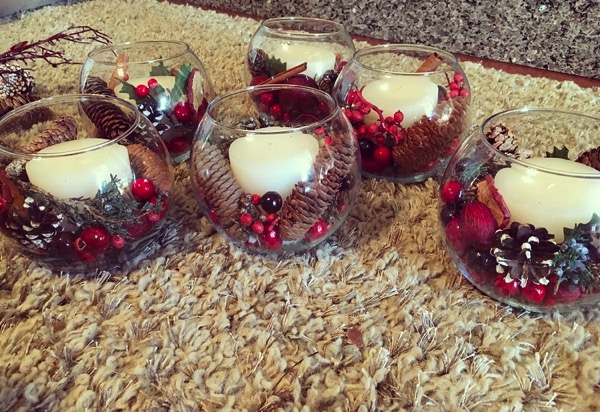 gorgeous Mason jar centerpieces a friend made (I wish I snapped a pic because they were rustic, beautiful and so unique) and a Christmas tree. We took the Christmas tree from the squadron, and about 1/3 of the lights didn't work, and it was lacking a stand. The guys constructed one from metal they found out in the forest. #georgialife
The party officially began when everyone started to trickle in and the party bus arrived. We had appetizers and local wine + beer, games outside (corn hole and beer pong) and a killer DJ. He played some party classics (from "Shout" to 80s mixes, current music, country and hip-hop) and by the end of the night, most of us were on the dance floor. The Pilot and I danced our faces off with everyone, and it was a blast.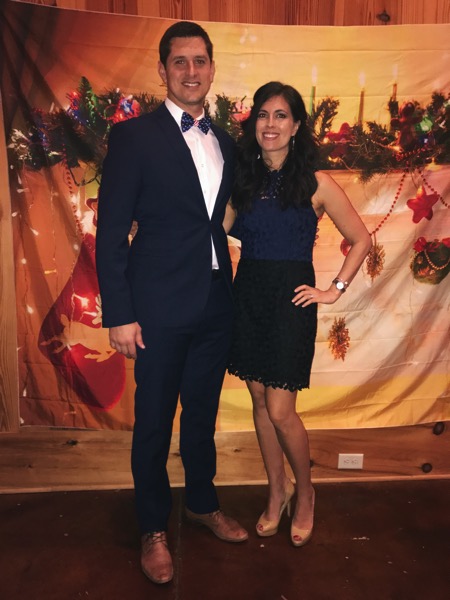 (Dress is the Cynthia Rowley Colorblock Sheath from Rent the Runway.)
As much fun as the dancing and music were, the best part was the attire. It was a mix of cocktail and more formal wear, along with ugly Christmas sweaters and Christmas suits. (The suits were like these and they were AMAZING.) There were two sweaters that stood out the most and made me laugh until I was crying. One is a little too inappropriate to describe on this family-friendly blog, but the other one was interactive and a huge hit.
We danced and partied the night away with our friends until it was time to head home.
Saturday, we had brunch at our favorite weekend spot: Birdie's Market.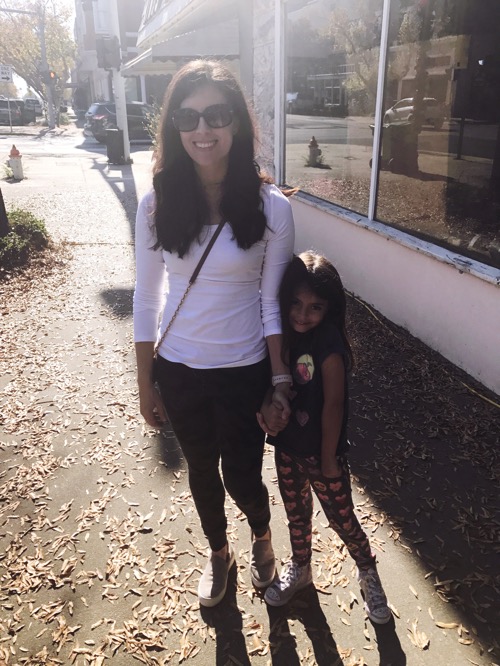 They changed the menu up a bit, so I usually construct my dream meal out of side items:
2 eggs, sweet potato tots (with a garlic aioli that wraps your soul in a savory blanket of happiness) and a house salad.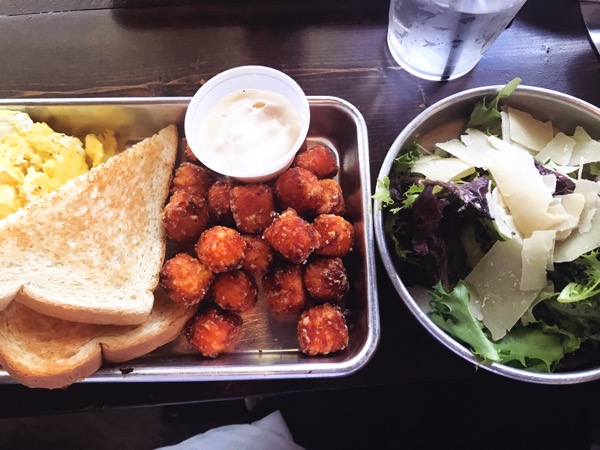 After Birdie's, we walked around downtown a bit,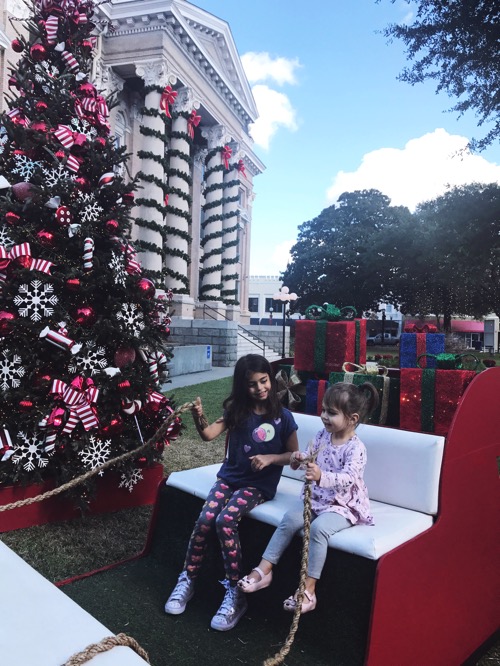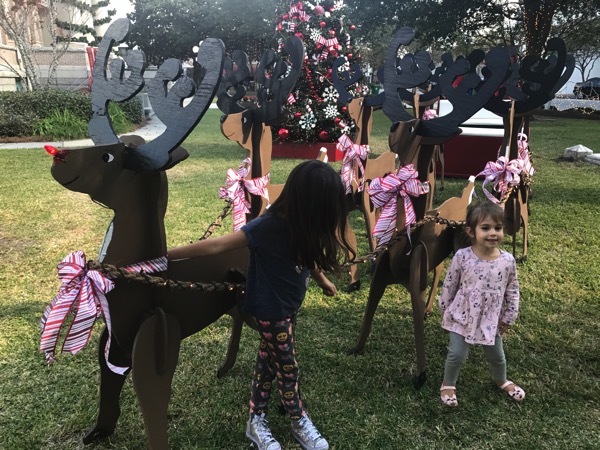 and then it was time for P's nap, followed by a birthday party. One of my friends from high school just moved here, so it's been fun to hang out and let the kiddos play together. They had a jumping castle and pizza, aka the girls' two favorite things. P has been unusually clingy ever since her birthday, and she even ran around with the kids instead of constantly insisting that we hold her. (I LOVE holding her, but it's good for her to play and run around.)
We headed home just in time to cook a quick dinner (Chicken Bahn Mi from Sunbasket) and put the girls to bed.
Sunday was a relaxing day. The Pilot had to head into work for a bit, so the girls and I made banana pancakes and sourdough bread. I caught a quick PBB Advanced circuit workout at the gym + some cardio, plus the Workout Advent Challenge! It's not too late to join in the fun.
What's going on this week? Did you do anything festive or exciting this weekend?
What workouts do you crave during the winter season? I'm so ready to catch a scorching hot, sticky yoga class.
Thanks so much for checking in on the blog today and I'll see ya soon!
xo
Gina