Hey hey! How are you doing? Hope you're having a lovely morning.
I can't believe December will be here TOMORROW. Even though we all know I get a liiiiittle too excited about Christmas and the holidays, I feel even more stoked this year. Two years ago we were dealing with all that nasty reflux and medical stuff, and last year, Christmas flew by in a blur since we were moving out of our San Diego house to high-tail it to Tucson on Christmas Eve.
While I'm kind of bummed that we won't be headed to AZ, I'm excited to relax here at home and create some of our own traditions. Our Christmases are always different since we've been in so many different places (and a couple of hotels Christmas morning)! Some of the things on the list: The Nutcracker (we've gone since Liv's first Christmas!), morning cinnamon rolls, adventures to look at lights and drink hot cocoa (P has never had it, and it's going to rock her world), and holiday movie nights. I've already totally failed at Elf on the Shelf. Liv was like, "Isn't she supposed to fly away and come back on Thanksgiving?" when she sat in the same slumped position she'd been in for a week. Oops.
As far as workouts go, this is when things can get a little tricky. So many of us have festivities and extra to-dos that time at the gym seems impossible. No matter how crazy my schedule gets, I still try to clear 30 minutes most days of the week for something. Even if it's just a walk around the neighborhood, it does significant wonders for my sanity. I'm excited about today's post because it's a little somethin'-somethin' to put some pep in your workout step and change up your routine this holiday season.
For 25 days, we'll have a different fitness challenge for each day.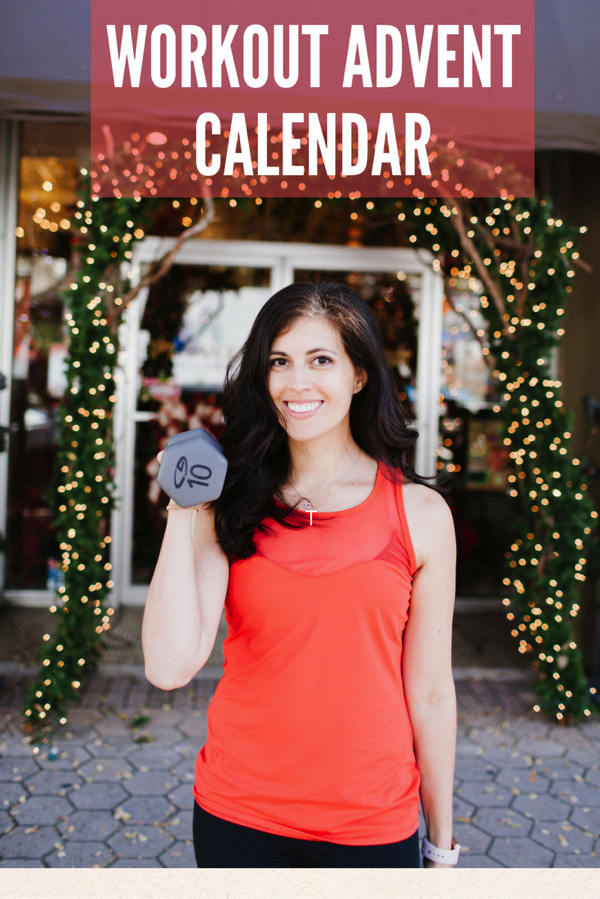 Your workout advent calendar!
Here's what it looks like: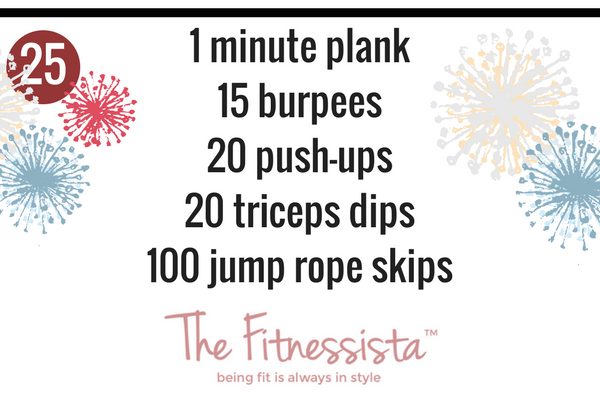 I'm not going into full form cues for each exercise – I know you don't have all day! haha – but if you have questions about specific exercises, please comment below or DM me on Instagram.
One fitness surprise each day for the next 25 days:
1 mile walk or run. This can be on the treadmill or around your neighborhood. Or that power-shop walk around the mall.
2 minutes of high knees. For a low-impact option, march in place, exhaling to bring your knees towards your chest.
3 sets of 15 jump squats. Be sure to land with a soft knee and exhale to spring up. For a low-impact option, eliminate the jump and just reach your arms overhead, rising up onto your toes.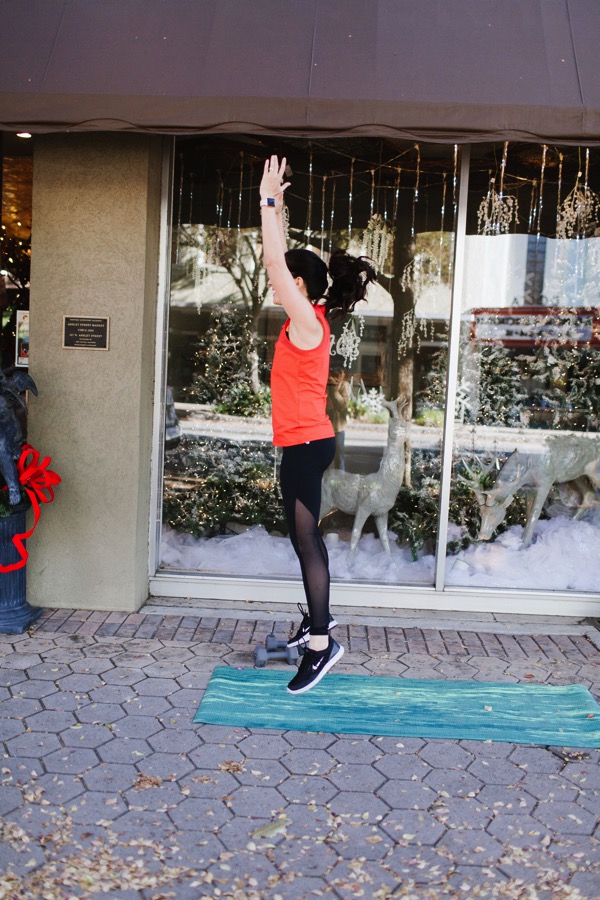 4 sets of 10 heavy squats.
5 minutes of meditation. Try the Headspace App or any of Bex Life's videos for inspiration! Here's how I like to meditate.
6 minutes on the rowing machine.
7 back extensions with a back squeeze, 30 seconds of swimming.
8 star jacks x 4 rounds. For low-impact, try regular jumping jacks, but step your feet out and in instead of jumping.
9 minutes of hill climbs on the treadmill or stairclimber.
10 sun salutations.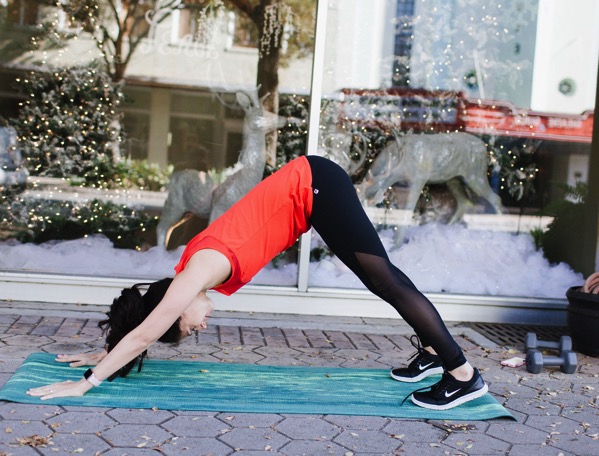 11 lateral lunges on each side.
12 chest presses x 3 rounds.
13 mountain climbers on each side.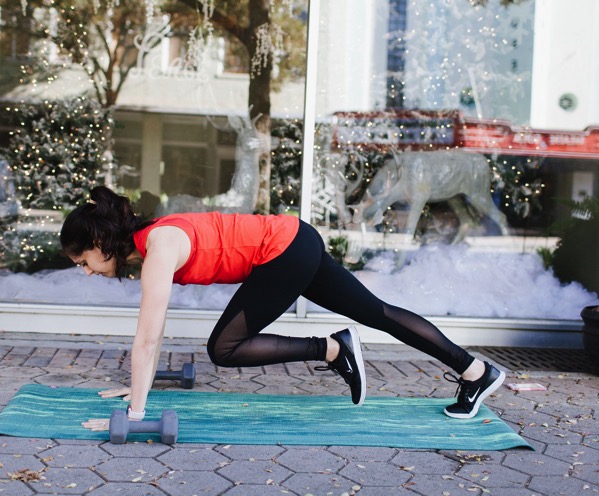 14 heavy wide rows.
15 walking lunges on each side.
16 minutes of Tabata training (4 rounds!). For Tabata ideas, check out this post and this workout.
17 minutes of your favorite cardio. Choose something that will get your heart rate up and that you enjoy! Yes, intense holiday shopping counts.
18 second planks x 3 rounds .
19 kettlebell or dumbbell swings.
20 burpees.
21s biceps curls; 3 sets. This is where you do the lower third of the biceps curl 7 times, the middle portion (just pulsing at 90 degrees 7 times), then full range 7 times.
22 frog crunches.
23 second stretches for quads, hamstrings, glutes and hip flexors.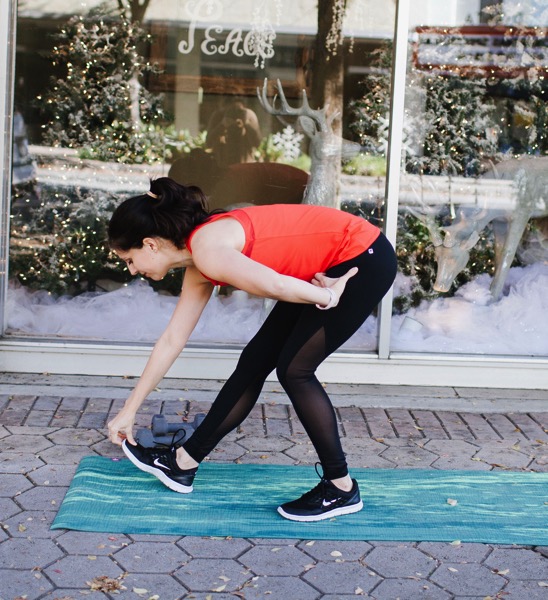 24 minutes of walking or running.
25: 1 minute plank, 15 burpees, 20 push-ups, 20 triceps dips and 100 jump rope skips. The grand finale!
Are you going to join in the fun?! Please be sure to tag me (@fitnessista #merryFITmas) for a sneaky giveaway.
xoxo
Gina
Wearing: Fabletics Polly leggings and Helena tank, Nikes (on super sale), Apple watch (on sale! I LOVE it)
Photos by Lindsay Colson