Today was a great day, but I think the fact that I forgot a sock gave it a strange feel. While you're teaching multiple fitness classes, it's hard to forget that you're only wearing one sock with your shoes. Didn't feel very good.
This did, though 😉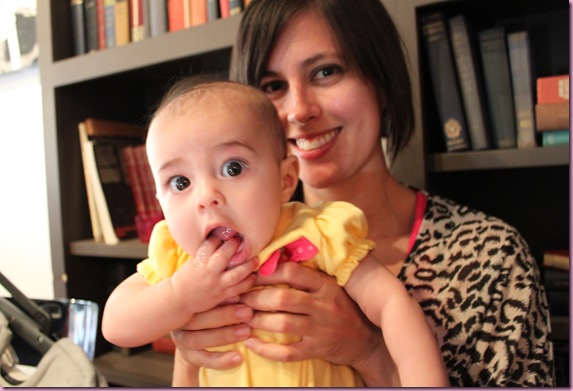 (coming home to snuggle my favorite girl)
And this wasn't too shabby, either…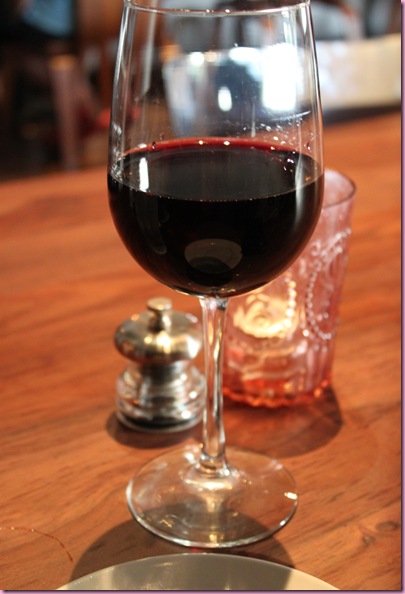 (a voluptuous glass of Malbec + Cabernet)
When the Pilot and I each got home from work, we changed out of his flight suit and I braided my "still wet from teaching pool" hair and put some non-workout clothes on. Since I didn't have time to make dinner during my lunch break and we were starving, the three of us went to The Abbey. We've been wanting to try it for quite a while and it's always packed. Even on an early Wednesday evening, by the time we left, each table was full.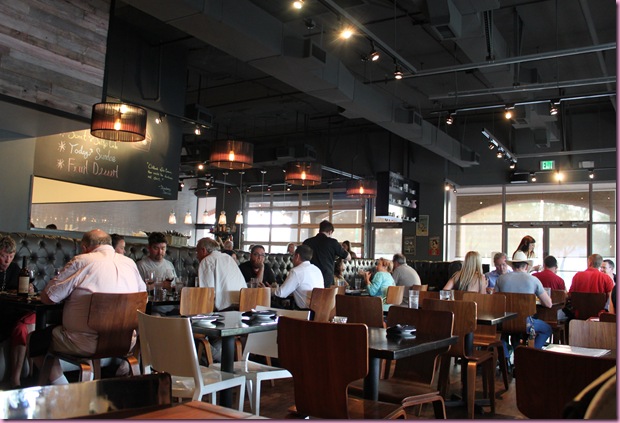 The atmosphere is quaint, funky and romantic- it feels like a mechanical garage that was swanked up- and they serve twists on American comfort food. Each day, there's a salad, sandwich, seafood, meat and breakfast-for-dinner special.
While you wait for your food, you're served truffle popcorn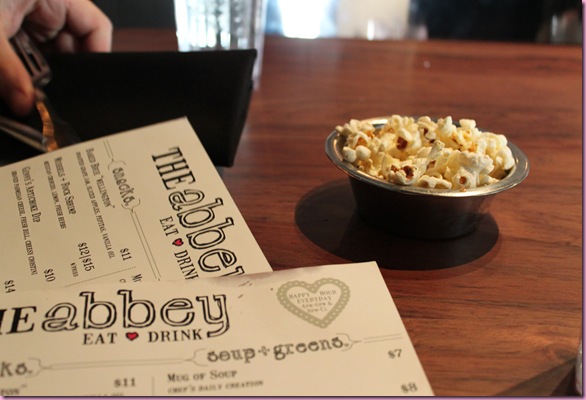 and fresh pumpernickel-raisin bread with whipped butter and sea salt.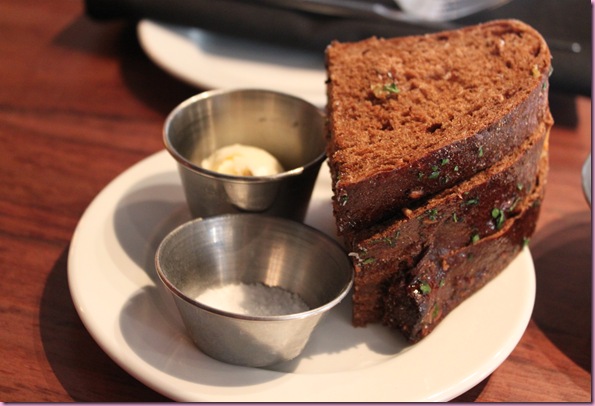 (I tried some of the Pilot's slice and it was glorious)
For my entree, I rolled with the crispy salmon with a chive pesto crust, with carrot mash and Brussels sprouts (asked for no bacon).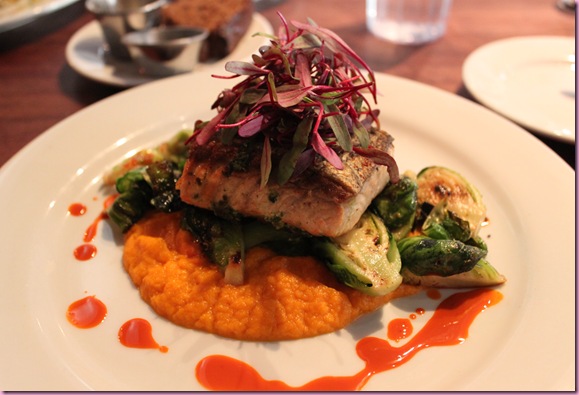 The salmon was perfectly cooked – my favorite part was the carrot mash. It actually tasted like carrots, instead of the usual purees that are easily swimming in heavy cream and/or salt. It was lovely.
It's funny because The Abbey almost feels like the Tucson version of 306 North and Two Friends in Valdosta. They were our spots to go on romantic dinners together or meet up with friends for dessert and cocktails. I have a feeling that The Abbey will be a new staple for us.
We're back at the house now, and I'm going to lay low and gain my energy back for tomorrow's classes. I have drums (eep!), a pool class and Zumba, and I'm extra excited to get through the day because Jeni is going to be here for the long weekend! We've both had babies and moved in the past year, so I haven't seen her in so long. I can't wait.
Thank you so much to those of you who have entered the foam roller giveaway! I'll announced the lucky winner in the am.
Enjoy your night <3
xoxo
Gina
Do you have to wear socks with your workout shoes? I used to prefer bare feet in my dancer days but changed my mind pretty quickly. It feels so weird to me if I don't wear socks with sneakers! What's your restaurant staple –the one you'd take a date or a best friend to- in your city? In Tucson, we always choose between Eclectic Cafe, Blue Willow, Guadalajara Grill and Poca Cosa.
Something to do: Found this reggaeton the other day and love this girl's choreo! Feel free to dance along: