And some like it hot,
sweaty
and covered in Viesa hair.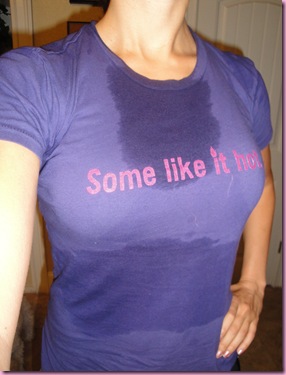 Sweaty workout pics are kinda gross, but I just had to show ya'll how booty-kicking Insanity is. I sweat like I do in a power yoga class with the heat cranked wayyyy up, even though we have the AC on over here. Crazy! Today's workout was a doozy (Pure Cardio + Cardio Abs) but as always, we were so glad we did it 🙂
Breakfast before bed: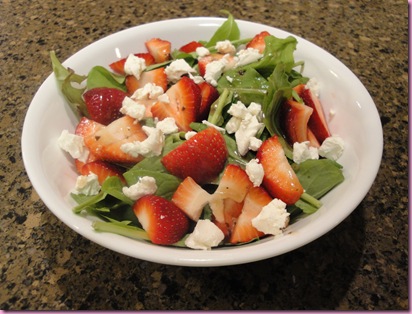 The classic 😀 Arugula, local strawberries, goat cheese and Organicville baslamic. Be still, my heart 🙂
Recovery: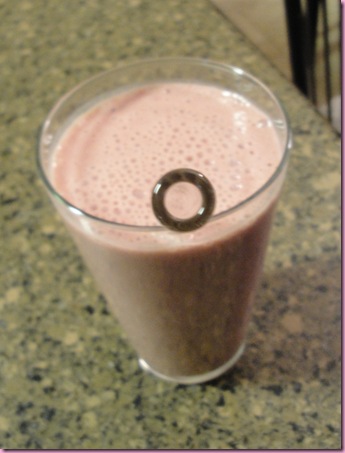 Smoothie with:
1 C almond milk
1/2 C water
1/2 banana
1 scoop vanilla Sun Warrior
Frozen raspberries
vanilla + Stevia
Today is going to be a whirlwind, but I'm ready for it 🙂
The plan:
– Work
– Post office
– Lunch and take dogs out
– Blog
-Make spin CD (I'm subbing spin for May, but am going to teach off the bike since I still have Zumba and Insanity) and work on Zumba dances
– Teach Spin + Zumba + 15 minute Ab class
– Indian with the girls
Go, go, go!
See ya this afternoon!
xoxo,
Gina
Something to talk about: Workout psychology. I got a really interesting email from a reader who said that she used anger as her prime workout motivation. Her boyfriend broke up with her for another girl, and as her "revenge", she turned her health around, lost weight, and started to feel so much better. She thought about him as she exercised, and let's just say her punching was a little more fierce during kickboxing class 🙂 Ever since she's been in a better place mentally, her workouts have changed from being fast and furious, to more yoga and mellow types of exercise.  The reader told me that Jillian Michaels (I'm more of a Bob fan) often encourages people to use their anger to fuel their workouts if the anger is there. Anger at other people, anger at themselves, unhappiness, can all be used to push us to work a little bit harder and accomplish what we want to. She also asked me if I've ever used anger as workout motivation… the answer: HECK yes.
The most recent time that I've used serious, deep-down anger to push myself in workouts was last year, when the pilot was deployed. I was SO mad. Mad at the reasons why he was over there and mad that I couldn't be with the person I love more than anything, all the time. Other married couples who don't even like each other get to see each other every day, and I only get to see my husband, who I'm crazy about, maybe 2/3 of the year. Definitely a reason to get riled up. This is one of the reasons why I got really into running last year — those sprinting surges helped to direct some of the anger out. I also got super into yoga (which I still adore) and it helped me to calm down, stop worrying about the deployment and enjoy the present moment. The therapeutic powers of exercise are great and getting our sweat on can help us in so many ways.
The reader also asked what she can use as motivation since she's not mad at her ex-boyfriend anymore and wondered if working out with anger as motivation is healthy. For motivation, I think goals are important to set, whether it's an upcoming race, a healthy body fat %, a number of push-ups, plank seconds, etc. Find something attainable to work towards, even it's just working out consistently – every day you get your workout in, put a check mark on the calendar and at the end of 10 checks (with recovery days in there), treat yourself to a pedicure, massage, facial, something fun. As far as the question of using anger as motivation is healthy, I think it totally is as long as it isn't making workouts take over your life and as long as not all of your workouts are anger-driven. If it gets you through the end of a hard spin class or long run, that's awesome, but when it gets to the point that you're spinning or running all day just to handle a tough situation, it might be a signal to talk to someone about what's going on.
What do you guys think?