Award for easiest adjustment to the move goes tooooooooo…..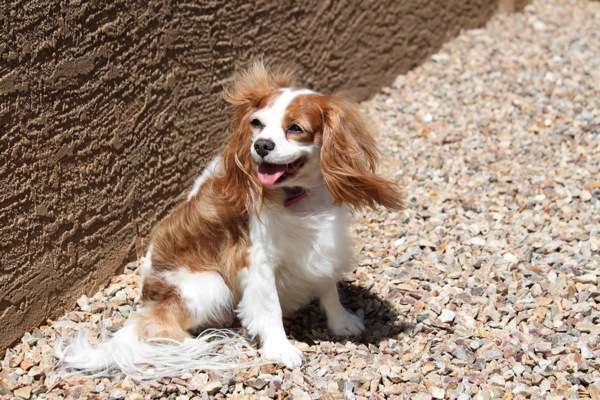 Caroline! 
Quite a few of you have asked for an update on how she's doing, so I figured it was about time for a little Caro update. (Our last Caroline update is here, and here's the story about her adoption.)
Over the past week, she has entirely transformed. The Pilot joked that maybe she instinctively knew she needed to stick with the pack during this busy time.
She's always been a timid and shy girl, likely a result of how much she's been through in her short life. I'm thankful that part of her life is over and she can enjoy being a puppy.
Over the past year that we've had her, we've overcome a few major hurdles (like that potty training thing); but, there was one where we didn't seem to make much improvement:
walks.
We tried EVERYTHING to get Caro to come on walks, because we knew she'd love to exercise and enjoy some fresh air. Little lady is a bit of a couch potato, and I thought she'd benefit from daily walks. Turns out, walks are horrifying if you've never had one before.
We tried a comfy harness, treats for every step, lots of praise and patience, but she never seemed to be a huge fan. So I gave her a break from trying, and we decided to let her ride in the wagon with Liv for family walks, which she loved.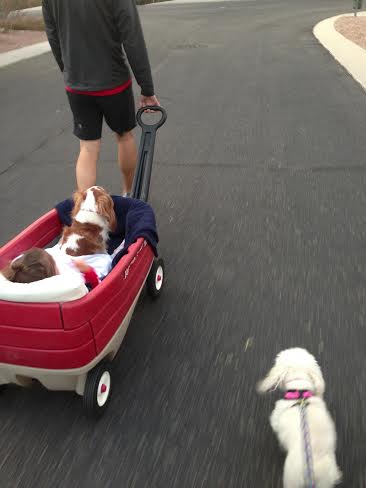 That worked out well for us, but with the move, we've had to make multiple trips from the car to the hotel room with the pups. We quickly realized that we didn't have the leashes (they were packed) and relied on the dogs' good listening skills (+ a hint of Caro's fear of everything) for them to obediently walk beside us. It was shocking, really. Both dogs walked with us, went outside to go potty and came back in without a hitch. While it worked well, we knew we'd have to get them new leashes for safety reasons, so the Pilot picked some up from the BX.
No harnesses: just regular ol' leashes + a retractable one for Caro. She walked with this leash with no problem at all, and has been ever since. Who knew that a different leash would make such a huge difference?!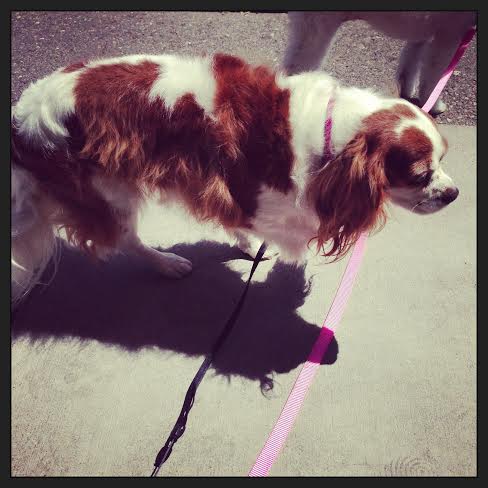 I think it's because she doesn't feel like she's being pulled, and she walks next to us, to it's not really a problem of her having so much freedom with distance. (If Bell had a retractable leash, she'd tangle herself up with us, give us rug burn and then give herself whiplash.)
Some of the things I've learned from having a rescue dog:
-Kindness and patience go hand in hand, even if you don't see the results right away. With Caro, we only did positive reinforcement (which honestly, was sometimes difficult, like that one time she peed in the bed and I wanted to dinosaur cry), and had to wait it out. Even though you may feel like you're taking steps backwards, eventually the forward steps will outdistance the regressions. 
-You have to give them time to trust you. For quite a while, Caro wouldn't go up to anyone for scratches or snuggle sessions. We continued to be kind and sweet to her, let her see that we'd never hurt her, and now she'll easily walk up for a pet. I wasn't sure her tail could wag, but now, it drags across the floor as it happily whips back and forth. A major turning point was this past week: I was sick with that virus thing, curled up on the recliner at my mom's house, and Caro jumped up to sleep in my lap. 
-If something isn't working, don't be afraid to give it a break and try again later, or try something different. You may be surprised! 
-Love from a pet is one of the best things ever, and love from a rescue pet is an entirely different world. I can still see a little sadness in her eyes, but there's a lightness and joy to her little smile. Hopefully one day, the sadness will be gone too <3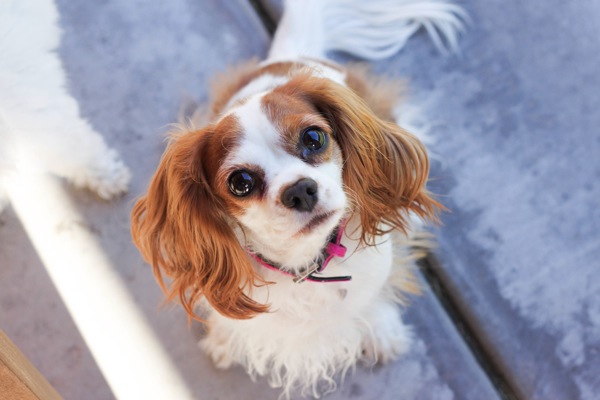 Tell us a sweet, funny or mischievous story about your pet! I'll NEVER forget when I was taking a shower and Viesa ate an entire yellow cake that was cooling on the table. 
xoxo
Gina