Tarts, Shrimp and Dirty Bananas
Hey guys! HAPPY FRIDAY! What are you up to this weekend?? I'm looking forward to getting some work done and hanging out with my pilot love 🙂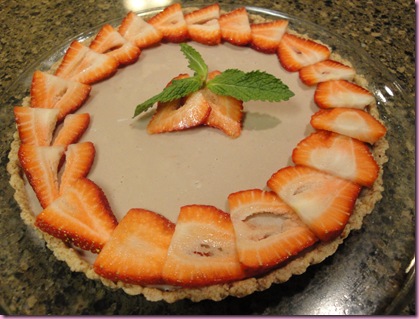 Last night's girls night was a blasty: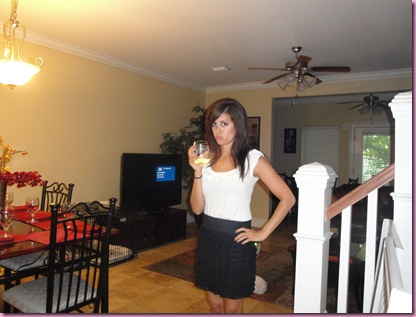 Riesling for the chef 😉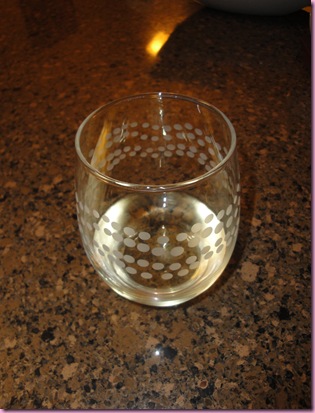 I had a small glass while I set the appetizers out and started cooking- I fiercely believe that the food comes out better when I sip a little vino as I cook 😉
Appetizers: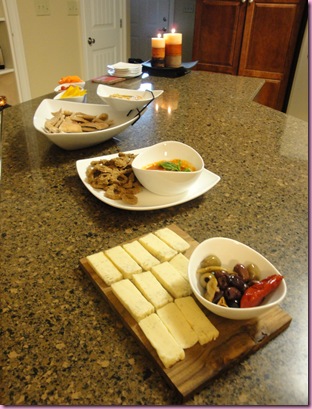 Plates and napkins bearing the philosophy of life: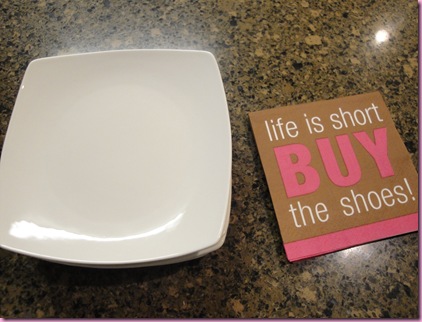 Cheese and olives: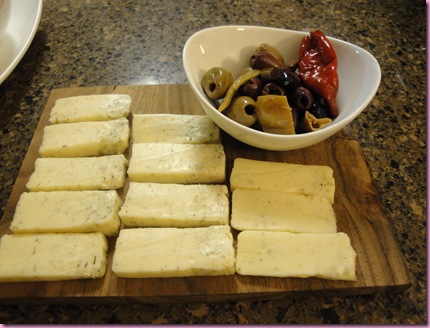 Raw calamari, inspired by a recipe in Living Raw Food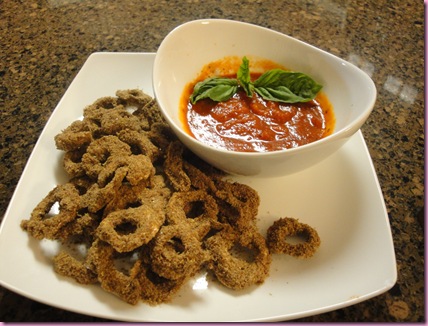 (I sliced up button mushrooms, then dunked them in water and a flaxseed/herb "breadcrumb" mixture and then dehydrated, served with marinara)
Hummus + pita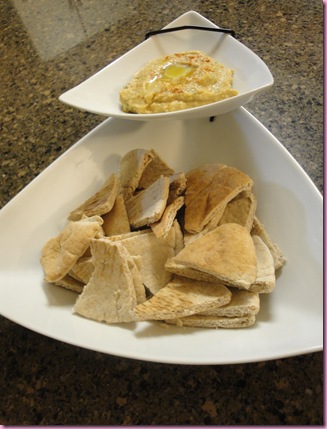 Veggggg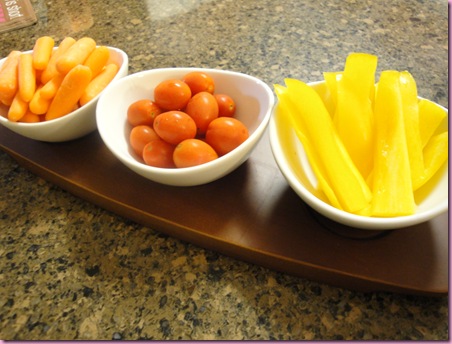 Vegan artichoke dip (from Eat, Drink and Be Vegan)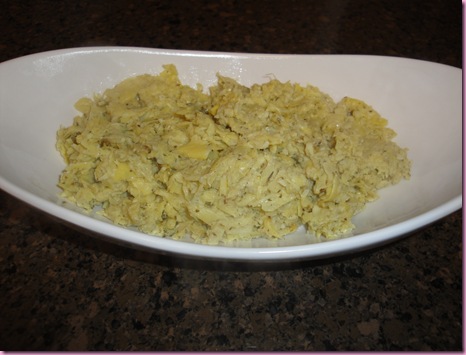 For our meal, we had roasted garlic and lemon asparagus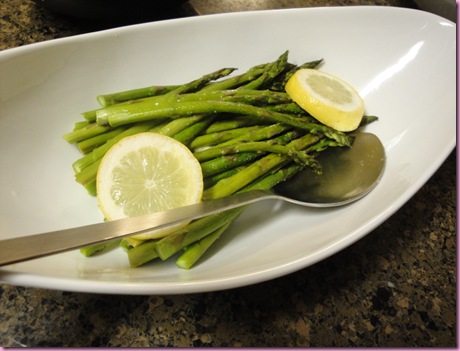 And brown rice penne pasta, with shrimp and an Italian cream sauce (that I Gina-fied using goat gouda, almond milk and spices)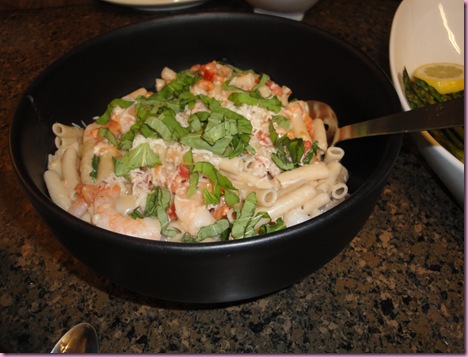 Pasta is a tricky dish to make for company, because if it comes out wrong, there's not an easy way to fix it. I'm stoked to say that it was kind of ridiculous- so creamy, shrimpy and flavorful 😉
+ bread and Garlic Gold olive oil for drizzling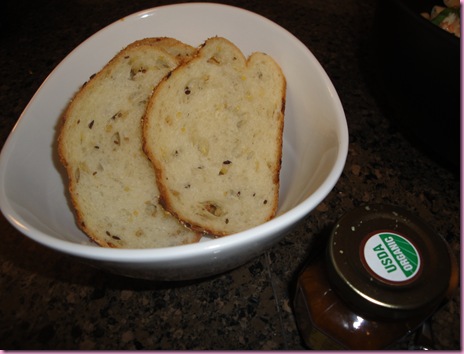 My plate: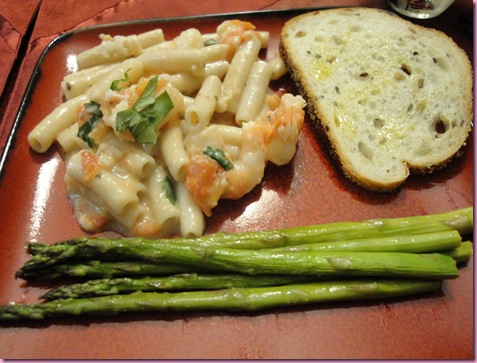 (+ a little more pasta)
with salad and homemade balsamic that Jeni brought, and the cocktails she made for us (Dirty Bananas– she used almond milk for mine)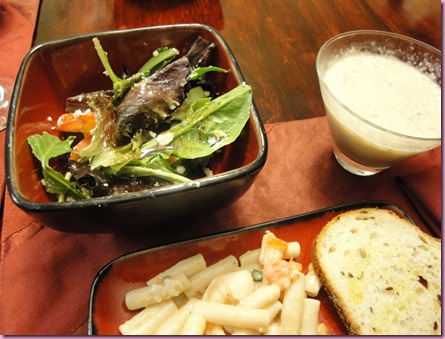 Ahhhhmazin'.
The best part?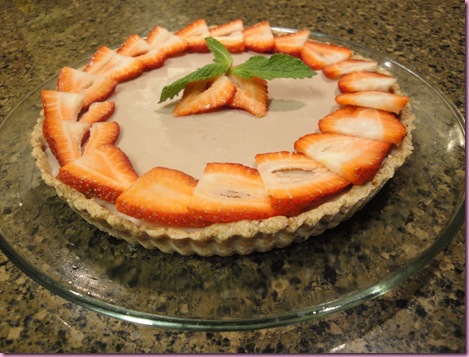 Raw strawberry tart from Everyday Raw 😀
I drizzled some strawberry-agave sauce on each plate (strawberries, agave and vanilla) and topped with crumbled macaroon and a slice of tart.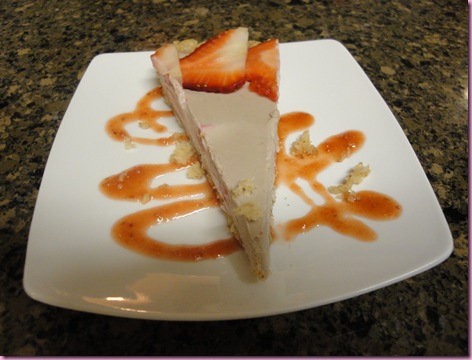 Face ——> Rocked.  😀
There were 6 of us girls, and we chilled, feasted and chatted until early this morning 😉 It was a lovely night.
I'm off to make some bfast and head to the office (aka Bizzle) to get some computer work done before I go train clients.
Have a great day and I'll see you this afternoon! <3
xoxo,
G$
Today's tip: When throwing a dinner party, make or prep anything you can in advance. All of the appetizers and dessert were done before people came over, and I had the asparagus in the fridge (in the pan, ready to be baked) and the tomatoes chopped, goat gouda grated and garlic peeled for the pasta. It took me a while to learn how to make things in advance, but the worst feeling is having people over watching you prep and peel everything. This way, you can enjoy the party a little more 🙂
Upcoming:
– Summer Shape Up Week 3 workout will be UP on Monday!
– Blogiversary giveaway