The famous turkey burger recipe
As I mentioned last week, Wednesdays have become crock pot night at our house.
Or hot bar night?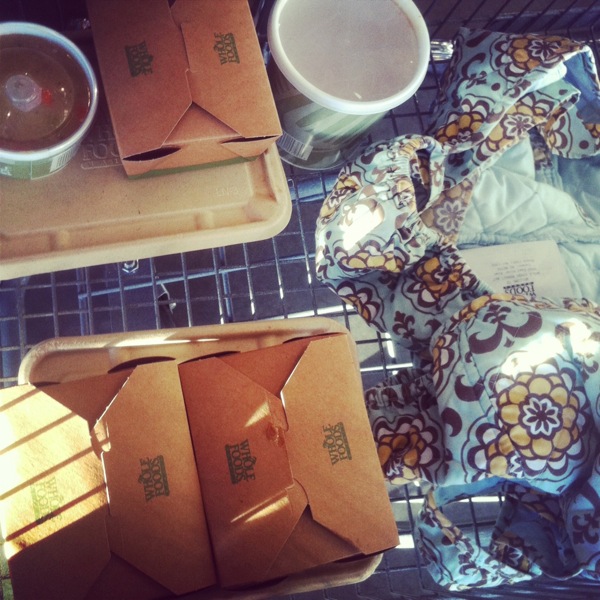 Yes, that too.
The Pilot has his Master's class Wednesday night (via webcam correspondence), and I work during the day, so dinner is fast and furious. Yesterday I decided that if I can't get it in the slow cooker on my lunch break, how about hot bar all around? Madre, Liv and I had a wonderful dinner together, and then I brought the Pilot some food home to sneak into the office during his class.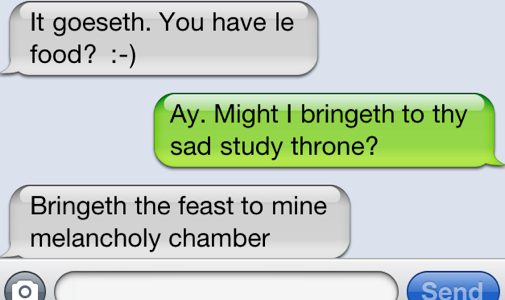 Last night was also the night that Caro opened the pantry while I was upstairs putting Livi to sleep, dragged out the bag of Snap Crisps and was quickly found, happily munching away with her head in the bag.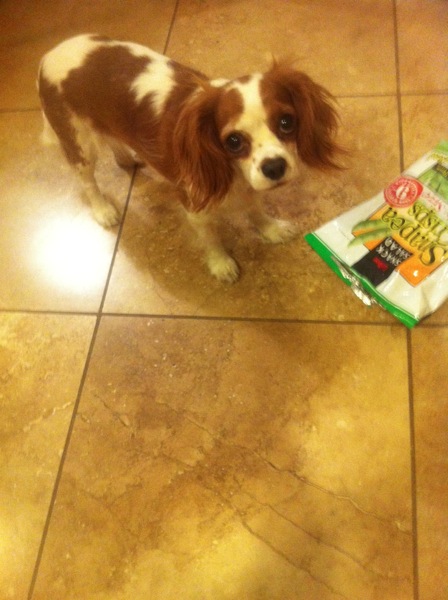 It was also my first viewing ever of Downton Abbey (free on Amazon Prime!). Also known as "35 minutes of life that I'll never get back." I was excited to see it after all of the hype that's going around, but got absolutely nothing out of it. I kept waiting for something exciting to happen, and even with the beautiful cinematography and costumes, I just wasn't into it.
I'd love to watch a show with a little substance (time is limited around here and when I do watch TV, it's the occasional Elmo variety), but besides Girls, there's nothing I'm really crazy about right now.
And on the random theme of this post, I have to tell you what happened at the gym recently: a woman unplugged the StairMaster while I was on it, doing intervals (FAST), reading a magazine and listening to music… aka not paying attention to potential StarMaster un-pluggers. She was apparently using a fan that she had plugged in for her workout, went to unplug and totally chose my machine instead of said fan. The machine STOPPED while I was sprinting up, and I grasped onto the handrails, totally saving myself from faceplanting onto the revolving stairs of death.
I pushed some buttons on the machine, trying to figure out what the heck happened, and looked down to see her. She cheerily said, "I plugged it back in!" and even though I wanted to throw my O magazine at her (which ironically, was on the topic of relaxation), I took a deep breath and said, "no worries, I was finished anyway." I've been keeping this quote in the back of my mind lately, and really endeavoring to be kind, even when sometimes.. I don't feel like it. Sometimes people are rude, say nasty things, unplug your machine in the middle of a great cardio workout, and you just have to roll with it.
With my profound words of the day (haha), I'm off to teach some Buff Booty.
Hope you have a very happy, and kindness-filled almost-Friday.
xoxo
Gina
A few people asked for the Pilot's amazing turkey burger recipe, so I asked him for the details:
He seasons the ground turkey with salt, pepper, garlic powder, then adds a splash of soy sauce, lots of chopped jalapeños and a small drizzle of maple syrup. He forms the meat into patties and grills for 6-8 min on one side, flips and then 4-5 min on the other side.
Winter Shape Up friends: Leave a comment to check in for today's workout! Today is HIIT and Steady– one of my all-time faves. How did it go? What cardio did you choose? Who's STOKED for next week's workout?! I had a feeling this was going to be the best Winter Shape Up yet and love the way it's going so far, especially the check-ins and amazing sense of community you've all created. Keep up the great work!
Congrats to the Physique 57 giveaway winner:
Jeannie, who said,
"Hi Gina – I did workout 1 today + tempo. I increased my weights from Monday. Monday I went lighter since I wasn't sure what to expect but today I gave it my all and it felt great. Tempo on treadmill.
Love all the motivation on the check ins and the great prizes so far."
Congrats!! Send me your info: fitnessista @ gmail dot com and I'll forward it along to the P57 fairy.
Stay tuned for your next giveaway! 😉