with the Smell of Lasagna 😀
(Random fact: the Pilot has NEVER seen the Sound of Music!! Deprived child, haha. He does know most of the songs from watching Family Guy though)
Here's one of the layers of the goat cheese and butternut squash lasagna we're having for Tuesday night's girls night: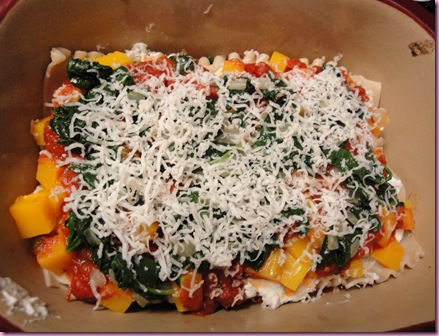 The original plan was to make the spinach mixture and the sauce tonight, but I got on a roll and just finished the whole thing. It smells like lasagna heaven in here! I can't wait to eat it 😀
I did break out the snowman mug today: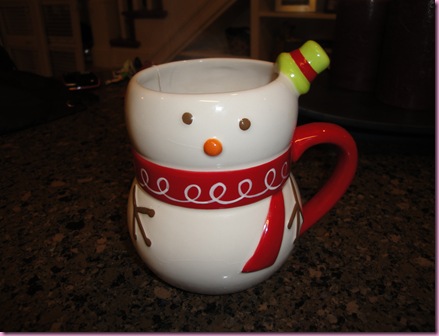 (Lots of green tea action going on over here)
And went down to the middle school track for some cardio. I walked the corners and ran the straights for 60 minutes while listening to Johnjay and Rich and enjoying the lovely weather. It was wonderful!
Then I came home and made some dinner:
Sweet Potato Hash

-Clean and dice one medium sweet potato

-Boil for 7-9 minutes, until tender

 

-While the potato is boiling, chop up one garlic clove, 1/4 sweet onion, 1 small bell pepper

-Drain the potatoes and reserve.

-In the same saucepan, on medium heat, add 1 T extra virgin olive oil and sautee the veggies for 4-5 minutes

-Add 1/2 t cumin, 1/2 t chili powder, pinch of cayenne and a sprinkle of sea salt

-Add the potatoes into the onion mixture and cook for 8-10 minutes

-Enjoy alone

-or topped with an organic over-easy egg (and some salsa!)

-Feast

©2009 The Fitnessista
It was unbe-freaking-lievable. And super easy!
Next I made the marinara sauce for the lasagna: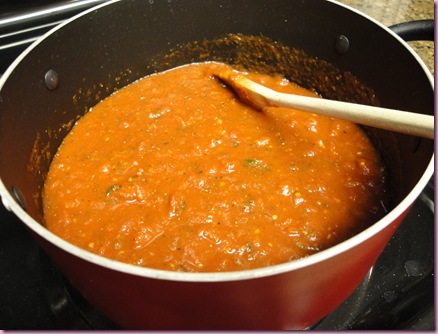 And put that beast together 😀
I've been thinking about it a lot lately and I'm so glad I've decided to give myself a break. This time last year, I was teaching 6 aerobics classes a week, going to school, personal training, taking care of the puppies and house while the pilot was away, training for a half marathon and blogging. It was a blasty and definitely kept me busy throughout the deployment, but my body was not very happy with me. It's been a crazy whirlwind and even the day after the half marathon, I started teaching aerobics again. I didn't give my body the break I needed and pretty recently I realized how burnt out I was getting. With everything I was doing, I was sore every single day and usually by Fridays, it hurt to walk around.
While I was at culinary school in Oklahoma, I figured out that I liked doing my own workouts instead of the ones I was responsible for teaching other people through aerobics classes. I got even more into yoga and it was SO nice to not feel sore every single day. So when I got back from school I gave notice that I was going to take a break from teaching spin. I have a half marathon in December and another in March and really want to train for them properly— last year I ran once per week because it was the only day I wasn't teaching!
I really miss teaching spin but know I'm making a smart choice. When you're used to go-go-going all the time, it can definitely be challenging to step back and give yourself a rest. It's ok to go full speed ahead most of the time, but every now and again it's a good thing to cut back and focus on what's most important. Now, I can run more often and train accordingly (so I can rock out those half marathons!), practice yoga daily and don't have to worry about the extra class and music planning while I'm trudging along at opening my own business. It's been bueno so far 😉
I'm not saying I won't go back to my super crazy teaching schedule (because I have a feeling I will!) but for now, I'm just sticking with Zumba until this burned out feeling goes away and the half marathons are over.
So.. yeah. That's where I'm at right now and we'll just have to see what happens 😀
Have a wonderful night and I'll see you tomorrow!
Much love,
G
<3 Happy Birthday to my great-grandmother <3 (She's in her late 90s!)