Thank you so much for your sweet comments about the Fitness Magazine win and to those of you who entered the cookbook giveaway! I was cracking up reading your kitchen disaster stories. It made me feel better because I have them fairly often 😉
Congratulations to the lucky winner:

Please send me your info (fitnessista at gmail dot com) and I'll forward it to the lovely author 🙂
Stay tuned for more fun giveaways in the near future! (Hint: the blogiversary is coming up….)
_______________________________________________________________________________
Last night, I was so excited to take a baby meal over to a friend from work. She had her baby last Wednesday, so I texted her to see if it would be ok if I stopped by with dinner.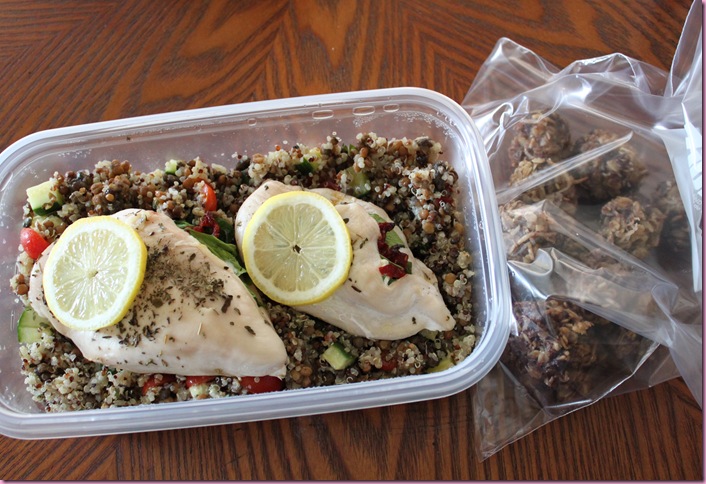 Stuffed chicken, Greek lentil and quinoa salad, oaties
The chicken is super easy, and one of my favorites for baby meals or last-minute dinner company. It looks elegant, is quick to put together and tastes amazing.
(See Bella's chicken tenders on the right side? Haha)

 

Stuffed chicken

Serves 4

-4 chicken breasts

-2 oz goat cheese

-4 T sundried tomatoes in olive oil

-fresh spinach

-seasonings: garlic, olive oil, sea salt, pepper, dried thyme and oregano

-lemon slices

1. Pre-heat the oven to 375*. Grease a baking dish or roasting pan with olive oil

2. Using a sharp knife, cut a horizontal pocket in each chicken breast, . I like to press down on the top and cut at the same time.

3. Stuff each one with a palmful of spinach, 1 heaping tablespoon of goat cheese and 1 heaping tablespoon of sundried tomatoes.

4. Press down to seal, and coat the top with olive oil, minced garlic, 1/4 t each of dried thyme and oregano (for each chicken breast), and season well with salt and pepper.

5. Bake for 25-30 minutes, until done. (I like to check with a meat thermometer – don't have to slice it open to check and the chicken doesn't get dried out from overcooking)

6. Top with lemon slices and serve.
To go with the chicken, I made some Greek-style quinoa salad and added a pack of steamed lentils from Trader Joe's (instead of chickpeas) to beef it up a little. I packed everything up, headed to their house and it was so much fun stopping by to chat with my friend and her hubby. Their baby is absolutely perfect. It's hard to believe that Liv was that tiny 4 months ago!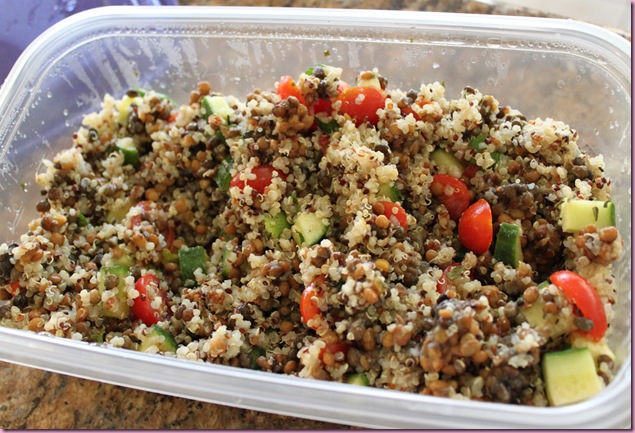 I took a giant container over to my friends' house and we also have a huge container in the fridge for snacks and lunches this week.
An added bonus about making a baby meal was that we had to exact same thing for dinner, so dinner was served when the Pilot got home.
This morning, I'm taking care of some things around the house while Liv naps, and then we're off to the pediatrician for her 4 month shots :/ It will probably be a snoozy and snuggly day- her 4 month update will publish on the Family page this afternoon.
Have a great day, friends! <3
xoxo
Gina
Something to talk about: Impromptu dinner party! What do you make?
Something to do: Don't forget to enjoy a #smoothieaday today! I'm excited to make a Green-a-colada later 🙂