Love all of the cookbook giveaway entries! Keep 'em coming 🙂
How's your day going?
Things have been pretty bueno over here. The return of breakfast cookie dough cereal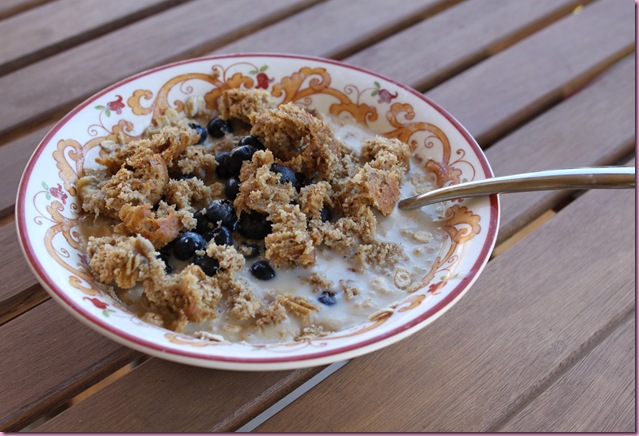 (with a crumbled banana almond muffin on top),
some oaties (I made them to take over with a baby meal)
a morning with Livi, and an afternoon with girlfriends.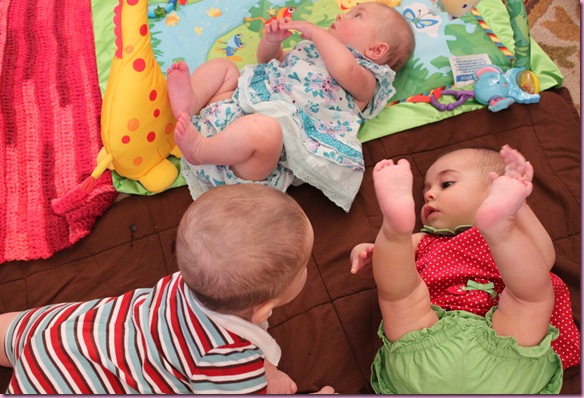 Michele and Kelly brought their babies for some girl time and playtime. It was so cute to watch the little ones roll around and actually SEE each other. They played with toys and reached for their friends, while Kelly, Michele and I caught up.
Workout-wise, I took the day off (Tuesday and Fridays are usually my off days), because my legs are killlllling me. I checked out a new yoga and fitness studio in town yesterday and hit up a power yoga class. Needless to say, my asana was kicked.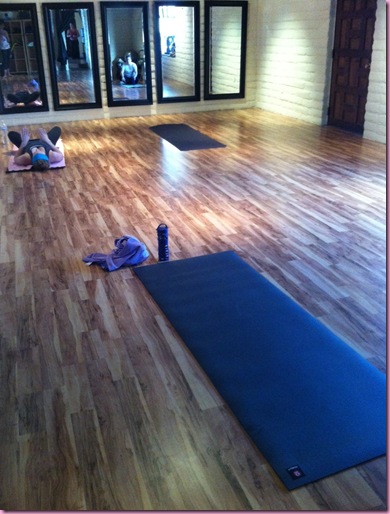 The thing about Tucson is that we have a lot of yoga –various types of practices and really fun, unique studios- but our power yoga options are pretty limited. Before Self-Centered Yoga opened, we had one power yoga studio on the outskirts of town, about a 45 min to an hour drive from pretty much anywhere in Tucson. When I first moved to Tucson from Orlando, it was difficult for me to find a studio that I loved as much as Orlando Power Yoga and Full Circle. I practiced almost daily in Orlando, and while I like the popular studio here (Yoga Oasis), it doesn't quite have the same feel as classes at OPY or Full Circle (which kicked my booty and left me paddling a canoe atop the Lake of Zen).
The class at this new studio was everything I could have wished for, and I loved the quaint, home-y atmosphere.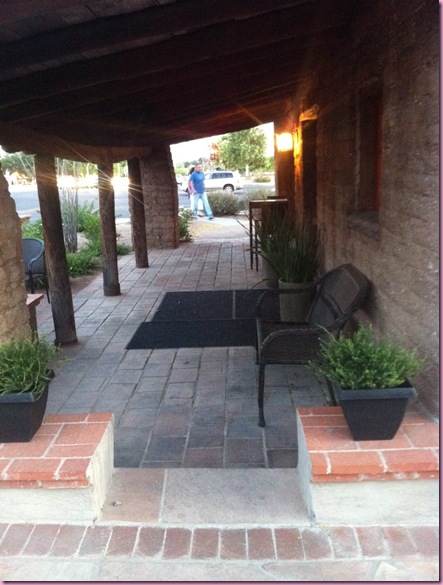 (The setting reminded me so much of The Yoga Room in OKC- another one of my studio loves. If you live in OKC, please take a class from Laura and give her a hug from me)
Anyway, I knew it was going to be a good class when we started in child's pose and the instructor led us through the deep breathing. Inhale, I feel a massage on my shoulders and a press down on my back, exhale, inhale, a press down on my legs, exhale, and a tug on my hips towards the floor. I like when instructors help you get deeper into the poses –then again, I'd pay a random person to rub my back- but a lot of people don't like touchy-feely teachers.
At work, I have to get an idea of if someone wants physical help or not. A few of my colleagues have been yelled at:
"DON'T TOUCH ME!"
Haha.
After the deep breathing, we went into the flow and did about a thousand lunges, twists, pulses, standing splits, things left left my biscuits burning. We also finished up with 7 minutes straight of core work, which I shook and mentally cursed my way through.
Going up the stairs hurts quite a bit today, and lunge variations (especially yoga lunges) always have a way of leaving me pleasantly sore.
Here are some of my favorite lunge variations if you're looking to add some pizzazz to your leg routine:
[print_this]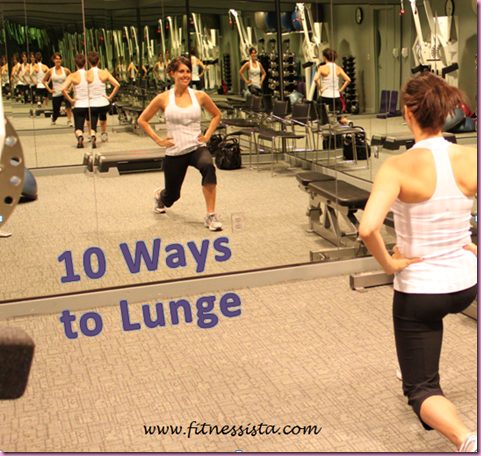 (As always, check with a doc before making any fitness changes. If you have injuries or limitations, honor your body.)
1. Basic lunge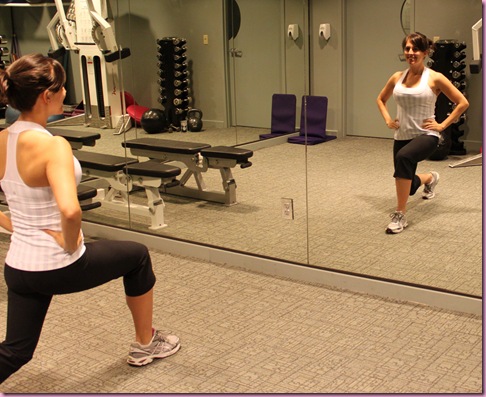 -Your feet should be hip-width apart, not directly straight in front of one another. Think of standing on a railroad track instead of a balance beam.
-Shoulders down and back, abs engaged, take a wide step forward, lift the back heel, sink STRIAGHT down (not forward)
-make sure your front knee stays in line with your ankle.
-Keep your back heel raised and don't let your back knee hit the floor.
2. Lunge and knee lift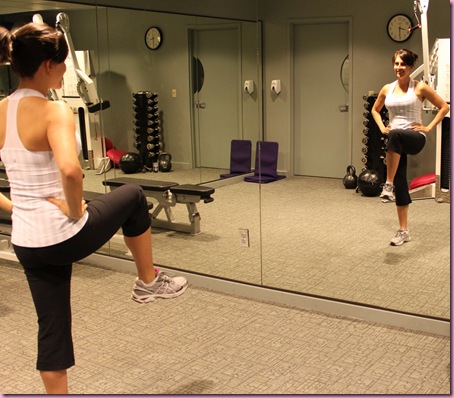 Bring the back leg up into a knee lift, engaging your core.
3. Lunge and twist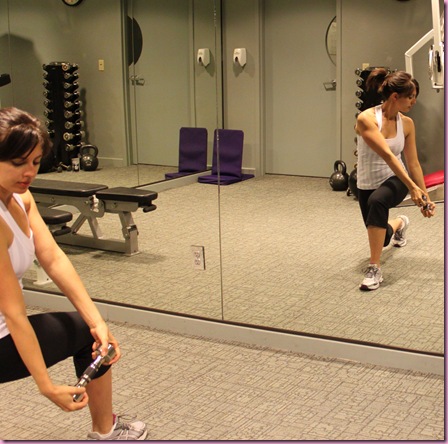 After you get into your lunge position, holding a dumbbell, medicine ball or kettlebell, row to the direction of the front leg. Focus on your obliques and raise back to feet together.
4. Static lunge and pulse
Full lunges for 10 reps, then hold the lowest part of the lunge position for 10 counts and then do tiny pulses for 10 counts. Your biscuits will be on fiiiiire.
5. Lunge and leg lift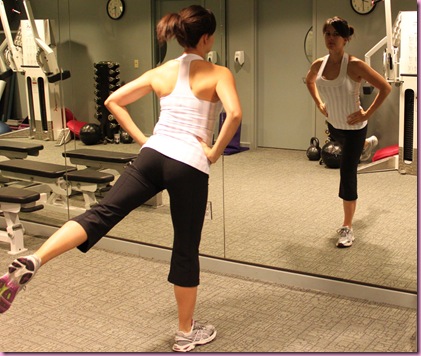 Squeeze your glutes and lift the back leg up, making sure to keep hips parallel to the front. (Don't let the hip of the lifting leg tilt up, and keep your core tight)
6. Lateral lunge and hip abduction
Take a big step to the side (both sets of toes still pointing as far forward as possible) and sit your booty back. The leg that stays planted should stay straight and strong and the bending knee shouldn't extend past the front toes. Put your weight into the bent leg and raise up to standing, lifting the straight leg up and out to the side.
7. Curtsy lunge and knee lift
Cross one leg back and behind the other, and come down into a curtsy lunge. The front foot stays flat on the ground and the back foot has the heel raised off the floor. Bring your weight into your front leg and come up to a side knee lift. Pretend you're a ballerina 😉
8. Split squat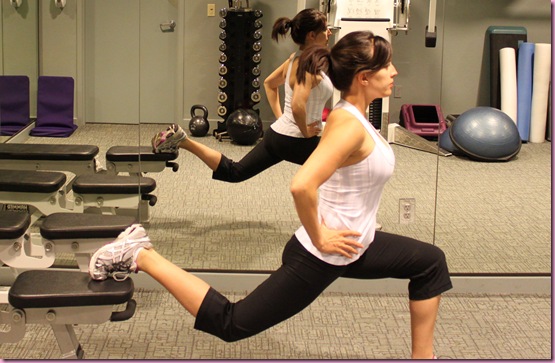 Step FAR in front of a step or bench (about 3 ft or so) before placing the back foot on top. Lower straight down into a lunge without letting the front knee extend past your toes. Think about sinking straight down instead of forward, keep your abs tight.
9. Warrior II to Reverse Triangle
Come into a Warrior 2 position (front thigh parallel to the floor, front heel bisects the heel of the back foot, which is turned at a 45* angle). Straighten the front leg and come into a reverse triangle position.
10. Clock lunges
Try lunging around the clock by performing a forward lunge, then a lateral lunge, and step back into a reverse lunge. For even more fun, try both directions.
[/print_this]
Bed time over here- I'll see ya in the morning with a cookbook giveaway winner + recipe <3
xoxo
Gina
Something to talk about: How often do you work out your legs? What's your favorite leg toning exercise? Do you like touchy-feely teachers, or no?
More: