Hi friends! How's the morning going? I hope you're enjoying the day. It's been an interesting week over here. It started off really rough since we're trying to teach the girls to stay in their beds. Liv has done amazingly, but P is having a bit of a rougher time staying in her room. (We're following this method which I really like. It doesn't involve crying it out, which works for a lot of people but isn't a fit for us.) It did involve us walking P to her room probably 300 times the first night. It's been SO TEMPTING to just let her crawl into bed with us but we're trying to be consistent even though we're both total zombies.
We were so insanely tired that there was no way we were cooking dinner, so we met up with the fam at Calle Tepa. I almost always get their manchegos or chicken tacos, but I've been switching it up with the chicken tortilla soup. It is a DREAM.
We also celebrated our first night of sleep by having brunch at Le Buzz. (The Pilot has missed restaurant food a lot, so I have to support his goals of eating all the things. It's a real struggle, I tell ya.)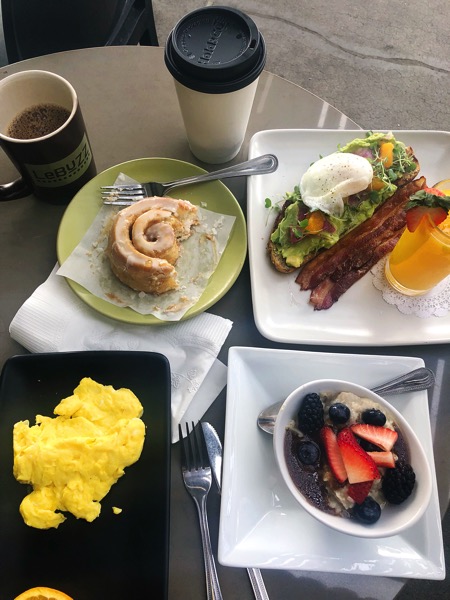 Some more adventures from lately:
Kyle's birthday celebration! They had a joint BBQ party for Kyle and EJ since their birthdays are a week apart. Kyle stayed up all night smoking brisket and pork butt, and the brisket was so incredibly savory and delicious. (My stepmom was surprised to see me eating red meat since I very rarely eat it, but when Kyle makes food, you have to try it.)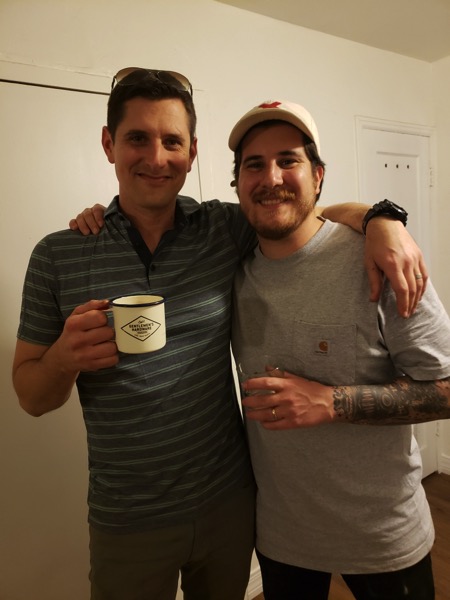 I can't believe this guy is the big 3-0!
So many of our family parties felt like they were missing something, and now that the Pilot is back to celebrate with us, all is right in the world again.
We brought a couple of pitchers of tequila sangria,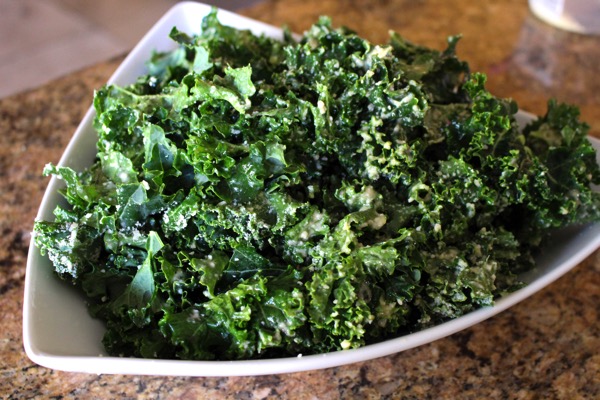 and this giant kale caesar salad.
I squeezed some lemon juice, olive oil, salt and pepper onto the kale to wilt it down, and then made the dressing in the food processor: zest and juice of a whole lemon, 2 cloves of garlic, 3 anchovies, 1/4 cup parmesan cheese, and then I streamed in about 1/3 cup olive oil. I mixed the dressing into the kale and topped with a lot of parmesan cheese. For the croutons, I cut sourdough bread and broiled them with garlic-infused olive oil, then left them on the side for my gluten-free friends + also so that they wouldn't get soggy in the salad.
The highlight of the party for me was when EJ sat in my lap and ate an entire ice cream cup. She's very selective about who she'll hang out with (as any tiny human should be), so I always feel extra honored when she'll come up and give me a hug, or want to sit by me. I can't believe this sweet love will be 2 tomorrow!!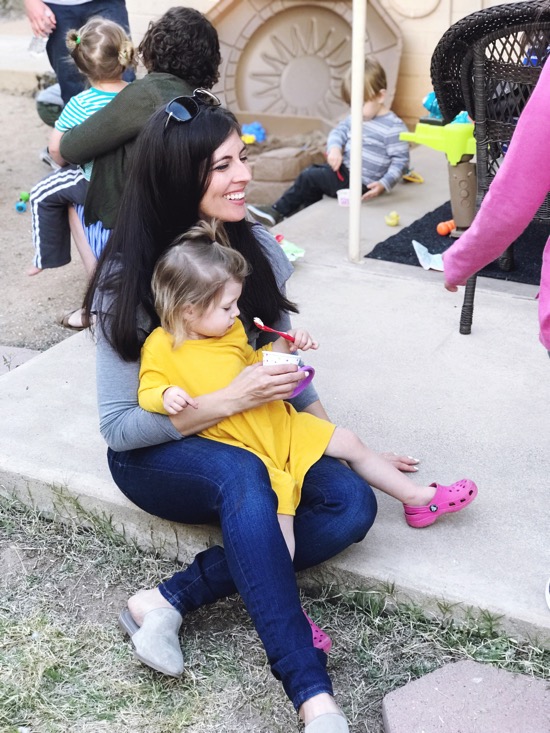 The Pilot and I also had a phenomenal date night at Commoner & Co. He hasn't been there since Kyle took over as partner chef, so he was blown away by how much it's changed. It's constantly packed now – you need a reservation, especially on the weekend – and the menu is out of control.
We ate all the things, because he had to try as much of the menu as possible.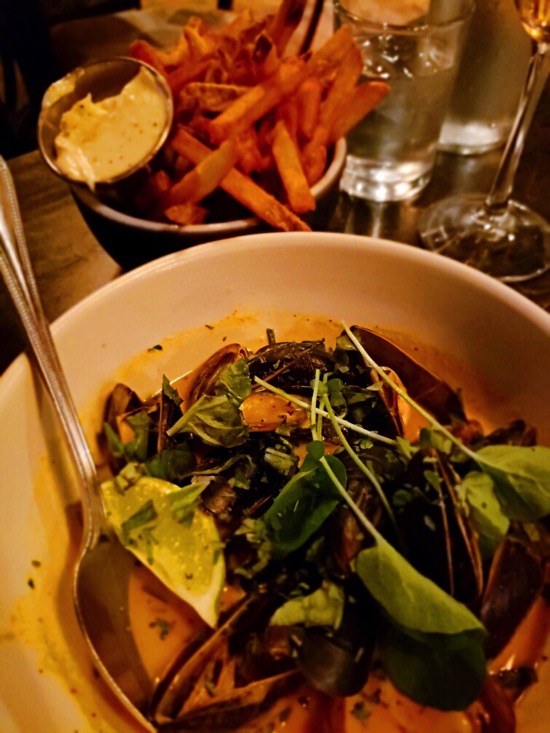 I switched it up and ordered the mussels with fries instead of the usual perfect salmon and it was a wise choice, indeed. I wanted to live in the broth.
We also had a cheese board, goat cheese tart (probably my favorite food to ever exist), brussels sprouts,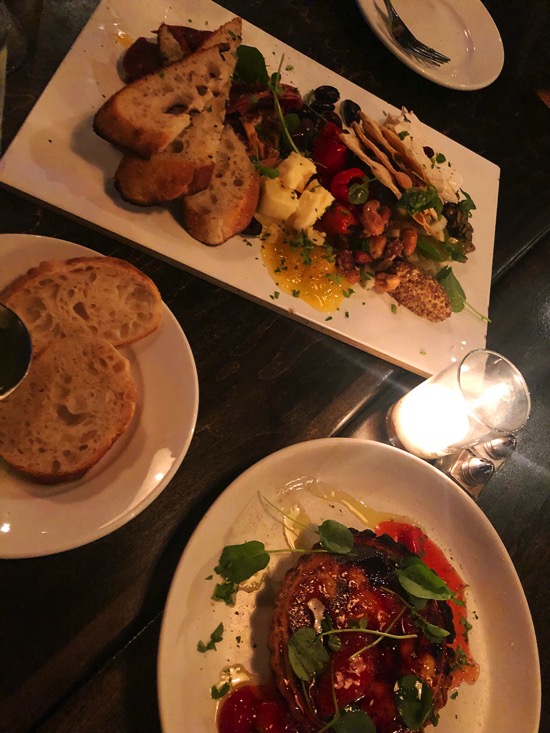 entrees,
and some type of flourless chocolate creation for dessert.
The rest of the week, I've been sticking with the ol' fitness routine and also getting back into some heavy strength training on my own at the gym.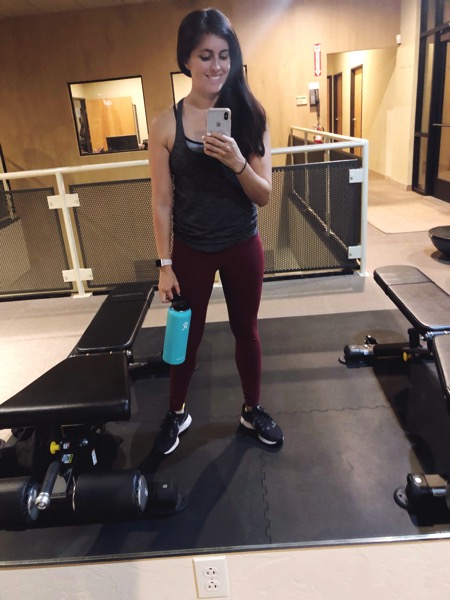 We're filming some new workouts to share on the blog next weekend, so today I'm hitting up a Telos class and starting to write the workouts. Don't forget that if you're looking to spice up your routine, Home Workout Warrior Live starts on Monday! You can sign up here if you'd like to join in the fun.
Have a wonderful day and I'll see you soon!
xo
Gina
Looking for a workout? Try this yoga strength combo!